On the Lip - When In Pain Seek Professional Advice
By: Elisa Gaudet
A few too many swings off driving range mats caused me to seek the advice of a professional. I am still confused as to why they put mats on top of cement. I understand there are only so many divots you can put in grass, but why not put the mats on top of grass. At least this would prevent the feeling you get when your 5-iron goes just a little bit below the ball and makes contact.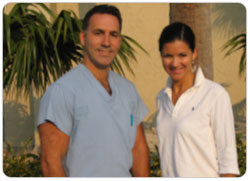 I know you've felt my pain at one time or another. The reverberation from the 5-iron extends through your whole body. The pain I felt the next day was horrible; my back and arms felt like a giant black and blue bruise. It was clear that with my aches and pains there were two professionals I needed to see. The obvious first one is a "swing doctor" to correct my dips into the mats and to help develop a smoother swing that only touches the white of the golf ball.

The other more immediate need was a medical doctor. At first, I tried to deny the pain, believing the phrase, "no pain, no gain," would come through. Wrong. By Day 4, I could not rotate my head past my shoulder.

I then turned to Dr. Badia, a well-known hand and upper extremity surgeon specializing in athletic injuries. The buzz is he's the doctor to call on when any injuries were related to the hand, elbow or shoulder. Dr. Badia runs a clinic for pro tennis players. When the NASDAQ ATP tennis tournament is in Miami, he's the person the players turn to when injured.
When asked about such sports-related maladies, Dr. Badia detailed the most common injuries associated with the upper extremities. The most common shoulder problems are from use over time; the rotator cuff gets thin and results in tendonitis (inflammation of the tendon). This is especially common as people get older.
"Tennis elbow" is also tendonitis. It is a misconception that tennis causes this problem. What happens is that once a person has tendonitis, it becomes easily aggravated by sports such as tennis. Obviously, if severe enough it will preclude a person from playing altogether. This problem is found in people of all ages, with golfers tending to suffer from tendonitis of the inner elbow.
Dr. Badia sees countless hand and wrist injuries. Cartilage tear (TFCC), similar to that in the knee, is one of the most frequent wrist injuries seen in athletes, particularly golfers and tennis players.
Hand and wrist accidents often result in ligament tears. Both of these are treated by arthroscopy, a minimally invasive surgical technique developed three decades ago to explore a joint from within. Tiny incisions are made to insert a fiber optic instrument, which serves as a camera to the inside of a joint. This allows a surgeon to diagnose a problem, and often allows for treatment. This is a much better alternative to the more standard technique of open joint surgery, which can result in increased scarring and prolonged recovery time.
Thankfully, my reverberating 5-iron had not caused much damage; it could have been much worse. Dr. Badia made a point to tell me that frequently people compound the problem because they do not seek specialized help as these problems arise, instead waiting until the pain is very severe and then asking a general doctor rather than a specialist.

For my treatment, I was injected with prescribed anti-inflammatory pills. Within days, I was as good as new.

While with Dr. Badia, I took to opportunity to ask about a few other things. I was dying to know the truth about those copper bracelets or the magnetic ones with rubber around them that look like the Lance Armstrong bracelet.

Do they really work? "This is a common myth. There are no scientific studies that prove that these work" says Badia. "However, one can never discount the power of mental belief and the will to want to be cured."

Lessons Learned

• No pain, no gain – antiquated marketing campaign that does not apply to golf.
• See a specialist as soon as possible.
• Take golf lessons as often as possible.

Dr. Badia's website (www.drbadia.com) is in both English and Spanish. It contains lots of information as well as frequently asked questions and an area where you can submit questions for Dr. Badia.
Elisa Gaudet brings a wealth of entertainment and golf experience to Cybergolf. Elisa has spent the past several years in the golf industry in the U.S., Latin America and Spain. She worked for the PGA Tour and the Tour de las Americas before founding Executive Golf International, a golf marketing company that works with clients to develop strategies using golf as the medium. Often referred to as the Maria Bartiromo (a business analyst for CNBC) of golf, Elisa says: "Golf, as a marketing tool, has been around for years. It's amazing how many new ways companies can align their brand with the golf market to reach their target audience. Our goal is to create alliances and establish cross-border relations." Elisa also worked in the entertainment industry for over 10 years, including five in Los Angeles as a model and actress. She can be seen at many celebrity golf events and often gets the inside scoop from PGA Tour players. For more information about Elisa, visit her websites at www.onthelip.com or Executive Golf International www.execgolfintl.com.