On the Lip – With Donald Trump
By: Elisa Gaudet
Donald Trump emerges from his helicopter that has just landed on the golf course at the Trump National Golf Club in Bedminster N.J., ready to play a round of golf and captain one of the teams in the annual Writers Cup. He has entered our lives much like a character from an Ayn Rand novel, many times swimming like a salmon upstream: he has overcome naysayers, governmental agencies and regulations, recessions in the economy and competitors in order to produce superior products. From ice rinks to skyscrapers to golf courses. The common thread that joins all of these diverse projects is Trump's dedication to superior products and a relentless pursuit for the best.

Adding golf to his portfolio of investments is largely due to his interest in the sport – Trump is a 5 handicap, and because, as he said, "For years golf has been my passion and I like having courses where I spend time."

This leads us to where Trump goes. There are now four golf clubs in the Trump portfolio. They include the private Trump National Golf Club in Westchester, N.Y., Trump National Golf Club in Bedminster, N.J., and Trump International Golf Club in Palm Beach, Fla. The latter course is the host site of the ADT Skills Challenge and the LPGA ADT Championship. The newest course is the upscale-public Trump National Golf Club in Los Angeles, which will host the LPGA Office Depot Championship for the first time this fall.
Operating his golf course interests is Trump Golf Management, LLC, which was formed in January 2005 and is overseen by managing partners, Ashley Cooper and Carolyn Kepcher. Trump's investments in the golf industry now exceed $200 million.
The Bedminster course, a Fazio design, was ranked the 48th best course in Golf Magazine's list of "Top 100 courses in the U.S." Trump International in West Palm Beach was named 73rd best course in that same list.
Like much of the land in the Northeast, the Bedminster property had agrarian roots. It was previously known as Lamington Farm, and its rich history dates back to the 1600s. The Duyckinck family occupied the house and land from the 1600s through the early 1900s. Legend has it that John Duyckinck, an alleged British Sympathizer, was jailed and eventually exiled by George Washington in 1779 to live within the boundaries of the property. The land was then obtained by the Morgan Cowperthwaite family, which kept it for three generations. The property was popular with high society for its fox hunting and formal dances.

In 1981, the property was sold to automobile manufacturer John Z. DeLorean, whose celebrity brought a new awareness to the estate. The land was acquired by Trump in 2002. Since then, the buildings have been restored and a beautiful 18-hole, 7,081-yard golf course was built along with an Olympic-size pool, spa, tennis courts and a "village" of elegant guest cottages. The estate has now returned to its former grandeur and majesty, Trump-style, with no detail overlooked, no luxury spared . . . indicative of the man and our times.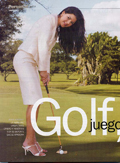 Elisa Gaudet brings a wealth of entertainment and golf experience to Cybergolf. Elisa has spent the past several years in the golf industry in the U.S., Latin America and Spain. She worked for the PGA Tour and the Tour de las Americas before founding Executive Golf International, a golf marketing company that works with clients to develop strategies using golf as the medium. Often referred to as the Maria Bartiromo (a business analyst for CNBC) of golf, Elisa says: "Golf, as a marketing tool, has been around for years. It's amazing how many new ways companies can align their brand with the golf market to reach their target audience. Our goal is to create alliances and establish cross-border relations." Elisa also worked in the entertainment industry for over 10 years, including five in Los Angeles as a model and actress. She can be seen at many celebrity golf events and often gets the inside scoop from PGA Tour players. For more information about Elisa, visit her websites at www.onthelip.com or Executive Golf International www.execgolfintl.com.