One & Done?
By: Dave Droschak
[Editor's Note: After covering last week's U.S. Open at Pinehurst, Cybergolf's Dave Droschak returned with more stories from Carolina's Sandhills. Here's Dave's final report from the U.S. Women's Open.]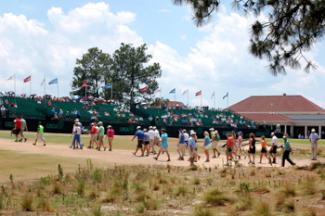 Some Bleachers Were Removed
from the 18th Hole after the Men Played, but Many Seats went
Unfilled During the U.S. Women's Open
The United States Golf Association made it crystal-clear from the start that back-to-back U.S. Opens staged on the same course was an experiment, and somewhat of a calculated risk. In a game weighted heavily on tradition, moving golf into this century can sadly lag behind compared to other sports.

So, credit goes to the USGA for putting on such a historic golfing doubleheader. The organization selected a great venue at Pinehurst Resort that could deliver on such a monumental set-up, and in general players from both sexes seemed to take to the rugged and natural look of the revamped Pinehurst No. 2 layout. In other words, there was little complaining about the high rough (since there wasn't any) or about balls landing in divots the second week of play.

"They came out on top with the big gamble. They should go to the casino," Morgan Pressel said of the USGA. "It is neat the way that it turned out. It is a unique place."
But that doesn't necessarily mean we'll be seeing another one of these dual spectacles anytime soon, if ever again. At least the USGA has some time to digest this first run, with U.S. Open sites already claimed through 2021.

If the USGA was after positive comparisons between the men and women, well, that fell short of the mark on a number of fronts.

How can you really compare the two games when the women were playing the course from what amounted to the white tees? Sure, the landing areas were generally the same (I guess) and pin locations similar, but a 229-yard par-4 in Round 2 on the third hole?

And with the men drawing more than 260,000 fans, the interest in Week 2 waned considerably, both in the stands, in the press room and among ticket scalpers along U.S. 1. In fact, the women received more of a media bump in the weeks leading up to the event than they did from their play on the course.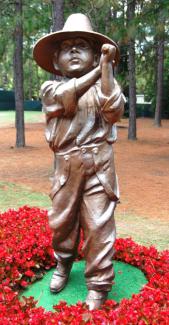 The Pinehurst Resort Putter Boy Stood Tall at
One of the Entrances (Photos by David Droschak)
But didn't we already know this going in? It would be like staging the NBA Finals one week and the WNBA Championship the next, and expect the same interest level.

Now, I'm all for the women testing their games on courses like Pinehurst No. 2, Oakmont and Cherry Hills - all previous sites of top-notch men's championships. The group of talented players at the top of the LPGA Tour certainly didn't embarrass themselves with rocketing black scores here this week either, although champion Michelle Wie's 278 was the only under-par total over 72 holes.

Of course they won't say it publicly, but at some point we'll get our answer from the USGA on whether the second was a disappointment or kind of what was expected, and if a second doubleheader is on the horizon.

Here are a few of the items that could be problematic moving forward with such a concept.
Golf Overload: I've always played 18 holes, not 36, unlike some who can't get enough mental anguish in four hours. In other words, two weeks of golf, even at the highest level, is burnout to the casual golf fan. And on the corporate side, if you're deciding which week to invest in, the men win out 99.99 percent of the time. An official at the Moore County Airport said "the faucet just shut off" the second week of play, meaning there was little corporate entertaining.

Who Would Host: Aside from a massive golf resort like Pinehurst (in which five of its nine courses surround the clubhouse), what facility would be willing to host such a drawn-out event? Maybe Pebble Beach, maybe Whistling Straits? Certainly no private club is going to shut down for more than two weeks.

Volunteers: This area, still mostly a retirement community, was able to draw on more than 6,500 volunteers, who braved the second week of intense heart. But that's a hefty number to obtain at any other location unless your championship site is in a major metropolitan area.

Conditions: With no rough and many native areas, Pinehurst No. 2 in June was an ideal layout to withstand the force of two weeks of tournament-play foot traffic. This doubleheader likely can't be pulled off if rough levels have to be maintained or cut from week-to-week. The heat of the North Carolina summer also made the greens easily maintainable, unlike some other locations.
Weather, Playoffs: The USGA can't control the weather, but it can play havoc on any tournament, let alone two back-to-back. It escaped this time with no major weather delays, which made Week 2 flow so much better. And Martin Kaymer made sure there was no Monday playoff with a runaway victory on the men's side. But what if either, or both, came into play? Week 2 could have gotten off to a rocky start.

The USGA and Pinehurst Resort get an "A" for execution and preparation . . . and for their out-of-the-box thinking on this historic golfing doubleheader.

But here's one vote for history not repeating itself.
David Droschak has covered golf in the Carolinas for three decades, mostly with The Associated Press, where he worked for 20 years as AP sports editor in North Carolina prior to launching Droschak Communications, a full-service marketing and PR firm based in Apex, N.C.

Dave, 53, has covered numerous major golf tournaments, including the 1999 and 2005 U.S. Opens at Pinehurst Resort, and is a longtime member of the Golf Writers Association of America. Dave will represent Cybergolf to provide coverage of the historic back-to-back 2014 U.S. Men's and Women's Opens at Pinehurst No. 2 in North Carolina's Sandhills.

Dave was honored with the Sports Writer of the Year award in North Carolina in 2005, and is currently editor of Triangle Golf Today (www.trianglegolf.com), a print and online publication regarded as the "No. 1 Source for Golf News in North Carolina." He is also golf editor for Pinehurst Magazine, an award-winning glossy publication.

Dave grew up in Penn Hills, Pa., about five minutes from famed Oakmont Country Club and was introduced to the game of golf as a caddie at Green Oaks Country Club in nearby Verona, Pa. Dave was the co-captain of the 1978 Penn Hills state championship baseball team, was a pitcher for the 1982 Atlantic Coast Conference champion University of North Carolina Tar Heels, and pitched professionally for two years in the St. Louis Cardinals organization. He is a member of the Penn Hills High School Sports Hall of Fame, which also includes NBA coach George Karl and former four-time Pro Bowl offensive lineman Bill Fralic.