'One-Year-to-Go' Media Conference for 2012 Ryder Cup
Various dignitaries got together Monday afternoon at Medinah Golf Club. The famed Illinois club will be the site of the next Ryder Cup, which is scheduled for September 25-30, 2012.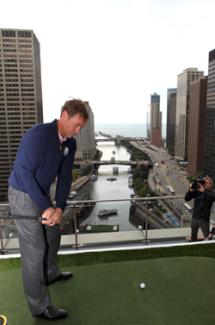 U.S. Ryder Cup Captain Davis Love III
Tees off in Downtown Chicago
(Photo by Getty Images)
Among those on hand for the press conference were the board of directors for the PGA of America - which oversees the biennial competition involving 12-man teams of touring professionals from the U.S. and Europe, Medinah officials, and the two rival captains, Davis Love III of Team USA and José Maria Olazábal of Team Europe.

The two captains got the bulk of attention from the gathered media. It was a coming-out party of sorts for Love and Olazábal, who outlined their plans for their respective teams. The Americans will be out to regain the Ryder Cup, while Europe will seek to keep it. Team Europe won the matches last year at Celtic Manor in Wales by a slim 14˝ to 13˝ margin.

Olazábal also regaled reporters with tales of Seve Ballesteros, a fellow Spaniard and Ryder Cup legend who died of brain cancer in May, and the two discussed how they'll be handling their duties Monday evening when each throws out the first pitch before the White Sox-Blue Jays game in Chicago.
Here's what the two captains told reporters during the Q&A.

MODERATOR: Thank you very much, Richard. And now, ladies and gentlemen, from Sea Island, Georgia, please welcome the 2012 United States Ryder Cup captain, Mr. Davis Love III.

DAVIS LOVE III: Thank you. Well, thank you, and welcome to Medinah. Like to thank Richard and his staff for coming over here and helping us kick off this Year-to-Go event. It's hard to believe it's been a year since I was last in this room, announcing that I would be the captain. It has flown by. I'm sure this next year will fly by, as well. I'm looking forward to working closely with Richard and all of his team in the next year to get prepared for this Ryder Cup. Like to thank José Maria for coming over. It's always great to see him. We have been competitors and friends for a long, long time. I have really enjoyed this day. We didn't get to play golf but we've had a good time hanging out in the locker room in this great clubhouse.

We have been friends and competitors for a long time, and I think this two-year process is certainly going to bring us even closer together. When he won the Masters, one of the times he won the Masters, I finished second to him and he was kind enough after the Masters past Champions Dinner the next year to send me the leftover wine, and that's the kind of a friend he is. He was still thinking of me a year later after I got the Silver Salver and I have some empty wine bottles to put on it.
But I also reminded him today that after that tournament my daughter named her first little horse after him. She rides this little South American breed of horses and they always have to have Spanish names and she named her first little horse after him. So we were all disappointed in that second-place finish but we got a lot of great friendship out of it.


But I'm excited to be the 2012 Ryder Cup captain. I'm honored to lead this team. It's going to be an exciting tournament because we are trying to win the Cup back, but also because we are playing at home, we are playing at Medinah which is going to be an incredible place for a Ryder Cup. Chicago fans have been great to me already in the last year. I know they are going to be very supportive of both sides but I feel like we'll have a nice home-field advantage playing here at Medinah, a great history of the game, and great sports fans.

As the son of a PGA professional, as Allen said, I'm very excited to have made this journey, not only to make it on the PGA Tour, to play in Ryder Cup Matches, but now to be in charge of trying to win the Cup back for the PGA of America. I know my dad would be extremely proud of me; to not only have played the Ryder Cup, but to try to uphold the traditions of the game that he taught me. I am excited to be here and excited to kick this year to go event off and look forward, as Don said, in bringing and presenting a great 2012 Ryder Cup.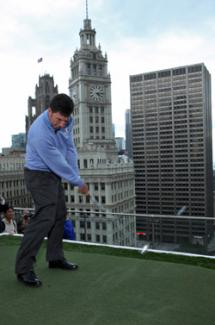 European Ryder Cup Captain
Jose Maria Olazabal Drives off a
Chicago Skyscraper
(Photo by Getty Images)
MODERATOR: Thank you very much, Davis and now ladies and gentlemen, from if you know Spain, the 2012 European Ryder Cup captain José Maria Olazábal.

JOSÉ MARIA OLAZÁBAL: Thank you very much. Obviously I'm also thrilled to be here kicking off this one year to go for the Ryder Cup. First of all to Don Larson, we first met a year ago at Celtic Manor and it's been a very warm relationship ever since, and I want to thank you for the way you treated us and for the way that you helped the European Tour all this time.

To Allen (Wronoski), the president of the PGA of America, you have a magnificent group of people working for you. You are doing wonderful things for the game of golf and I know they are really working hard to organize this event the best way possible. You are taking care of all the little details in a magnificent way and I want to thank you for the warm welcome and hospitality that you have given us.

To Medinah, Medinah Country Club, there is a lot of history. It's a place that we have played a lot of major events here. I cannot imagine a better host for this event. The clubhouse is just amazing. But also, the golf course. It's a traditional tree-lined course and I think with the changes that you've done to the 15th hole, I think those last four holes are going to be very exciting for the Matches in a year to come.

To Davis, we go back a long way. Actually we turned professional the same year. Your first year on Tour was '86 and it was the same for me on the European Tour. We have played a lot of times together. We have played against each other quite a few times at the Ryder Cup. You've had a successful career, but I think most important of all is that you've earned the respect of the golf community, your peers, and mine, for the way you have conducted through all of these years and I think that is very important.
I think we are kind of similar guys. I think we are kind of sentimental in a way. We do have similarities. I know that your father passed away early, and unfortunately I lost a dear friend and a mentor not long ago, and I'm pretty sure that both of them will be looking on us and when everything is done and over, all I can hope for is that both of them will be proud of us. Thank you very much, gentlemen, and as I said, really looking forward to the 2012 Ryder Cup here in Chicago, Medinah.
MODERATOR: Thank you very much, José. And ladies and gentlemen, it's that time to open the floor and the phone lines to questions.
Q. For both captains, you have to look at the 15th hole today, and just your thoughts on the change.
DAVIS LOVE III: We got to look. We didn't get to play but it looks like an exciting hole, and it looked long today, but you know, 280, certainly is reachable, and I think it will make for some exciting decisions. We have to decide where we want to put the tee and how we want to play it. I'm sure Kerry Haigh will lead us in the right direction on how to set the golf course up to make it exciting. We hope that it's not a deciding hole. I think as José said, it will be very exciting coming down those last few holes because you've got some risk/reward and you have the 16th hole can play over 500 yards now. Obviously 17 and 18 have been the scene of a lot of dramatic shots and putts in major championships. As I said, I hope we don't get that far but 15 could be a pivotal hole.

JOSÉ MARIA OLAZÁBAL: I have to agree with Davis. I think the hole has changed a lot. Now, it can be a risk and reward hole. Obviously it depends how the matches will be when you get to that point. I don't think it might be a pivotal hole, but it can be an important one depending on how much you get to that hole. You can see a lot of things going on on that hole, guys going for the green, guys actually playing safe, but it's still water in play for your second shot. So I think that the last four holes are perfect for match play. You have the combination of two tough holes like 16 and 18, and two exciting holes like 15 and 17; I think that is perfect when you're playing match play down the stretch.

Q. Speaking in that vein, going forward, will you guys be making trips to Medinah next year to get to know the course better and do you anticipate at some point bringing prospective players to the course to get them familiarized with the course prior to the event next year?

JOSÉ MARIA OLAZÁBAL: Well, to be honest, I don't think I'm going to force any player to come here and play the course before the tournament is played. You know, they have a busy schedule. Some of them actually have played the course; they know the course quite well. You know, I might pay a visit just to really check the setup of the course just before the tournament starts, and then pass that information on to the players. But apart from that, I don't think I'm going to force anybody to come here and get to know the course.

DAVIS LOVE III: Well, I've spent some time with Jeff Sluman last night and he said I could stay at his house any time I wanted. I might come a little more than José Maria and look at the golf course (smiling). I agree with him. We have got professional players that all prepare in different ways, and I'm sure I'll have some guys on my team that will want to, will need to, and then some guys that will be - can get ready Monday, Tuesday, Wednesday, Thursday is a long time. I think we'll probably mix it up. I agree with him; I won't force anybody, but I will be here. I need to get to know the golf course a little bit better just as far as which strategy we are going to play for alternate-shot and things like that. So I'm prepared. But I think the players will all prepare in their own way.

Q. For both captains, what's it like having the dynamic of the fact that you like and respect each other so much; would it almost be easier in some ways if you didn't have such affection for each other if you were trying to beat each other?

JOSÉ MARIA OLAZÁBAL: (Laughing).

MODERATOR: Go ahead and start, Davis.

DAVIS LOVE III: You want me to start? I think what José Maria said earlier, we both grew up with a respect for the players that have gone ahead of us, whether it was our fathers and people like Seve and Tom Kite and Byron Nelson and Ben Crenshaw, and the players and the people of the game that we were lucky enough to be around that we have a respect for the game. So when we came out on Tour, as youngsters, we were willing to learn and I think we are both obviously sentimental and we are both traditional in our beliefs that we need to uphold the values and respect the game.

So I think it's going to be -- I was excited when I saw that he was going to be the captain, because I thought it would be a great two years. And I have a lot of respect for him and what he's done for the game. And it really is going to be easy. Now, Friday morning, that all changes. I don't think he's going to give me his radio frequency Friday morning so we can chitchat. But I guarantee you, this, though, on Sunday night, there will be two teams celebrating the end much the Ryder Cup together. It always happens, and we will leave here as friends. One group will leave very happy and one group will not be very happy, but we will all leave here as close friends like we started the week.

JOSÉ MARIA OLAZÁBAL: I totally agree with everything that Davis said. But you know, don't get mistaken. I mean, even though we have a lot of respect for each other, we played together a lot of times for many years, we are still competitors. We are going to try to beat each other like hell, that's for sure. (Laughter). I don't think any of us wants to lose. And obviously we are going to try, both of us, we are going to try as hard as we can to win that trophy. And that's not going to change our relationship at all. As Davis said, when everything is done and over, we'll be as good friends as we are now. And that, I think that's the true spirit of this event. I think it is right to say that in the past, we had some incidents, but those are in the past and we are moving in the right direction. And the fact that every time now the Ryder Cup is played, whoever wins, it doesn't matter, both teams will get together and we'll have a good time.

MODERATOR: If it makes you feel any better, the next news conference, we'll have them march in their underwear and strip down on a scale.

Q. Just wondering if your captaincy feels I guess any more real with events like today; weather aside, how exciting it?

JOSÉ MARIA OLAZÁBAL: It's really exciting. Obviously the fact that we are here actually rings the bell of what is going on, without a doubt. It's been a couple of busy days, still today we do have a lot of things to do. But it's true that, you know, somehow we are more conscious of what is going on because of this event.

DAVIS LOVE III: I think reality hits you when you walk in this clubhouse; that it's serious, that it's really going to happen in a year. We'd better be prepared for it. We'd better get our teams ready, and you know, the next big event here is going to have a lot of people watching everything that we're doing. Yeah, reality is certainly setting in. The questions I get around the golf world just day-in and day-out tells me how important this event is to the golf fans and to the golf world, and days like today, where decisions that we have to make, really make it sink in, that it's coming a lot faster than we thought. We thought two years was going to take forever, and it's flying by.

Q. For both of you, could you tell me how much you plan on playing in 2012 and if you're trying to make your own teams?

DAVIS LOVE III: Yeah, I'm definitely trying. I tried to make Freddie (Couples') Presidents Cup team and he never called me (laughter). I didn't get enough points. So I hope I can do better next year. You know, I had a couple of good tournaments this year that got people talking, but I need to obviously play a little bit better and be a little bit more consistent. But certainly, I'm out every week trying to compete and play well, and trying to get in the winner's circle again. I would like nothing better than to be in the mix. But the No. 1 goal is to win the Cup back, and you know, if I was one of the best five players on our tour this coming year, then yeah, I'd like to play. But otherwise, I'm going to get 12 really good ones and let them go do it.

JOSÉ MARIA OLAZÁBAL: I'm going to try to play as much as I can next year just to follow my players, mainly on the European Tour obviously. I'll follow the guys here, especially through the major events and things like that. But I want to make this clear: You know, even though chances are very slim of me making the team, if that would be the case, I can assure you that I won't be playing in it. And don't get too quiet. (Laughter).

Q. With the proliferation of Asian players playing in the regular tournaments, what are the chances that some of them will be included with either the European or the U.S. Teams, and how are they selected?

DAVIS LOVE III: What was the question?

Q. With a lot of the Asian players playing right now, with the presence of a lot of Asian players, how would they be included in the Ryder Cup being the U.S., European -

DAVIS LOVE III: That would be on the Presidents Cup.

JOSÉ MARIA OLAZÁBAL: Correct. They cannot be playing the Ryder Cup unless you are U.S.-born.

DAVIS LOVE III: You have to be a U.S. citizen.

Q. Is it based on residency or skill and how long they have been playing the circuit?

DAVIS LOVE III: The country you're a resident of; so they would be in the Presidents Cup team, or the rest of the world (International) team.

Q. Davis and José, can you talk a little about the home crowd factor and how that plays into a Ryder Cup, and wondering since you are staying with Slu, has he filled you in on what Chicago sports fans are all about or do you have a pretty good understanding about Chicago sports fans?

DAVIS LOVE III: We are excited to be playing at home, certainly. I've been -- I've played on both sides of the pond, and it's certainly easier when you're playing at home. It's certainly easier for the younger players that haven't played a Ryder Cup to play at home. So certainly, it is the home-field advantage. I think in Chicago with great sport fans that are used to pulling for so many different professional teams and so excited, knowledgeable about sports; that it will be a very friendly home crowd. We hope to get support for the American Team, obviously, with respect to our competitors. It will be a very excited crowd, but a fair crowd. I know when we go over there, the European fans, they cheer for their team and they are very respectful. I think playing in front of the English and Scottish fans is probably one of the highlights of my year in going to the British Open, because they really understand the game. And I hope that our fans over understand that it is a gentleman's game and we need to respect both sides. But I certainly feel like we are going to have a 13th man, because we are at home.

Q. What in your mind makes a good Ryder Cup venue course and do you see those attributes here in Medinah?

JOSÉ MARIA OLAZÁBAL: I think so. I said it before, I think this is a perfect host for the venue. Obviously first of all, facilities. You have all of the facilities that you can imagine around here. The golf club, well, the clubhouse, is just extraordinary. I don't think you will see any other clubhouse like this one around the world. It can host a huge number of people. And the golf course itself, as I said, I think with that little change on 15, I think those last few holes are going to be very, very interesting. That's what you need in match play. You have to have holes where actually risk and reward can be part of it. I think we have that in those two holes, 15 and 17. And on top of that, you have a very, very strong hole on 16 and also 18. So I think Medinah Country Club is perfect.

DAVIS LOVE III: I totally agree. Incredible history of hosting major championships and it's a golf course that you look out there every day, it looks like a major championship is getting ready to happen. It just has that look to it. So a great golf course and a great facility for the biggest golf event in the world, and I think, you know, golf fans that come here are going to see one of the greatest golf events ever. This is just an incredible place to have a tournament.

Q. Just wanted to clarify, you said you would not play, you would not be part of the team if you played your way onto it; and can you explain why not?

JOSÉ MARIA OLAZÁBAL: Well, I will be part of the team for sure (laughter) but not as a player. Well, it's quite simple. You know, I gave my word that I was going to be captain, and with that, there is a lot of responsibility, a lot of things that you have to do. I think the Ryder Cup has become the third-biggest sporting event in the world. There are many things that you have to do during that week, and I don't think that, you know, you can do both things at the same time. So it's as simple as that.

MODERATOR: As we talk about history and tradition of the Ryder Cup, José, I'll begin with you, as we were speaking last night a little bit, as we can put some of the moments into perspective, you had mentioned a story about your first Ryder Cup and memorable moments. If you could just maybe share that a little bit, and Davis, I'll ask you that, as well.

JOSÉ MARIA OLAZÁBAL: Obviously there is a lot of special moments regarding my history in the Ryder Cup, emotional ones, like the one at the K Club with Darren, that was a very special moment. But the one I was mentioning last night, it was in '87 at Muirfield Village. It was obviously my first Ryder Cup. I really didn't know that much about it. And Seve talked to Tony Jacklin and said that he would love to play with me, so we were paired together. And on the Friday morning playing, just before we teed off for the foursome matches, we were hitting a few putts on the putting green. And as we talked off the putting green towards the first tee, obviously I was really, really nervous. I was pretty much shaking like a leaf and I didn't know what to do at that time. Seve approached me and said, "José, you just play your game, I will take care of the rest." And you know, that somehow calmed me down a little bit. (Laughter).

And you know, that same day in the afternoon match playing in the four-balls, we played against Curtis Strange and Tom Kite, and on the first home, the flag was way back left and I hit it pretty much in the middle of the green and Seve went for the flag and missed the green left. I was farther away, so I hit my first putt and I hit it like three, four feet past the hole and Seve approached me and said, "Ollie, why don't you finish it and so I can go for it."

And I said, okay, fine. So I'm looking at the line and Curtis approached me and said, "Ollie, by the way I think you better not putt that one." I said, "What's the matter? What's the problem?"

"Well, if I hit my putt past the hole, you might be standing on my line." Okay. Fine. So I said, "Seve, I cannot putt."

"What's the matter?" "I might be standing on Curtis's line." So he looked at me and said, "Don't you worry. I'm going to make it anyway." He chipped it in. That was it. (Laughter).

MODERATOR: Baptism under fire, I believe, is what we'll call that. Davis, special moments, many Ryder Cups, do you have one that you recall?

DAVIS LOVE III: Well, as José Maria said, there's so many emotional times of highs and lows. One of my favorite memories is also of Darren Clarke. The last match in Detroit, Darren birdied 16 and 17 to get the match back to all-square, and we ended up all-square; and our match in the end really wasn't a factor in the outcome of the matches. But it was a hard-fought match between friends, and then afterwards, we were sitting on the side of the green sharing a cigar together watching the rest of the matches unfold. I'll always remember sitting, talking with him about our match and about the Ryder Cup and what it meant to us, and that's what the Ryder Cup's all about, is we battled it out there, and then it didn't take us ten minutes to get back to our friendship and sitting and enjoying what The Ryder Cup was all about.

Talking about 15 reminded me of playing against Seve and José. My first three Ryder Cup Matches were against Seve and José, so I got quite a taste of, welcome to the Ryder Cup. Tom Kite and I drew them three matches in a row, which is very hard to do. But the 10th hole at The Belfry, they kept laying up on us, and we would try to hit drivers on the green. We kept losing the hole. So I'm going to remember that when it comes time to play 15 here, remind him the way Seve had José play that hole. I think he hit a 9-iron off the tee, or you did.

JOSÉ MARIA OLAZÁBAL: It was a 7-iron.

DAVIS LOVE III: 7-iron.

JOSÉ MARIA OLAZÁBAL: 7-iron off the tee.

DAVIS LOVE III: It shocked us. Being aggressive on that hole definitely cost us momentum in those matches. I think we won one out of three that two days, and it was a rough start for me in the Ryder Cup. But honored to have played against Seve in a Ryder Cup match, and so many great, great memories over the years. I'll also remember Seve trying to hijack our bus at Valderrama. He tried to drive it down the drive. (Laughter) That was the scariest moment in the Ryder Cup. I didn't know Seve knew how to drive a bus. We always have had a lot of fun and a lot of great memories.

JOSÉ MARIA OLAZÁBAL: I would like to add a couple of things. The fact that we laid up on 10, it was because we were not that accurate with our drivers (chuckling). That's to start with. And you mentioned the match against Darren. What people might not remember, and you know, I'm saying this because it says a lot about Davis, is that during that match, actually I think you were 2-up and three to play, and that Darren birdied 16 and 17. So the match was tied. And playing 18, Darren hit it on to the fairway, you hit a good tee shot but the ball just ran off the fairway in the left-hand side into the high rough.

And when you were taking your stance, this was a sprinkler head, if I remember properly, there, and actually, could you have relief from it; by doing, so you were actually dropping the ball on the first cut of the rough, which gave you a perfect chance to go for the green in two. And because it was a huge advantage, you declined that, and actually, you chipped it out. So that pretty much, you know, says a lot about Davis and that's what I said when he has earned a lot of respect from all of us, it's because of those things.

MODERATOR: You're going to make me cry. It doesn't appear we have any questions on the phone lines, so we are back at Medinah still. Does anybody have any questions for the captains at Medinah?

Q. Davis, at Valderrama, Paul Azinger had a rally the week of the Ryder Cup downtown; will you do the same next year in Chicago?

DAVIS LOVE III: He had a what?

Q. He had a rally; he took his players downtown and he was encouraging the crowds to really get behind the team. Will you do the same here?

MODERATOR: A pep rally.

DAVIS LOVE III: A pep rally? I don't think we'll need it in Chicago. I think the fans are going to be pretty excited. These guys went to the Bears game and they had some fans that didn't even know who they were but they had their Ryder Cup gear on and they said, "We're coming to the Ryder Cup, we're so excited, it's going to be the biggest thing ever to happen in Chicago." The fans are going to be plenty - we just have to keep them contained, keep it fair.

JOSÉ MARIA OLAZÁBAL: That's going to be tough.

DAVIS LOVE III: I think they are going to be plenty fired up, and yeah, I think our team, their team, we're all going to be really excited for this Ryder Cup. I don't think we'll have to help them any at all.

Q. There's a lot more emphasis on the whole planning for the Ryder Cup, and that includes assistant captains. Wonder if you guys put your heads together about how many or if you're going to have a set amount or you're going to have four like the previous American captains have had; what is the plan that you guys have for assistants?

JOSÉ MARIA OLAZÁBAL: Well, we have to actually sit down and look at all of those things. We had a little chat already, and we are leaning more towards the No. 4, correct? (Looking at Davis). It's not decided yet. We have to sit down and talk about it.

MODERATOR: Davis, you sticking with that story?

DAVIS LOVE III: That is the true story. We have talked about it. I've asked him his opinion several times. It's a hard thing to do, because the number has grown from one to four or four and a half last time (laughter). And we will argue during the week of the Ryder Cup. We had some arguments in Wales over how many golf carts we had and how many radios we had. But that's part of it. That's competitive sports. It's how much pine tar is on the bat. It's part of the game. But we have -- we have been paired together, what, two tournaments and we played some practice rounds. So we are talking about those kind of things. You know, if he says, look, this is really what I want to do, then we'll agree. We'll figure it out. But we have both got a lot of applications, we are trying to whittle it down to the right number. But four really has worked good the last time but it's a big number. We're working out those details.

Q. Davis, do you sense a transition period on the horizon for the U.S. Ryder Cup team, kind of the makeup of the team? When you came in, it was kind of a period like that with Lanny and Tom Kite and those guys, their last Ryder Cup.

DAVIS LOVE III: A changing of the guard -- you know, there are a small core of players that we expect to make the team, and then obviously with the way the end of the year is shaking out this year, with a lot of young, fresh American faces, that it could be a changing of the guard. And we had some new players last time in Wales, some we didn't expect, like Rickie Fowler, his first time on the scene. We do have a lot of great young American players, but I certainly expect that we will have four or five of our usual suspects that will make the team. That's what's exciting about The Ryder Cup is every year there's, on both sides, some new faces. But time does march on. The old guys end up being captains and then we get some new guys. I think that's just the cycle of it. But I'm really excited about the Keegan Bradleys and the Overtons and the Dufners and the Fowlers and the guys that are playing well now.

Q. With the changing of the guard, I suppose I have to ask you -- every press conference has to have a Tiger Woods question at some point. What did you think of Fred's decision to say Tiger would be on the team and do you look ahead and wonder what you would do in that same situation next year if it was presented to you?

DAVIS LOVE III: Well, I've been asked that a lot, what would I do if I was in Fred's situation. You know, you certainly want one of the best players, ever, in the game, you want him on your team. I'm hoping for Tiger's -- as a friend, for Tiger's sake, that he has a full, healthy season next year and we are not in this situation; that he's back to his form, and he's ready to go.

I'm sure -- we are all not privy to the conversations of Fred and Tiger over the last few months, but I'm sure that it was probably very similar to his conversations with Corey, "I'll be ready to play, and if not, I'll tell you." I would love to play, as Tiger Woods partner, in a Presidents Cup or Ryder Cup. So I would probably have to go with exactly what Fred did. Maybe not pick early, because Julius would get mad at me.

Q. Davis, on setup out here, do you have any thoughts on how you would like to see the setup done? Obviously you're the home team, so you get a chance to determine setup. And then for both of you, this whole assistant captain thing that you've talked about, there's a rule in regards to only one person can give advice on the golf course. That seems a bit antiquated in the environment we are in today. Would you entertain changing that so that the assistant captains can participate in that, as well?

DAVIS LOVE III: On setup, we've talked about it a lot. I've talked with some former captains, all the way from a lot of input to no input. I've talked to several players, and we have -- several of us have agreed that we were going to sit down some at the beginning of next year and talk about what might be the best way to set it up. But you know, Medinah is a major championship golf course, and you just set it up like a major championship. I've always over the years been impressed with how Kerry Haigh sets up a golf course, and setting it up much like the PGA is the way to do it.

As my son who played with Don earlier this year said, "My dad doesn't like rough." So if it was me, I don't like rough, but that might not be the best thing for the way to set this golf course up. You know, with the trees, as José said, tree-lined, major championship style of golf course, I don't think you have to do too much to this golf course. Firm and fast greens makes the case for itself. So I don't know if there's a way for it to be an advantage one way or another. We both have -- we are both going to have super-talented, long-hitting teams that make a lot of birdies. It's more, I think, what's the most exciting thing to watch, and to me, that's making birdies rather than putting for pars. And you know, if I was setting up the PGA Tour courses, I set them up -- I would lean more towards birdies than putting for pars. That's kind of how I would lean; more the way the PGA Championship is set up rather than super-tough and impossible.

MODERATOR: And for both captains, the question on assistant captains and the advice rule.

JOSÉ MARIA OLAZÁBAL: Well, it's early days. We have applied that rule the last bunch of Ryder Cups. Obviously we have to sit and go through all of those issues. But from my point of view, I don't have any problem with that. I think if it will reduce the number of people that can give advice to the players, I think the better, to be honest. But you know, it's one of those things that we'll have to sit down and talk about it.

DAVIS LOVE III: Yeah, I agree, that if you have four assistant captains out there with radios, it can get a little unwieldy with the rules, who can give advice and who can't. It's tougher now on a captain, as José Maria said, you have so many responsibilities; you can't be right there with all of the important matches. But if you had one assistant captain, then it would be a different story. But I think once we went to, you know, so many assistant captains, it's hard to turn everybody loose out there. The rules guys certainly wouldn't like it. But it's worked the last few years with just the captain being able to give advice.

We found, as assistant captains last time, the players really don't need a whole lot of -- you know, Joe, hit a 7-iron and Frank, hit a 6 on the par 3. I don't think they really need that these days. It's more a supportive role, you know, helping out, especially when the weather was bad or on a long day if a guy needs some equipment or some food. I think the assistant captains are there more for support of the captain and being able to do the captain's role a little bit while he's back in the clubhouse maybe in a press conference or making selections. But I don't think we need to change the advice rule from my perspective.

MODERATOR: Questions? Questions twice? We still have a very, very big afternoon left for the captains. We are heading off to Trump Tower for the $100,000 magnificent moments fund-raising adventure where the captains will try to hit a replica Medinah No. 17 hole from 16 stories up in the air. So captains, let me give you this before you leave, are you more nervous about that shot, or are you more nervous about throwing out the first pitch? José?

JOSÉ MARIA OLAZÁBAL: Throwing out the first pitch.

DAVIS LOVE III: We are going to go have first pitch practice now that the rain has stopped.

MODERATOR: This is quite interesting, ladies and gentlemen, as we were upstairs, and I don't know who is going to answer this question right, but we asked our European Ryder Cup captain how many times he's played baseball, how many times he's grabbed a bat and how many times he's grabbed a ball, to which Richard Hills, roared right back at me and said, "How many times have you played cricket, Julius." So, José, for everybody, how many times have you played baseball?

JOSÉ MARIA OLAZÁBAL: Zero.

MODERATOR: How many times have you thrown a baseball?

JOSÉ MARIA OLAZÁBAL: Zero.

MODERATOR: Baseball more of a challenge tonight.

JOSÉ MARIA OLAZÁBAL: Well, you know, I'm really scared about it, because you know, as Davis said, I don't want to be shown on the worst ten plays of the week. (Laughter) I really don't know how I'm going to get that ball to the plate. But I'll try to do the best I can.

DAVIS LOVE III: My nerves have made him nervous. We're going to go find a baseball.

The transcript for the above interview is courtesy of ASAP Sports.