Orange County's Golf Coast
Southern California's Orange County is much more than the home of Disneyland and Knott's Berry Farm. It's also a golf destination of the highest order. A variety of facilities are available within easy reach of one another. From Coyote Hills Golf Course on the north, to Monarch Beach Golf Links on the south, each of the eight facilities on "Orange County's Golf Coast" will slake the appetites of local and visiting golfers.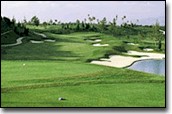 Aliso Viejo Golf Club is a 27-hole gem consisting of the Ridge, Creek and Valley nines. The longest 18-hole configuration, Valley-Creek, extends 6,435 yards from the back tees. Eight lakes and dozens of bunkers impede the quest for par on these 27 holes. The 1999-opened Aliso Viejo, designed by the father-and-son duo of Jack Nicklaus and Jack Nicklaus II, is owned and operated by ClubCorp, which now has over 220 golf facilities in its worldwide portfolio. Aliso Viejo boasts a practice area with 70 stations. For small parties, the Lakeside Pavilion can accommodate up to 50 people; for larger parties, the Special Events Facility – overlooking a lake and island green – accommodates up to 300. For a tee time at Aliso Viejo call 949/598-9200.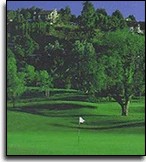 The Coyote Hills layout in Fullerton opened in 1996. Designer Cal Olson and the late, great Payne Stewart crafted a 6,500-yard, par-72 beauty on the 250-acre site. The testy course boasts a rating of 71.1 and a slope of 128 from the tournament blocks. From its 150-foot-high tee, the 7th hole offers vistas of the Los Angeles skyline, the Newport Coast, nearby snow-capped mountains and the fabled "Hollywood" sign. The venue features a 22,000-square-foot clubhouse with a restaurant and lounge, banquet spaces and locker rooms. In addition, Coyote Hills has a full practice facility as well as golf schools. For a tee time call 714/672-6800.
Monarch Beach Golf Links lies off Niguel Road in Dana Point. The par-70 course was designed by Robert Trent Jones II and opened for play in 1983. Though not exorbitantly long at 6,344 yards, Monarch Beach nonetheless plays difficult, as noted by its 69.2 rating and 128 slope. Much of the course's challenge stems from its strategic bunkering. The layout sweeps across bluffs alongside the California Riviera, where golfers enjoy commanding views of the Pacific Ocean. The course is augmented by a full-service, Tuscan-style clubhouse. Upcoming plans include luxury, fairway-side residences. For a tee time at Monarch Beach Golf Links call 949/240-8247.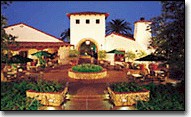 Named after a stream that travels from the Saddleback Mountains to the Pacific, Oak Creek Golf Club in Irvine is a terrific Tom Fazio-designed venue that opened in 1996. The course was built in Southern California's once-expansive citrus groves; the fairways are now lined by towering oaks and eucalyptus trees. Lakes, bunkers and subtle ground features make the 6,850-yard Oak Creek a tough test. Post-round activities take place in a Spanish, hacienda-style clubhouse. Also available is a massive practice facility, with expert instructional programs run by six teaching professionals. For an Oak Creek tee time call 949/653-7300.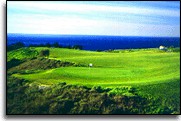 The 36-hole Pelican Hill Golf Club is another Tom Fazio dandy. The venue in Newport Coast features the Ocean North and Ocean South courses. The Ocean South course was named by Golf Digest as the "Best New Resort Course in America" in 1992. The Ocean North layout followed in 1993; it was rated by Golf Magazine as one of the top-10 New Resort Courses in the U.S. that year. The kudos are warranted. Overlooking Pelican Point, Catalina Island and the azure Pacific, the layouts span the rolling hillsides and rugged canyons of the old Irvine Ranch, a turn-of-the-century cattle operation. Besides two highly rated courses (South has a 130 slope from the tips; North weighs in at 133), Pelican Hill Golf Club has all the amenities, including a 30,000-square-foot clubhouse, a rotunda and garden that can accommodate up to 300 people, and the Glenn Deck Golf Academy. For a tee time at Pelican Hill call 949/760-0707.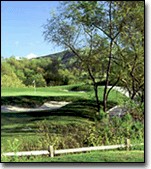 Strawberry Farms Golf Club in Irvine is a Jim Lipe design that debuted in 1997. Developed by former California Angels third baseman, Doug DeCinces, the 6,700-yard, par-71 track traverses agricultural land that once nurtured the club's namesake fruit. Unlike courses engirded by peripheral development, pastoral Strawberry Farms is characterized by rugged canyons, granite hillsides, waterfalls, and wetlands. The course skirts the old Sand Canyon Creek, and a 35-acre reservoir dominates the back nine. While enhancing the rural ambiance of Strawberry Farms, these features compound the golf challenge. The facility boasts a full-service clubhouse, a grass-teed driving range, and the Big Red Barn, a building used for banquets, weddings and corporate events. For a tee time call 949/551-1811.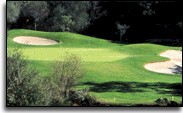 The Ted Robinson-designed Tijeras Creek Golf Club lies in Rancho Santa Margarita, an area easily accessible from the Foothill Transportation Corridor and nearby freeways. Opened in 1990, the 6,613-yard, par-72 course has a 71.7 rating and a 126 slope. The back nine is one of the area's finest sets of holes, winding past old-growth sycamores, oaks and native chapparal. In 1997, Tijeras Creek's 16th was voted as one of Orange County's Best 18 Holes by members of the Southern California PGA. Besides green fees in the $80 range, Tijeras Creek features a clubhouse with full food and beverage service, a top-flight practice facility, and instructional services emphasizing junior programs. For a tee time call 949/589-9793.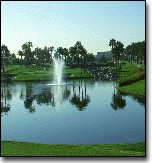 The 1989-built Tustin Ranch Golf Club is another Ted Robinson design. Situated 10 miles south of Disneyland, the hallmarks of the 6,800-yard layout are outstanding conditioning, challenge (a 129 slope from the tournament tees), and superior service (caddies upon request). The 160-acre track offers mountain panoramas and is graced by towering palms, lovely waterfalls and shimmering lakes. The Golf School of Tustin Ranch is staffed with PGA professionals, and the Tournament Service office arranges golf outings for corporate and private groups. The clubhouse contains a full restaurant and lounge, and has banquet space for up to 270 diners. For a tee time at Tustin Ranch call 714/730-1611.
For more information on the above courses, visit http://www.occgolf.com/main.html.