Osage National & Dogwood Hills in Lake of the Ozarks
By: Steve Habel
There's a lot to do on a trip to Missouri's Lake of the Ozarks region, including boating, hunting, shopping and other activities associated with life near a massive lake. Bidding for the top draw in the area is its 279 holes of golf, enough to keep you running from course to course for morning and afternoon tee times for almost two weeks if you're so inclined.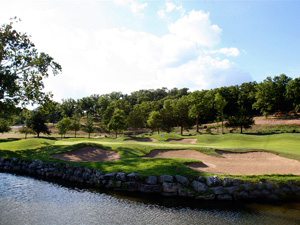 Osage National Golf Resort
While we didn't quite go to that extreme on a recent excursion there, we did get in our share of golf over three days. One of those featured rounds at the fabulous Osage National Golf Resort and the short but sweet Dogwood Hills Golf Resort, two tracks that are about as opposite as two sides of a coin.

Osage National, Missouri's only Arnold Palmer Signature course, features 27 holes set in a beautiful valley ringed by the imposing bluffs overlooking the Osage River. Dogwood Hills Golf Club, the first 18-hole layout in the Lake of the Ozarks area, is nestled in tight confines among wooded hills near the lake. At just 6,157 yards, it features a back nine without a par-5, but holes that can still bite you if you're not careful.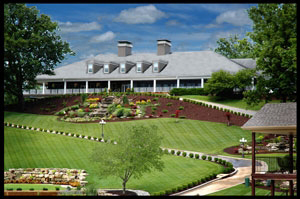 Clubhouse at Osage National
The Three Nines at Osage National

A round at Osage National brings three distinct nines - dubbed the River, Mountain and Links - into play. The River and Mountain nines were Palmer's original layout and opened in 1992. The routing hosted a Skins Game between Palmer, the late Payne Stewart, Lee Trevino and Tom Watson.

Links opened in 1998. All 27 holes boast large, well-manicured greens with mild undulations, Zoysia fairways and five sets of tees.

The River (which plays to 3,543 yards - shortest of the three) brings water into play on every hole. The side begins with the 398-yard first, a par-4 with a pond down the right side from landing area to green, and ends with a 626-yard par-5, which requires a drive over water and a third-shot approach past a large bunker left and a series of mounds right.

Among the other trials on River nine: the grip-it-and-rip-it, 445-yard par-4 second, with a putting surface engirded by sand on three sides; the 216-yard par-3 fourth, where you must carry a water hazard and a foot-shaped bunker to a green that slopes rightwards; the risk-reward, 315-yard par-4 sixth, which is better played as a two-shot hole because of a forced carry over water and several trees on your line to the green; and No. 8, a 442-yard par-4 with a huge bunker on the left the entire length and the tree-lined Osage River right.

The Mountain nine offers its own set of tests. The true strength of this side are its par-4s, including the 420-yard 12th (the course's signature hole), which drops from an elevated tee to a fairway that slopes severely to the right and an approach that heads back uphill to a putting surface that moves from left to the right and back to front. Then there is the 484-yard, dual-tiered par-4 eighth, which forces a lay-up short of a deep drop midway to the green before descending to a green protected front-right by a huge, deep bunker.
The par-5s on Mountain include the 588-yard fifth, which features another elevated tee shot that must be placed to the right to a blind landing area and a third-shot approach to a green protected by a pond left. The 555-yard ninth, a boomerang-shaped dogleg-left that culminates at a bunker-flanked green higher than the fairway.

Links is relatively flat after the uphill 377-yard first, which ends at a 21-yard-deep, two-tiered green. No. 2 is a 455-yard par-4 with a forced carry over tall, native grasses, and the uphill and tight, 441-yard fifth has a green that is just 17 yards wide but 37 yards deep, so choose the correct club here.

The par-5 seventh is, at 612 yards, a true three-shotter, and not just because of its length. The drive is made difficult by a bunker and water left and the lay-up is over water to a tight landing area with sand and mounds on both sides. Completing the Links nine is a reachable-in-two, 512-yard par-5 with a green pinched on three sides by water.

The River/Mountain combination at Osage National is the toughest, carrying a rating of 75.6 and a slope of 145 from the tips. The Links/River is rated at 74.6 and sloped at 141, while the Mountain/Links comes in at 74.7 and 139.

Additional amenities at Osage National Golf Resort include a 20,000-square-foot clubhouse, pro shop and an expansive practice area with a driving range and chipping and putting greens. This place offers a little bit of everything and a whole lot of fun. For more information or a tee time, visit www.osagenational.com.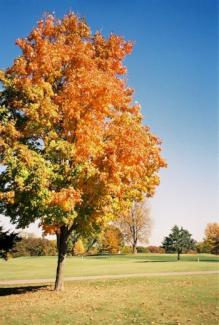 Looking Across Dogwood Hills
Unique Routing adds Flavor to Dogwood Hills

Designed by Herman Hackbarth and opened in 1962, Dogwood Hills has been a Lake of the Ozark favorite for nearly five decades. The course, which plays to a par of 36-34/70, carries a reputation as a challenging but not overwhelming track with wide Bermuda grass fairways and small, well-kept bentgrass greens. Dogwood Hills is a popular course, especially among locals and beginners.

The first hole at Dogwood Hills is a par-5 that stretches just 471 yards but still has plenty of teeth. The front nine's 3-3-3 layout has just one par-4 of at least 400 yards (the 416-yard fourth is the No. 1 handicap hole) and ends with the 590-yard par-5 ninth runs straight into the prevailing wind.
The back side immediately turns up the heat with the 185-yard, par-3 10th and hits its peak on the dogleg-left, 446-yard par-4 14th. No. 16 is another testy one-shotter at 196-yards from the tips, and the 381-yar par-4 17th winds rightward around a stand of trees to a small, oval-shaped green.

Dogwood Hills is rated at 68.5 with a slope of 116 from the back tees. This course runs across rolling terrain, so expect some uneven lies. The venue sports a lighted practice facility with a driving range, large chipping area and putting green.

Inside the clubhouse, Mitch and Duff's Restaurant serves breakfast and lunch and, across the street, the Dogwood Hills Resort Inn offers spacious rooms, fairway villas and golf packages.

Don't be surprised if you have a really good time at Dogwood Hills, despite is relative brevity. For more details, visit www.dogwoodhillsresort.com.
Steve Habel is one of Cybergolf's national correspondents, contributing news stories, features, equipment and book reviews and personality profiles from his base in Central Texas. He is also the managing editor for Business District magazine in Austin and works as a contributing editor for Horns Illustrated magazine, a publication focusing on University of Texas sports. He also writes a blog (www.shotoverthegreen.blogspot.com), which features news on golf and the Longhorns.