Osceola Municipal Course Set to Reopen after Remodel
With an eye toward transforming the area's only municipal golf course into a more profitable operation, the city of Pensacola, Fla., and the Parks and Recreation Department invested $750,000 on a renovation of Osceola Municipal Golf Course.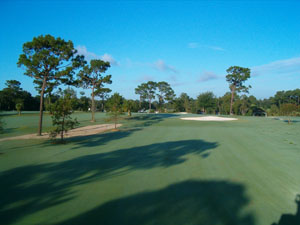 The 17th Hole at Osceola
The project involves upgrades to the First Tee facility, which now includes 40-tee driving range, a new putting and pitching green, and practice sand bunker. Course upgrades include reconstructed green complexes, concrete cart paths and new bunkers and trees.

Harrison Minchew, a long-time Arnold Palmer protégé, oversaw the six-month project with Lepanto Golf Construction of Pomona Park, Fla.

Minchew and Lepanto built four new holes at Osceola, including a trio of new par-3s. The course remains approximately the same length, slightly more than 6,400 yards from the tips, but the former par-72 layout, which debuted in 1926, will now play as a par-70. In addition, new tees were enlarged, with new starting blocks for seniors, ladies, and juniors.

A grand re-opening event is scheduled for Friday, October 7 with the annual Mayor's Cup Tournament. A month ago on September 7, former U.S. Open champion Jerry Pate, a native of Pensacola, conducted a golf clinic at the new practice facility.
The practice area is now located adjacent to the No. 1 tee, formerly No. 17, in front of the clubhouse. The former 17th hole at Osceola will be the new No. 1 hole. In addition, the clubhouse has also been refreshed with new carpeting, flat-screen TVs and a new restaurant.

Besides Pate, other touring pros with ties to the course include Joe Durant, Heath Slocum and Boo Weekley.

"I grew up playing Osceola," said Durant. "I've probably played it a thousand times. It is very exciting to see the improvements. The new driving range and practice facility are great. The added length with the new tees, new bunkers, several new holes and character designed into the greens will make the golf course enjoyable to all types of players."

Public play will commence October 8. The course was originally scheduled to reopen in early September but was postponed by a tropical storm, which actually proved to be a blessing as the majority of the new turf, especially the MiniVerde Bermuda greens, was enhanced by more grow-in time.
"This place is near and dear to a lot of people's hearts," said Minchew. "The entire golf course will have a new look. The greens were nondescript and now they are strategically re-contoured and much more playable. The turf quality is going to be completely different as well. Now even the best golfers will have an enjoyable challenge from the new back tees. Everyone is very excited about it."

Minchew said that along with expanding the First Tee program and other youth-teaching programs, the practice area will enable golfers to hit a bucket of balls, practice their putting, have a sandwich and go home. This is the second First Tee facility Minchew has designed; his first was in his hometown of Augusta, Ga.

"It's really neat to see all the kids out there practicing, even when the golf course was closed," said Minchew. "The greens now will have as good of turf grass as you will find anywhere and they will be able to maintain the greens at a much higher level now," he added.

In addition, the asphalt cart paths that were originally constructed in 1978 have been replaced with white, concrete cart paths that have curbs and are routed with turnaround positions on certain holes. "It adds a cleaner look," said Minchew.
Adrian Stills grew up playing at the course and later returned after a pro career to become the facility's general manager. Eddie Daigle is Osceola's superintendent.

The course was originally designed by William Earl "Wild Bill" Mehlhorn, a Texan who won more than 47 tournaments in his 10-year playing career and competed on the first Ryder Cup team in 1927 as well as in the inaugural Masters tournament. Widely recognized at the time for the cowboy hat he wore on the course, Mehlhorn was a gallery favorite due to his uncanny accuracy. He was also one of the longest hitters in his day and later became a noted golf instructor.

For more information or a tee time, visit http://www.osceolagolf.com/live/.