O'Toole Tackling 'Health of the Game' as New USGA Leader
By: Dave Droschak
We've all heard - much of which has fallen on deaf ears the last five years - about golf's declining state since the economic crash of 2008.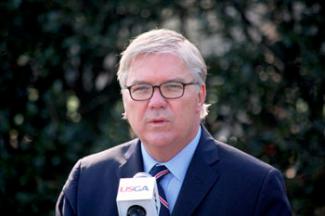 O'Toole Outside of Pinehurst Resort
(Photo by David Droschak)
Few, if any, golf courses are being built these days in the United States, driving ranges are disappearing at a rapid rate, and rounds are down. Private clubs are reinventing themselves as fewer of us are working - and those of us who are employed are logging longer hours, leaving little or no time for a leisure sport such as golf. And the retirement age of 62 is a blast from the past.

Simulated golf on computers and elaborate indoor hitting bays are taking hold on the younger generation of potential players. Heck, even golf's most polarizing figure on TV for a decade - Tiger Woods - has lost his appeal to millions who at least once tuned in on Sundays, rooting for or against the "red shirt."

So, when new United States Golf Association president Tom O'Toole took over the reins of golf's governing body this past weekend in Pinehurst and immediately took the offensive over the health of the game, I couldn't help but listen closely.

Maybe it's appropriate that a man like O'Toole is now in a charge. He is, after all, a 56-year-old Catholic from the diverse neighborhoods of South St. Louis. He couldn't understand growing up why junior and regional events were closed to public course golfers. He's humble, saying he realizes golf has taken him to "places I never could have imagined."
O'Toole seems ready to lead others there, too, wanting to "open up the game."

It's ironic that in four months the first-ever U.S. Open "doubleheader" will place the best male and best female players in the world on the same course in consecutive weeks, offering the general golfing public a so-called first-hand comparison of the sexes.

USGA executive director Mike Davis keeps promising how surprised we'll all be by the expertise of the females at Pinehurst No. 2. At least the USGA gets an "A" for generating a new concept that will attract more eyeballs. The dual Opens is the brainchild of former USGA executive director David Fay, who came into Davis's office one day with the idea. Davis' reaction: "Have you lost your marbles?"

Now that O'Toole is on the proverbial hot seat, his intent, motives and execution of "golf's accessibility" will be put to the test by those from the "old school" who may resist any form of progressive change to the game. It's evident that such a transformation, some of which may be viewed as unorthodox thinking by established USGA members, is truly required to get golf putting in a straight line again.

It's virtually all on the table as golf gasps for air.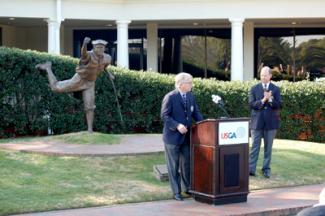 Mike Davis (right) Applauds New USGA President
Tom O'Toole's Remarks Concerning Payne Stewart Receiving
the 2014 Bob Jones Award (Photo by David Droschak)
"If you look at where the game sits today and, if you're not concerned about the game's health, then it really asks the threshold question about whether or not we would have a game to govern," O'Toole said. "While certainly our primary responsibility of the USGA is not to grow the game, it is to be concerned with the game's health."

O'Toole went on to list some of the game's present shortcomings, including its expense to the general consumer and the time it takes to complete 18 holes.

"The game is just not very welcoming," he said. "It's not just awareness anymore, it's 'What's the solution to this?' "

O'Toole pointed to initiatives such as the "Drive, Chip and Putt" program that the USGA co-sponsors with the PGA of America and Augusta National Golf Club; Davis's recent trip to South America to announce a new Latin America Amateur Championship; and a new USGA Championship - the Amateur Four-Ball Championship, which incorporates a format played by "weekend golfers across the country every week."
"We are going to be diligent in focusing on this sustainability and health issue, because if we are leaders in this game - and it's our view that we are - then we're going to have to lead in these initiatives as well and see if we can make an impact," O'Toole said.

"There have been a number of audiences that have been in this debate, this discussion," he added. "We don't seek to supersede what they're trying to do, but we seek to obtain the best practices and solutions of how we can assist those audiences in addressing this issue."

Less than an hour away from Pinehurst, Keith Hills Golf Club will be the first golf course in the Raleigh-Durham area to introduce Footgolf. The game is a hybrid of the popular sports of golf and soccer. To play FootGolf, participants use soccer balls on a traditional golf course with 21-inch-diameter holes. The rules largely correspond to the rules of golf, and FootGolf uses golf's basic model, including tee boxes, greens, bunkers, hazards and 18 holes of play. The goal is to kick a soccer ball into a cup using the fewest kicks possible.

Keith Hills, a 36-hole course that had nine holes closed a few years ago because of a lack of play, will unveil the concept in early March. Walkers will pay $10, and it should take about two hours to complete 18 holes.

There is also a push for more nine-hole play on golf courses and allowing beginners to play outside the "rules of golf" as methods to grow the game in some rather unconventional ways.
"Our view is that if these programs or these initiatives ultimately draw people to our game, then that's a good thing," O'Toole said. "We're not going to call them golf, nor are we going to bring them into our governing body, nor will we have them operate under our golf rules or equipment standards.

"If we can get people to improve their skill to make golf a less burdensome game, not as difficult a game, and ultimately move them to our game, that's good."

The return of golf to the Olympics in 2016 will also turn the spotlight back on the game, according to O'Toole. However, that event will be in Brazil. Too bad it's not in the United States, which by many standards is more in need of a "300-yard drive down the middle of the fairway" than other parts of the world.

Consider the Pacific Rim, where dozens of promising American golf course architects have honed their craft in places like China and Vietnam, where the game of golf is thriving.

"In some countries golf is growing at a rate not seen since the early 20th century," O'Toole said. "

Maybe it's time for a road trip.
David Droschak has covered golf in the Carolinas for three decades, mostly with The Associated Press, where he worked for 20 years as AP sports editor in North Carolina prior to launching Droschak Communications, a full-service marketing and PR firm based in Apex, N.C. Dave, 53, has covered numerous major golf tournaments, including the 1999 and 2005 U.S. Opens at Pinehurst Resort, and is a longtime member of the Golf Writers Association of America. Dave will be hand in 2014 to provide coverage of the historic back-to-back U.S. Men's and Women's Opens in the North Carolina Sandhills.

Dave was honored with the Sports Writer of the Year award in North Carolina in 2005, and is currently editor of Triangle Golf Today (www.trianglegolf.com), a print and online publication regarded as the "No. 1 Source for Golf News in North Carolina." He is also golf editor for Pinehurst Magazine, an award-winning glossy publication.

Dave grew up in Penn Hills, Pa., about five minutes from famed Oakmont Country Club and was introduced to the game of golf as a caddie at Green Oaks Country Club in nearby Verona, Pa. Dave was the co-captain of the 1978 Penn Hills state championship baseball team, was a pitcher for the 1982 Atlantic Coast Conference champion University of North Carolina Tar Heels, and pitched professionally for two years in the St. Louis Cardinals organization. He is a member of the Penn Hills High School Sports Hall of Fame, which also includes NBA coach George