Ouimet Centennial Ceremony held in Brookline, Mass.
The centennial of Francis Ouimet's historic upset victory in the 1913 U.S. Open was celebrated Friday in a special wreath-laying ceremony. The event was held at the life-size statues of Ouimet and his caddie, Eddie Lowery, at the Robert T. Lynch Golf Course at Putterham in Brookline, Mass., where Ouimet was born and resided when he won the Open.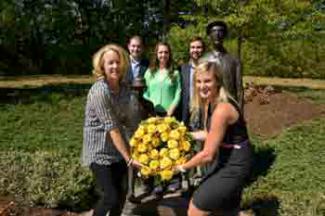 Wreath-Laying Ceremony at Ouimet-Lowery Statue
Placing the wreath were Mr. Ouimet's great-granddaughter Caitlin Wallerce and Eddie Lowery's daughter, Cynthia Wilcox. The event was coordinated by the Francis Ouimet Scholarship Fund. Joining Wallerce and Wilcox were a group of current Ouimet Scholarship recipients.

"Mr. Ouimet's victory in the 1913 U.S. Open is considered the most important moment in golf history," said Ouimet Fund president Terry Kennedy. "He was a 20-year-old amateur who beat Harry Vardon and Ted Ray, the two best professionals in the world, in a playoff at The Country Club. The victory made golf popular and attractive to everyone, and changed the game forever."

Kennedy explained that Ouimet became one of the most honored, accomplished and beloved golfers in history, and an original member of the World Golf Hall of Fame. He also said that Ouimet scholars and Boston students are the modern legacy of "Francis & Eddie" 100 years later - kids that need help to succeed in today's world.
The Ouimet and Lowery statues were sculpted by Bob Pack and dedicated at Putterham in 2000. Pack's original Ouimet-Lowery statue is at the World Golf Hall of Fame in St. Augustine, Fla.
The Francis Ouimet Scholarship Fund, a 501(c)(3) organization, was founded in 1949 and, since that time, has awarded over $26 million in need-based college tuition assistance scholarships to more than 5,100 students who have worked at least two years as caddies or in pro shops or course superintendent operations in Massachusetts. In 2013-14 the fund will award at least $1.5 million to approximately 300 students.