Outstanding Conditioning & More at FarmLinks in Alabama
By: Steve Habel
You would expect a golf course in rural Alabama to not have to work hard to earn the moniker "FarmLinks Golf Club." But there's more that meets the eye than just location and setting at this place.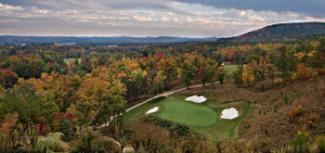 The 5th Green from the Middle Tees at FarmLinks
Heck, FarmLinks GC at Pursell Farms is remote, but not that remote. It's just about an hour southeast of Birmingham and set on 3,500 acres in Sylacauga on a spread even Texans would call impressive. The course is owned by the Pursell family, which, for the better part of the last century, has made its living as one of the world's largest manufacturers of controlled-release fertilizers, many of which are used on golf courses.

With a routing fashioned by noted architects Dr. Michael Hurzdan and Dana Fry, the Pursells envisioned and then commissioned a track that would be used as a living laboratory to showcase their and the competition's golf-related products and varied methodologies, all as an experiment to see how the chemicals work on different grasses.

FarmLinks, which opened in June 2003, has become a proving grounds, research farm, environmental monitoring station, classroom to educate golf course superintendents, and much more, all blended harmoniously and sensitively into lush surroundings.

FarmLinks is literally on the cutting edge of turfgrass research, where tomorrow's golf products are tested today. Since it is a showcase, golfers won't find more immaculate course conditions anywhere. Each tee, fairway and green on the course features a different variety of turfgrass, which only enhances the playability and challenge.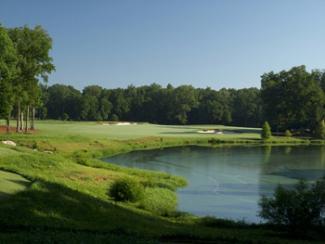 The 10th at FarmLinks
The facility annually hosts more than a thousand golf course superintendents worldwide. Their mission is to tour the golf course and observe advanced technologies first-hand, analyze the results of current turfgrass research under playing conditions, participate in focus groups, and share information on best practices.

While some golf course designers are forced to fit holes into limited amounts of space, Hurzdan-Fry had plenty of diverse, available land at their disposal when planning the layout, and such generosity shows.

Golfers around the globe are beneficiaries of all the research going on at FarmLinks. But those that get to tee it up here get the immediate value - and it's an experience to appreciate and enjoy.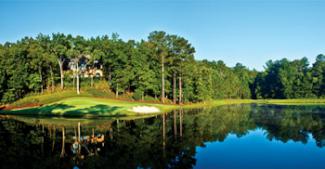 The 17th at FarmLinks GC
More Than just a Pretty Face

FarmLinks is routed over and through dramatic and rolling countryside with plenty of elevations changes and corridors framed by huge stands of trees. On some holes (mostly those on the top of the ridge and in an unprotected plain below), the wind whips across to affect every shot, adding to the equation and making this more of a strategic layout than a haven for bomb-and-gougers.

That's not to say length isn't a factor. The par-72 course can be stretched to a whopping 7,444 yards from its back set of five tees, quaintly named - longest to shortest - Longhorn (FarmLinks' logo is of a hulking Longhorn steer swinging a 3-wood), Copperhead, Whitetail, Bobcat and Quail. Those rearmost blocks carry a hearty rating of 76.3 and a Slope of 141, more than enough for a low handicapper to handle.

FarmLinks toughest holes are its two-shotters; four - including the 488-yard 12th - measure in at 444 yards or longer. The par-5s, with the exception of the wind-exposed, 616-yard 18th, comprise some of the FarmLinks' easier tests.

Two of the par-3s feature FarmLinks' most stunning overlooks - the famed 210-yard fifth - with its 170-foot drop from skyboxes on the side of a hill to a huge-but-narrow putting surface, and the 254-yard (!) eighth, which has another precipitous drop from tee to green.

Another one-shotter, the 196-yard 17th, must be played over a lake to a diamond-shaped green that repels shots lacking authority, nerve or accuracy.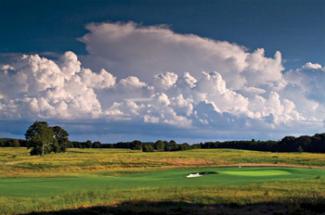 The 18th at FarmLinks GC
Players with a little pop and dead-eye aim might take a poke at reaching the green on the 365-yard par-4 third, but the putting surface, with a bevy of subtle breaks created by multiple plateaus, is one of the hardest to putt on the course.

Unless the player is on with his distance and is mighty confident, it may be prudent to lay up on the second shot rather than attack the green at the 458-yard par-4 ninth. The putting surface is protected by a lake along the right and a deep bunker left-front.

The aforementioned 12th can be battered by the breezes, but long hitters may try to cut the corner on the hard-turning dogleg-left; but beware the deep bunker at the elbow and the high fescue around it.

An elevated tee brings the green within reach for some on the 381-yard par-4 13th, but a prudent play is preferred to avoid a punitive bunker at the left-front of its green. On the massive closer - carded at an all-you-want-and-more 616 yards - the drive should be aimed to split two stately oaks framing the fairway. The green is large but undulating and situated on a hill that is also windswept.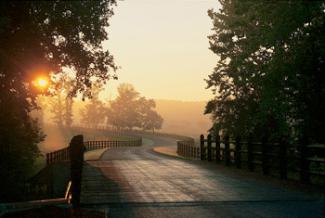 The Entry Bridge to FarmLinks
More than Golf at FarmLinks

FarmLinks also offers five-stand clay shooting, hunting, fishing and five types of deluxe accommodations for nearly 80 guests, depending on taste and need. Guests can choose from a cozy, Southern-style guesthouse, a rustic lodge with all the amenities, or they relax with all the creature comforts in a spacious, four-bedroom cottage or cabin.

Guests staying in the cottages and cabins even get personal Club Car vehicles, handy for navigating the sprawling property. While FarmLinks doesn't sell alcohol, guests can bring their own.

FarmLinks has collected numerous awards, including a listing on Golf Digest's 2011 75 Best Golf Resorts in North America (tied for 39th); No. 1 in Alabama in Golfweek's 2011 Best Courses You Can Play state rankings; Golf Digest's 2008-09 Best Places to Play (4.5 out of 5 stars); and being named the No. 1 Public Golf Course in Alabama by the Birmingham News in 2009. FarmLinks also garnered the highest customer-satisfaction rating by the National Golf Foundation for five straight years, beginning in 2006.

To continue its legacy of education and support for the game, FarmLinks operates a First Tee learning facility for community children.

FarmLinks is a mix of nature, both wild and manicured, mingled with the rich heritage and friendly warmth of the Deep South With its unique purpose and design, FarmLinks provides a fun time for golfers of all levels. It's simply a must-see, must-play course.

For more information, visit www.farmlinks.org.
Steve Habel is one of Cybergolf's world correspondents, contributing news stories, features, equipment and book reviews and personality profiles from his base in Central Texas. He is also works as a contributing editor for Horns Illustrated magazine, a publication focusing on University of Texas sports, covers the Longhorns for CBS Sports, is regional editor for Texas Golfer magazine and files stories for Golf Oklahoma magazine, Texas Links magazines and Golfers Guide. Habel's main blog (www.shotoverthegreen.blogspot.com) features news on golf and the Longhorns, and another (www.checkinginandplayingthrough.blogspot.com)chronicles his many travels, on which he has played more than 350 golf courses since 2009. Habel is a member of the Golf Writers Association of America and the Texas Golf Writers Association.