Owners Making Changes at Whitetail in Idaho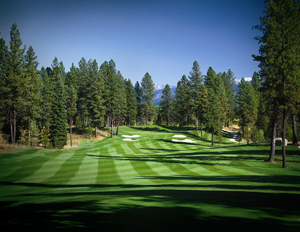 11th Hole at Whitetail
The new owners of Whitetail Club and Resort in McCall, Idaho, have been making some changes to the one-time private facility. Local businessmen Joe Scott of Alscott Real Estate LLC, Rich Hormaechea of RMH Company, and John Sabala of Sabala Whitetail LLC have returned the former Whitetail Club and opened the course to public play.
Designed by Roger Packard and two-time U.S. Open winner Andy North, the resort features a 7,200-yard layout that has been rated among the top 100 courses in America by Golfweek. Set amid an old-growth forest and open meadows, the holes wind through and past Ponderosa pines, trout ponds, white-sand bunkers and imposing boulders.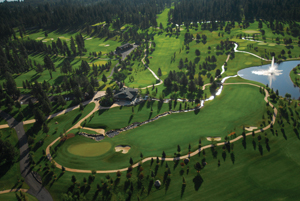 Aerial Photo of Whitetail
Originally intended for members and guests of the adjoining Shore Lodge, the semiprivate facility is now open to all golfers.
When opened in 1948 as a motor lodge Shore Lodge became known as a family-friendly and relaxing vacation and event destination on Payette Lake. It still is a fun and affordable setting for vacations, weddings, business meetings and weekend getaways thanks to its lakefront setting, generous accommodations, good food, and McCall hospitality. New rate packages are now in place with rooms beginning at $99 per night.
"This new ownership group has spent many years in McCall and has always had many fond memories of Shore Lodge. We are truly excited by the opportunity to open Shore Lodge back up to the public and we are absolutely committed to making this resort a place we can all be very proud of," said Scott. "Shore Lodge will once again be the destination for those people who want to enjoy the best of the McCall experience."
The new owners met with the members and have received their full support as they move forward to enhance the operations of the resort. Communication will continue between the new owners and the members as future plans are being determined.
The overall Whitetail development spans 1,300 acres. Besides the golf course and lodge, the property boasts hundreds of housing lots; a full-service clubhouse; athletic complex with indoor tennis court, fitness machines and golf training equipment; a marina on Payette Lake; outdoor tennis, basketball and racquetball courts; lakeside meeting and event facilities; 10 miles of paved walking paths and five miles of Nordic ski trails in winter; and a community yurt with a fire pit and panoramic views from its mountaintop perch.
For additional information, visit www.whitetailclub.com.