Pacific Dunes Open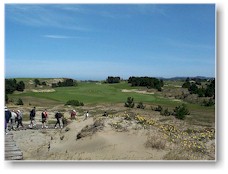 The Tom Doak-designed Pacific Dunes, which opened in July 2001, meanders through dunelands north of the original course. The first layout, designed by Scotsman David McLay Kidd, has received rave reviews since opening in 1999 and appears in the top-10 lists of most major golf publications. Pacific Dunes is well on its way to topping the accolades accrued by its predecessor.

The new layout was built by Doak's firm, Renaissance Golf. Pacific Dunes differs from its sister course in that there's more elevation change and fairway-side vegetation. Still, Pacific Dunes – similar to the original track – meanders up, over and alongside the towering dunes of Oregon's southern coast.
The holes trek in and out of forested inland and treeless beach-side areas. Native sand was used for the bunkers, many of which are "blow-outs" naturally formed by the Pacific's powerful winds. Though this area of the Northwest receives over 50 inches of rain a year, drainage is outstanding due to Bandon Dunes' sandy underlayment.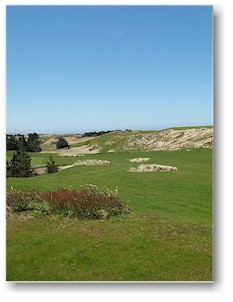 The terrain contains considerable organic content to provide an excellent turf-growing medium. This geographic feature also helped minimize construction costs, as the sand has proven to be ideal for Bandon Dunes' bunkers. The lay of the land formed many holes, with little shaping required. The grasses used for the tees, greens and fairways are the same: a fescue-bent mix (80% and 20%, respectively). Renaissance Golf received a lucky break right after the first 11 holes were seeded when Oregon's rains poured down for a week, then the sun came out. The merging of water and heat spurred root establishment of the new turf.

Pacific Dunes has a continuous routing, with the 7th hole closest to a soon-to-be-built clubhouse. Like its sister course, Pacific Dunes boasts several dramatic holes along the ocean. The par-71, 6,900-yard layout has smaller (6,000 as compared to 8,000 square feet) greens and more treacherous bunkers than its counterpart to the south. The 6th, a 316-yard par-4 that is driveable with a backing wind, has a table-like putting surface guarded on the left by a near-vertical 15-foot-high bunker. The 7th, a southbound and downwind 460-yard par-4 along the ocean, may well be Pacific Dunes' signature hole.
A unique facet of Pacific Dunes is its 9th hole, a 396-yard par-4 with two greens separated by about 130 yards. There is very little difference in distance to either green. One putting surface lies on a lower level while the other is positioned behind a grassy dune. Players must select which green they're going for before teeing off on the 9th. Another design quirk is two par-3s in a row at 10 and 11. The 10th, a 205-yarder, may require a driver in a facing wind. The 142-yard 11th is the new course's shortest hole. The 11th tee and green perch on cliffs above the Pacific Ocean. At 4,000 square feet, the bunker-ringed 11th green is the course's tiniest putting surface.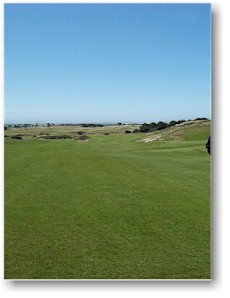 Perhaps the most remarkable aspect of Bandon Dunes is its location, one of the world's most spectacular for a golf course. The venue's golf-loving developer, Mike Keiser of Chicago, owns over seven miles of Oregon shoreline, and both courses optimize their ocean-side positions. Winds play havoc with golf shots, and the prevailing winds vary with the seasons to make the holes play differently depending on the time of the year. Regardless of the weather conditions, golfers who venture to this remote outpost should stay a few days, both to enjoy a-rare-for-America links-golf experience and have the time needed to adjust their games to what will initially be a foreign playing experience.

Like its neighboring links, Pacific Dunes is walker-only; only disabled golfers can use power carts. Though just a mere babe in terms of golf-course age, Bandon Dunes already boasts one of the nation's largest caddie programs, with 150 loopers on staff. A caddie is recommended for first-timers. The cost for a caddie is $35 plus tip, with all the money going to the looper. Some caddies are out-of-work loggers and fishermen, residents of an area that has been hard-hit in recent years by slowdowns in the Oregon coast's timber and fishing industries.
The new Doak course will have its own clubhouse, a structure smaller than the original lodge. A 32-acre practice facility designed by Kidd is used by patrons of both courses. With this practice area Kidd sought to build a "playground for golfers," with three par-3 holes, a one-acre practice green, simulated fairways and several practice bunkers fulfilling that goal.
Also in the works are 80 more overnight units and 300 single- and multi-family homes at 2,000-acre Bandon Dunes. Bandon Dunes has already hosted several prestigious events. The PNGA Men's Amateur Championship was played in July 2000, and it's also hosted Hudson Cup Matches (a half-century-old event that pits Northwest pros against the region's best amateurs) and U.S. Amateur Qualifying. Bandon Dunes is slated to host the 2005 Pacific Coast Amateur. With the addition of the second 18, other national and regional events will assuredly be held here in the future.

For a tee time at Bandon Dunes, call toll-free at 888/345-6008.