Pair of Mobile-area Courses Showcases Architect's Gentle Touch
By: Steve Habel
There are plenty of difficult golf courses in the world - too many in fact. At a time when the game is looking at ways to draw players either back to the course or to golf for the first time, perhaps designing easier - but still demanding - tracks is part of the answer.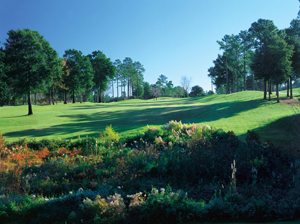 Timber Creek Golf Course
For a template on the friendly-but-challenging style, one needs to look no further than the suburbs east of Mobile, Ala., and Rock Creek Golf Club and TimberCreek Golf Club, two courses designed by Earl Stone, Mobile's very own resident octogenarian golf architect.

Now retired, Stone implements a doctrine of building fun tracks that don't beat you up. Both Rock Creek, in Fairhope, and TimberCreek, in Daphne, opened in 1993 and feature a lot of the same DNA.

"I always had the 18-handicapper in mind in my courses," Stone said. "Sure there are golfers that want to play on courses with blind shots, forced carries and big, deep bunkers. All those folks are welcome at the courses I designed, too."

Neither Rock Creek nor TimberCreek are the types of tracks that are going to host major championships. Instead they are built for the average golfer to enjoy and have a good time. If you want to increase the level of difficulty, play either from the back tees, where you can expect a run for your money.

"Golf is supposed to be fun," Stone said. "Sometimes people think just because a course is labeled as 'playable,' it is boring. For me, I designed courses where you have to work the ball and hit lots of different shots. I don't think that translates to 'boring' golf, do you?"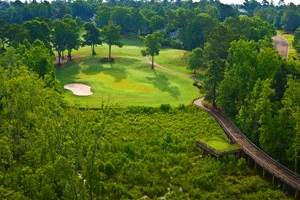 The 16th at Rock Creek
Surprising Rock Creek

Elevation changes are the surprise - and challenge - at Rock Creek. Located on Alabama's Eastern Shores, across wide Mobile Bay from its namesake burg, Rock Creek is a short drive from the city. During your trip around the bay, the land changes from low wetlands to rolling hills, and it's that up-and-down nature that gives the course its true character.

The course's high points rest at some of the loftiest elevations in the area, and it overlooks and plays through scenic wetlands and the Rock Creek basin.

Rock Creek sports wide fairways defined by towering pines and deciduous hardwoods, along with the fringes of the accompanying housing development. There are numerous doglegs and generous landing areas. The greens complexes are different and worthy, with varying shapes, two- and three-tiered putting surfaces and quite a bit of slope, though not much undulation. Once you get the line and know the speed, you can hit your putt with confidence that it will go in.
Playing at 6,920 yards from its back set of four (numbered) tee boxes and to a par of 72, Rock Creek is rated at 72.9 and sloped at 128. The track is a perfect combination of demanding play for long hitters and fun and encouraging for those playing from the forward tees.

The course has a feel of the Carolinas on its first few holes before it flattens out a bit as in the middle stretch of the front nine. There are some interesting holes, but never anything too overwhelming.

The outward nine is highlighted by the 525-yard, par-5 opener (which moves right to left and downhill to a green protected by deep bunkers on three sides) and Rock Creek's signature hole - the 434-yard par-4 second, where your tee shot with a long-iron or fairway wood to the center will put you in good shape to access the green, located at almost a right-angle to the sharply sloping fairway. The approach is over a marsh to an elevated target with a false front that slopes sharply toward the water. Behind the green is a 30-foot-high bulkhead wall planted with colorful flowers.
Stone's most talked-about trademark design characteristic shows up on Rock Creek's 13th, a 495-yard par-5. There, subtle ridges funnel stray shots back into the fairway. "Some of the really good golfers that play over there kind of fuss about that hole," Stone said. "They hit their shot down the middle, and then the guy who hits one up on the bank will watch it roll down right next to the one in the middle."

The course has no blind shots and only one unseen water hazard, on No. 17, which appears beyond the fairway bunkers on the left.

Rock Creek is a semiprivate course but is open to the public. Daily-play golfers reap the member-for-day treatment put into action by Honours Golf, which manages the course in an expert and friendly manner.

Rock Creek has been described by some as being one of the most grandly surprising golf courses in Alabama. It's a fun track, and that makes for great time spent on the course.

For more information, visit www.rockcreekgolf.com.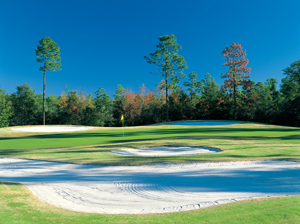 The 5th Green at Timber Creek's Magnolia Nine
Three Nines Make for a Full Day of fun at TimberCreek

Just up the road a half-hour or so in Daphne TimberCreek offers players of all abilities another fine, Stone-fashioned golf experience.

Here, 27 holes - routed in three nine-hole courses called the Dogwood, Magnolia and Pines nines - bring into play spacious, rolling fairways with considerable elevation changes, wetland preserves and bountiful flora, fauna and wildlife.

Because of the Stone philosophy to build courses that the Average Joe and Jill can enjoy, TimberCreek seems to be designed to give you a good time rather than making it tough on you. Almost 60 years ago, an old pro told Stone a tip that he took to heart. "He said, 'Earl, don't build a golf course for you, build it for the people who will play it. There isn't anybody who doesn't like to score.' "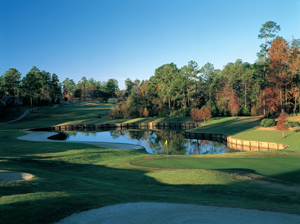 The 7th at Timber Creek's Dogwood Nine
You can score at TimberCreek, just don't take the three nines for granted. There are plenty of tests here, especially if the wind is up. Magnolia plays at 3,612 yards from the tips, while Dogwood stretches 3,450 yards and the Pines totals 3,478. The two most challenging nines are the Magnolia/Dogwood combo, with a rating of 73.6 and a slope of 130. Dogwood/Pines is rated at 72.5 and sloped at 122, while Pines/Magnolia comes in at 73.3 and 125.

Magnolia has the most up-and-down topography and wetlands, with little residential development. Dogwood rolls through bumpy terrain and offers what the course calls its signature hole: No. 7. The Pines gives you two reachable par-5s and perhaps the best hole on the course, also No. 7.

The fairway on Dogwood's seventh hole looks wide and inviting, but danger lurks along the right in the form of out-of-bounds and a bunker, while a lateral hazard left has probably frustrated many a visitor. A well-positioned drive will get you in good shape to go for the green if you can carry the lake, but watch out, the layup can be tricky.

No. 7 on Pines is a long par-4 with water down the left edge of the fairway. Stay to the right here, where friendly mounds will help keep your ball in play. It's a good risk/reward hole because the longer you can crank your drive, the more apt you are to find the lake but also more likely to have an easier approach. The fairway slopes right to left, which most golfers will usually hit to the left, but the green often calls for a fade, depending on where you are in the fairway.
TimberCreek is a great place, with an equal balance of challenge and charm. Thanks to Stone's work and the course's fabulous conditioning, you will enjoy a round here, and maybe bring a friend the next time around. That, my friends, is the whole doggone idea.

For more information, visit www.golftimbercreek.com.
Steve Habel is one of Cybergolf's national correspondents, contributing news stories, features, equipment and book reviews and personality profiles from his base in Central Texas. He is also the managing editor for Texas CEO Magazine and works as a contributing editor for Horns Illustrated magazine, a publication focusing on University of Texas sports. He also writes a blog (www.shotoverthegreen.blogspot.com), which features news on golf and the Longhorns, and another (www.checkinginandplayingthrough.blogspot.com) on his many travels, which took him across the nation and to 105 different golf course in 2009. Habel is a member of the Golf Writers Association of America and the Texas Golf Writers Association.