Palm Beach Golf Diaries: Country Club of Florida - Les is More with Lester George
By: Jay Flemma
Editor's Note: This is Part 1 of a 3 part series on Jay's Palm Beach Golf Diaries. Part 2 will explore the Fox Club and Part 3 will highlight two great friends of golf: Delray Dunes and Quail Ridge.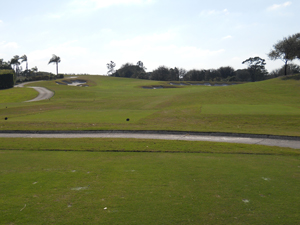 The Reverse Redan at No. 4
How many times have we seen country clubs - even prominent, historic, and celebrated ones - go temporarily insane and, when seeking to restore or redesign their golf course, choose a golf architect unwisely? It usually turns out to be an expensive panic and a grim disappointment.

Solid golf architecture must be the first and foremost consideration: not the architect's name, not the desire to attract a major championship, not a quest to outspend one's neighbors. Raters and rankings - at least the ones that know what they are doing - are looking first and foremost at the golf course's design, not at opulent adornments.

Boynton Beach's Country Club of Florida chose rising star architect Lester George: "The Man with Two First Names," but also the man with many recent smash-hits. Indeed, the choice of George made all the difference for Country Club of Florida. In redesigning their old Robert Bruce Harris layout, George gave them a truly great golf course, one of national significance, and one that has outstanding architectural principles which should be studied and emulated.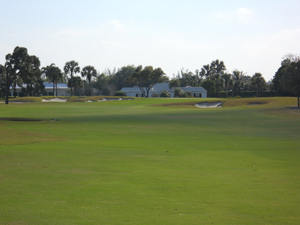 The Bunkers at CCFla Jut into the Fairway
Encouraging Thoughtful Play
George's stock is soaring right now, and the golf architecture world can resoundingly celebrate each of his designs with a rousing cheer of "Les is more!" He won a best new course award for his innovative design at Kinloch Golf Club in Virginia. In almost any other year, he would have earned a second-best new course award for his masterpiece at Ballyhack Golf Club, outside Roanoke. Instead, he collected a hard-luck second-place due to the unfortunate timing of opening in the same year as Tom Doak's Old Macdonald course at Bandon Dunes Resort.

Forgive my mixing sports metaphors, but that matchup was every bit as competitive as a Celtics-Lakers NBA Finals or old-time Dallas-San Francisco NFC Championship. Finally, with his painstakingly faithful restoration of the Old White at the Greenbriar Resort, George brought the design tenets of the most important golf architecture bloodline - Charles Blair Macdonald, Seth Raynor, and Charles Banks - to the PGA Tour and, therefore, to millions of TV viewers and golf fans. With such solid strategic golf fundamentals as the foundation for his design work, George has skyrocketed into prominence, and he will be an influential and important voice in the craft for decades to come.

Best of all, no matter where he goes, George always shows you something you've never seen before. Take, as an illustration, his brilliant "Redan with a thumbprint" at the third green at Ballyhack, an all-world hole which shatters preconceptions and expectations and is now venerated in holy whispers by golf course architecture aficionados around the globe. It's great to have another adventurous designer in the profession showing us how far we can reach when we aren't preconditioned and afraid of change.

For example, one of the biggest complaints about Florida golf is that many courses are flat. In a state with a surplus, indeed a surfeit of golf, you'd think this wouldn't be a problem. But many courses were built in the Second Dark Age of Golf Architecture (roughly 1950-1990), where penal architecture trumped strategy, greens contours were eschewed for greater green speeds, and everyone wanted to imitate what they saw on TV in a misguided attempt to draw a U.S. Open. As a result, much of Florida golf looks the same: palm trees, too much water, few interesting green contours, and minimal elevation change.
At Country Club of Florida, George turned that formula on its head. A combination of strategic design elements and excellent golf terrain form the sturdy backbone of his brilliant work at Country Club of Florida and allow it to stand head-and-shoulders above almost everything else in the state. The course has significant elevation change due to a long sandy ridge that cuts across the property; excellent horizontal sweep of the fairways on the par-4s and par-5s; good interior green contours; hazards turned perpendicular to the line of play; and a unique routing. George also shows us a few more versions of strategic elements from the Macdonald-Raynor-Banks school. Combined with a bunkering style that recalls two timeless classics, Riviera Country Club and Olympic's Lake Course, the course is stately, refined and elegant, but also interesting, challenging and classical.

First, except at the half-round break, George's routing - which copies Bruce's - never has back to back par-4s on the card. The par sequence for the front and back are identical: 4-5-4-3-4-5-4-3-4. Astounding! With such syncopation the player has a different feel on every tee box and, moreover, has to constantly think his way around the golf course. Only Pete Dye's routing at Sawgrass surpasses George's work here in this regard. That's good company and high praise.

"It's something Robert Bruce Harris called the 'perfect sequence,'" George said. "He used it at many of his golf courses, so I decided to see if I could emulate it. Keeping his sequence was certainly a nod to him and a nod to the history of the course, and I was lucky enough that the land allowed it: the way the ridge of sand dunes crosses the property encouraged that routing, and that was fortunate."

George went on to explain that he enjoyed never having to play two consecutive holes with the same par. "I don't like forcing golfers to play five consecutive par-4s in a row, he stated. "I'll let the land dictate what I have to do first and foremost, but if I can use the sequencing to offer variety to the player I will. Harris was on to something with this rhythmic feel, and it works well at Country Club of Florida."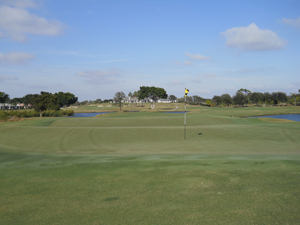 The Biarritz Green at the Par-4 10th
Next, George turned the bunkers perpendicular to the line of play. They jut into the fairway and force its contours around them, so players must wisely plan how to circumvent them. This creates terrific angles off the tee and plenty of options for all players, short or long, expert or amateur. For example, at the par-4 3rd hole, an uphill dogleg left, long hitters can try to carry the fairway bunker that guards the inside of the dogleg. Short hitters can play around it, but have a longer approach and a tougher angle to the pin. The third hole also showcases the course's elevation change to give the layout not only an additional strategic dimension, but character and charm as well.

"The prior course lacked strategy and focused too much on natural setting," George explained. "I used echelon bunkering - left then right then left - so you have to skirt the bunker or fly the bunker. Seven is a good example: the further up the fairway you drive, the more likely you have to fly a bunker to gain an advantage. It's nothing new, but it's a lot like Seth Raynor. His bunkers intrude into the line of play and that's why his holes and courses are fascinating."

On that note, George gives us some elements from the Macdonald bloodline at Country Club of Florida and the results are excellent. With its high kick-plate on the left and bold front-to-back contouring, the par-3 fourth hole is a terrific reverse Redan. The par-4 10th hole combines Dye and Macdonald as the hole requires fade off the tee, then draw into the green to avoid the water on either side (like Dye requires alternate shots to avoid the water on either side of the par-5 fifth at PGA West's Stadium Course), with a Biarritz green, its deep swale bisecting the green boldly. Finally, the green at the short par-4 seventh has a deep thumbprint in the front left of the green, which also doubles as a false front. George also deftly uses the doctrine of deception here with an optical illusion, a bunker which appears greenside from the fairway, but which is actually 50 yards short of the putting surface.
Indeed, when it comes to the bunkering, George also shows that "less is more" as he only needed 82 bunkers - interestingly and cunningly placed - on the entire 166-acre golf course to create a design that cannot be easily overpowered by technology and which requires careful planning as well as execution to score well. Moreover, not only are there difficult greenside swales and chipping areas that will allow for and encourage a wide array of recovery shots, fairways flow seamlessly and imperceptibly into the greens themselves for a smooth, natural feel, a feature that no less a personage than world-renowned golf architecture expert Ran Morrissett admires as a design tenet and applauds in his writings.

Finally, in winter there is a peaceful, dryad loveliness to the landscape. With its fairways glowing golden, the grasses blushing hardily against winter's chill, the course becomes a glittering vale, charming, stately and dignified. A round becomes a welcome escape, a restorative elixir against the stressful traffic of the outside world. Much of the congratulations must also go to course superintendent Jeff Klontz, a lifer in the industry whose nationally recognized expertise is only surpassed by what a super-nice guy he is.

With such a bold designer as George and such a gifted steward as Klontz, Country Cluib of Florida, a wonderful and historic club that now enjoys its best golf course ever, can take pride in its re-emergence into the discussion of Florida's most prominent golf courses.

If there are two flaws, they are minor. A blind pond on the par-5 sixth - which was there before he got there and which also irrigates the golf course - will catch exceptionally long drives (300-320) pushed too far right. Yes, the hole features a split fairway and, yes, the longer hitters should be playing left anyway to shorten the hole, but its still a point of contention. Perhaps a strip bunker along the inside edge would alleviate the unfairness of the penalty. Additionally, the par-4 fifth is almost identical to the 10th, but without the Biarritz green. While I can overlook one hole with water on both sides - especially where it has solid strategy as 10 does - it's tough to overlook two and playing between two ponds promotes target golf, not strategy.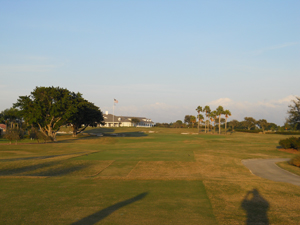 The 18th Hole at Country Club of Florida
Strictly as a general observation, pointing fingers at no course in particular and solely as an aside, almost all Florida golf courses use too much water. The less an architect has to rely on water for a course's defense, the more options and strategy he can utilize. Indeed, whether it's Florida or anywhere else, too much water also overwhelms and dominates the character and charm of a golf course much like too much Tabasco sauce can overpower the flavor of a meal. Water should be used sparingly and judiciously. After all, except for Sawgrass, the best courses in Florida use water as an afterthought, not as a design crutch. The Pine Barrens course at World Woods is an excellent example.

Happily for Country Club of Florida, the choice of Lester George will repay itself many times over and for decades to come. Other architects could have given the club a pretty good course, but not the truly great work delivered by George, an incendiary talent just beginning to reach the height of his power.

During a serious political crisis, an iconic British statesman once observed to his superior: "All great leaders face difficult decisions. It is by those decisions that they are judged."
At a similar crossroads, a crucial one that would define the club for many decades, Country Club of Florida chose wisely, increasing the value of their most valuable asset - the golf course - by selecting a designer whose principles are deeply rooted in classical and strategic golf course architecture. The more courses that follow their example, the richer the landscape for excellent golf courses will become.


Since launching his first golf writing website in 2004, http://www.jayflemma.thegolfspace.com, Jay Flemma's comparative analysis of golf designs and knowledge of golf course architecture and golf travel have garnered wide industry respect. In researching his book on America's great public golf courses (and whether they're worth the money), Jay, an associate editor of Cybergolf, has played over 220 nationally ranked public golf courses in 37 different states. Jay has played about 1,649,000 yards of golf - or roughly 938 miles. His pieces on travel and architecture appear in Golf Observer (www.golfobserver.com), Cybergolf and other print magazines. When not researching golf courses for design, value and excitement, Jay is an entertainment, copyright, Internet and trademark lawyer and an Entertainment and Internet Law professor in Manhattan. His clients have been nominated for Grammy and Emmy awards, won a Sundance Film Festival Best Director award, performed on stage and screen, and designed pop art for museums and collectors. Jay lives in Forest Hills, N.Y., and is fiercely loyal to his alma maters, Deerfield Academy in Massachusetts and Trinity College in Connecticut.