Palm Beach Golf Diaries Part 3 - The Fox Club
By: Jay Flemma
Are there any more buoyant hearts in the world than the Irish? Their greatest export is an unquenchable good cheer which brightens and enriches the lives of everyone they meet. That alone would be a solid reason to consider joining the Fox Club. (After all, in any club you have to get along with or at least tolerate the idiosyncrasies of the other members.)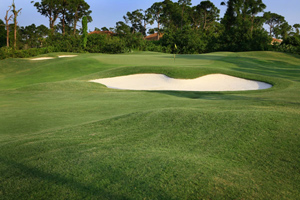 The First Green & Its Undulations
With Irish ex-pats making up about half its membership, the club is Irish to the marrow of its bones, which means the focus is strictly on golf and fun: no tennis, no pool, no airs, no distractions. The ethos of the club is simply one of great golf and better camaraderie. Golf your ball, drink your whiskey and cherish your friends; that's the Fox Club.

The visionary who brought the club to life is Eoghan O'Connell, rightly famous for both his colorful Irish wit as well as his sterling amateur record as a player. Playing since he was five, where he would go around and around until he couldn't see the ball any more, Eoghan quickly grew into a child prodigy. First it was burgers, fries and cokes (not bubble and squeak? Nips and neeps? Whipsies and whimsies?) against his friends - where he was so much better he had to spot them 50 yards per hole. Then it was college All-American in 1988 as a member of perennial golf superpower Wake Forest. They finished second in the NCAAs while he was a freshman.

"Coming in second didn't hurt then, because we really thought we'd win one. But we never got close again while I was there," he recalls.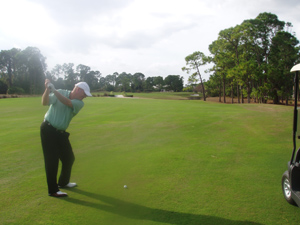 Eoghan O'Connell Plays to the par-5 8th Green
In his office hangs a picture of a college-age Eoghan standing next to Arnold Palmer. It was one of those photos that spoke volumes back then: golf's great champion and ambassador standing next to the rising star and strapping young buck.

"As opposed to old and bald?" quips a puckish Kevin Hammer, a devoted friend and golf buddy, who loves trading zingers in the press with Eoghan. He's owed him for a year now: Eoghan impugned Hammer's lower physiognomy after the first round of the Travis last year. Both men fall apart in chunks laughing at the jab.

"When I first met Eoghan, he'd play in any kind of weather and he drank Guinness," continues Hammer, sharpening the long knives yet again for a reprise. "Now he lives in Florida, wears pastel shirts and drinks chardonnay. Make of that what you will," he finishes, flashing the same Robert Redford smile made famous by his equally famous and affable father Laurie, the great touring pro turned teaching pro who is the heart and soul of the fabled Delray Dunes club in Boynton Beach.

Still, despite the passage of years, a marriage to a terrific woman and five blithe, bubbly kids between the ages of 13 and two, Eoghan is still a moving force in many areas of golf: not just playing. Sure, he won the Coleman and the Travis in the same year - 2006, the last person to score such a sterling double in the Pantheon of America's greatest amateur tournament, but at the Fox Club he has made his first foray into course design and management/ownership a smash hit.

"The Fox Club is one of the rare Florida clubs that emulates what great about the best northern clubs, continues Hammer. "They protect the values of the game, they promote the camaraderie of all the members, and they require a quick pace of play. It's a fabulous place to call home: it's beautiful, it's challenging, it plays differently every day, and both the course and the members have character. They also encourage the pros and staff to play with the members, which I really like. They deserve it. Guys like pro Hugh Mathis are not just employees, but great people and friends. It makes for a terrific, friendly atmosphere."
O'Connell and his business partner Darren Clarke - the quintessential Ryder Cup Yankee killer - had been looking to buy a course for some time. Several earlier opportunities had fallen through, but they still were optimistic and eagle-eyed for the right moment.

"I had a golf travel company and was thought of as a go-to guy to my friends and family and acquaintances in the industry, and though my buddies wanted me to buy a golf course back in 2001 it didn't work out," explains O'Connell. "But in May 2004 we bought Cobblestone Country Club [the former name of the Fox Club] at auction and decided to redesign it."

O'Connell and Clarke painstakingly studied the architecture of great courses all across the globe and tried to emulate some of their strategies at the Fox Club.

Though they kept much of the rudimentary routing of the old Roy Case design which existed since 1990, they completely redid the greens, green surrounds, bunkering and tee-shot requirements. The result is a redesign and not a renovation, even though the course follows roughly the same routing as its predecessor.

"The course is a second-shot course," states Eoghan. "We wanted wider fairways, especially wider than what was there before, so players could hit driver off every tee. We didn't want to force people to club down, so while we did move the tee boxes back, we also staggered them at different angles. The idea is so any player, pro or hacker, could try for the fat part of every fairway no matter what. But we also wanted a lot of risk-reward holes, so that the closer you wanted to get to the green, the more dangerous the shot would be, for example, the more water you might have to carry, like at 18. You can make anything from 3-8 there no matter how good a player you are."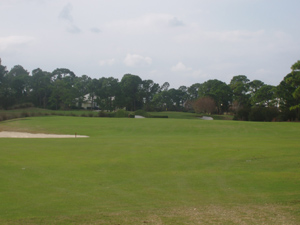 The Ivy-covered Bridge on the 8th Hole
For first-time designers, Eoghan and Darren did fairly well. The best architectural features are the interesting greens with both internal contour and cant to one side or another, and the rolling fairways that provide subtle but uneven lies all day, making the player think about shot shaping. The first hole is an excellent example. The green is not outstandingly large, and the target is made smaller by cunning chipping swales which make recovery from misses dicey. Indeed, this showcases one great way to defend par without stretching a course to 7,500 yards and surrounding all sides with water. Instead, make the greens smaller with more contour and make the surrounds deflect the ball should a shot be off-line or poorly planned.

Indeed, the front nine of the Fox Club shows you something different every hole. Players must shape shots in different directions. A wide variety of hazards - burns, bunkers, rough and wetlands - give every hole a unique feel.

"I like three the most. In fact, it's my favorite hole in Florida," asserts Eoghan proudly. "With water to the left, a bunker with trees in the middle of it, and two beach bunkers, it's pretty and tough."

Your correspondent prefers the one-two combination of seven and eight, a tough par-3 and showstopper of a three-shot par-5. Seven has two tee boxes: a pro box set in a chute of trees narrows the target frighteningly, while the middle tee has a better angle to the green. The par-5 eighth is best known for its ivy-covered bridge over the burn that bisects the hole, but it's draw off the tee and fade into the green in order to reach it in two, a Herculean feat.
The Fox Club also has some of the most interesting flora of any course in Florida; it destroys all your preconceptions of what Florida golf traditionally looks like. There are tall palmettos, gnarled ficuses, hardy aloes and other succulents, and colorful flowers of red and gold, a wondrous variety.

"It looks like South Carolina," asserts one player. "It has Low Country charm and diverse flowers, trees and grasses."

Indeed, the colors and textures add depth to the artistic palette. No less a personage than Geoff Shackelford, a recognized and respected expert on architecture, champions this design feature. Instead of just different shades of green and crisscross mowing patterns, Shackelford once wrote, different grasses and flowers add a three-dimensional texture to the natural setting, and welcome variety to look and feel of the playing field.

While the back tends to rely a little too much on water for defense, there are still many interesting architectural quirks. No. 11 is a solid example of a cape hole with its green perched precariously in the water hazard, daring you to go for the sucker pin. The par-3 15th is a unique and fun spin on a "short" hole with its shamrock-shaped green surrounded by water and sand. It's a nerve-rattling, gut-check moment despite its puny length.

The par-4 14th has a fascinating grass cross-hazard bisecting the fairway that must be carried off the tee. Finally, the cunning green at the par-4 16th mandates that the approach be below the hole or you risk putting off the false front.
I'm of two minds about 18, a short par-5 that wraps around a lake. It's not really a summation of all that came before, and its heroic shot requirements feel forced. It's the only hole you've seen elsewhere, especially in Florida, like at Bay Hill. However, the members have a ball with it. Sometimes they play the far forward tee and try to drive the green, which makes match play interesting. Also, the clubhouse sits on the side of the fairway, so like National Golf Links of America you play past the clubhouse to finish the day, which is inspiring.

The walks between holes can be long in places, but the pace of play is outstanding, well under four hours. Moreover, its vast array of flora makes the day a nature walk as well as a round of golf.

The Fox Club has carved out a terrific niche for itself. It's unlike anything in Florida, is reasonably priced, has a great membership which includes Clarke, Ian Baker-Finch, Lonnie Neilsen and Larry Laoretti, and the camaraderie and atmosphere are transporting and refreshing, an elixir and restorative against the traffic of the world. It's just good cheer and great golf and laughs. All you have to do is golf your ball, drink your whiskey and cherish your friends. Is that so hard?

For more information, visit http://foxclubfl.com/index2.html.
P.S. Try the Red Breast Irish Whiskey, it has great caramel overtones and a rich, well balanced finish that doesn't overpower you with wood. After tasting that nectar, you'll never slum it with Jameson's or Bushmill's again. Red Breast…everything else is piss.


Since launching his first golf writing website in 2004, http://www.jayflemma.thegolfspace.com, Jay Flemma's comparative analysis of golf designs and knowledge of golf course architecture and golf travel have garnered wide industry respect. In researching his book on America's great public golf courses (and whether they're worth the money), Jay, an associate editor of Cybergolf, has played over 220 nationally ranked public golf courses in 37 different states. Jay has played about 1,649,000 yards of golf - or roughly 938 miles. His pieces on travel and architecture appear in Golf Observer (www.golfobserver.com), Cybergolf and other print magazines. When not researching golf courses for design, value and excitement, Jay is an entertainment, copyright, Internet and trademark lawyer and an Entertainment and Internet Law professor in Manhattan. His clients have been nominated for Grammy and Emmy awards, won a Sundance Film Festival Best Director award, performed on stage and screen, and designed pop art for museums and collectors. Jay lives in Forest Hills, N.Y., and is fiercely loyal to his alma maters, Deerfield Academy in Massachusetts and Trinity College in Connecticut.