Palmer Management to Run The Club at 12 Oaks
By: Dave Droschak
Arnold Palmer Golf Management has signed a long-term agreement to manage The Club at 12 Oaks in Holly Springs, N.C. The facility features an award-winning golf course by the Nicklaus Design Group.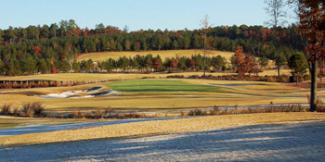 Morning Frost at 12 Oaks
"The Club at 12 Oaks already ranks among the elite private golf clubs in the Raleigh-Research Triangle region," said Jim Hinckley, president and CEO of Addison, Texas-based Century Golf Partners, which owns Arnold Palmer Golf Management. "Our job is to provide the vision, leadership and commitment to add value to the 12 Oaks membership and to make the 12 Oaks experience even more enjoyable."

Arnold Palmer Golf Management boasts a management portfolio of more than 80 private clubs and golf courses across the country. Members of 12 Oaks will now enjoy access to the "Palmer Advantage," a reciprocal club and travel benefit that provides concierge services and special privileges at private clubs, resorts and golf courses throughout the U.S. and internationally, Hinckley said.

The 7,132-yard Nicklaus Design Group layout is unique for the area, mixing topography of lowlands (a Charleston feel) with holes that rival a North Carolina mountain layout.
"You've got to think your way around the golf course, which is great," says Nicklaus Design architect John Cope. "As a residential community, people are going to be playing this over and over again, and the challenge is there for them to enjoy it for years to come. If you play it the first time and you figure it out the first time through that makes for a good resort course because you're probably not going to play it again, but for this type of golf course you want them to scratch their heads the first time through. That will keep them coming back.

"I don't think there is anything that is unfair or tricky out there, it's all visible and it's all there," added Cope. "You don't just pull the diver out of the bag all the time. There are a few holes out there to place a safer shot with a 3-wood or 3-iron. As members invite their guests out to 12 Oaks they are going to have a good home course advantage."
The Club at 12 Oaks has emerged as the second fastest-selling new home community in the Triangle marketplace, generating over 225 sales for nearly $75 million in the last two years, according to David Mason, general manager for 12 Oaks real estate.

The community is positioned for accelerated growth, with the recent opening of the Interstate 540 Expressway interchange at Highway 55, less than a mile from the 12 Oaks gates, Mason said.

Founded in 2007, 12 Oaks was acquired in 2012 by Landeavor, LLC, a full-service real estate development company with offices in Atlanta and Tampa, in partnership with Walton Street Capital of Chicago.

"Walton Street Capital has enjoyed a long and productive relationship with the Arnold Palmer Golf Management team at several other venues," Mason said. "All of us at 12 Oaks are excited to work with them to provide our homeowners with professional club management and an enhanced club experience."

For more information about the club, visit www.12oaksnc.com.