Palmer to Visit Course in North Dakota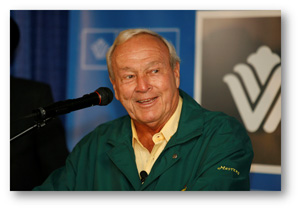 Arnold Palmer will visit King's Walk Golf Course in Grand Forks, N.D., on September 3. Palmer will be touring the course and answering questions from the press and public at 2:30 p.m. Designed by Palmer, the 18-hole course has exceeded expectations since it opened in 2002 thanks to innovative programs for youth, seniors and women.
A catalyst in the city's recovery from the devastating flood of 1997, King's Walk is also attracting golfers from outside the state. Palmer's visit is inspired by the unique circumstances surrounding the course and the city of Grand Forks.
"We are so proud that one of our golf courses has been part of rebuilding the spirit of the city of Grand Forks. It is great to know that King's Walk is making a difference in Grand Forks and providing a place for people to relax and have fun," says Erik Larsen, executive vice president of the Arnold Palmer Design Company.
As a designer of approximately 300 Arnold Palmer Signature Courses worldwide, Palmer last visited Grand Forks in 2000 to oversee the design and progress of King's Walk.
North Dakota has more golf courses per capita than any other state - 116 nine- and 18-hole courses. King's Walk is one of several courses to receive national recognition in recent years. This summer Golf Magazine listed Hawktree in Bismarck on its list of top-100 public access courses; in 2001 Golf Digest ranked Hawktree No. 2 on its list of "Best New Courses of 2001" and No. 19 on its list of "100 Greatest Public Courses."
Golf also singled out the Links on Lake Sakakawea as one of four courses nationwide where it pays to play again. And in 2005, Medora's Bully Pulpit was named by Golf Digest as "America's Best New Affordable Public Course."
"North Dakota has some incredible golfing opportunities that rank right up there with the very best courses nationally," says Sara Otte Coleman, the state's director of Tourism. "King's Walk is a great example of the focus golf greats and golf enthusiasts are giving to our top-notch courses."
For more information about golf in North Dakota, visit North Dakota Tourism or North Dakota Golf Association. For more information about King's Walk and Palmer's visit, contact the Grand Forks Park District at 701/787-2750.