Palmetto Dunes Golf - Head to the Ocean & Back
By: Dave Droschak
Few could have predicted Hilton Head morphing into one of the world's great golfing destinations back in the 1960s when the island's first few courses were being constructed.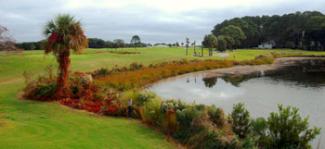 The Setting of the Palmetto Dunes Oceanfront Course
(Photo by David Droschak)
Young architect Roger Rulewich recalls crossing the bridge onto a sleepy two-lane road and virtually unspoiled territory as an understudy to Robert Trent Jones, who at the time was building the Palmetto Dunes Oceanfront Course - also known as the Jones Course among the resort's 54 holes. A few miles away, rival Pete Dye was at the end of the island constructing Harbour Town Golf Links. 139

"To see it now with a toll road, and to see the development I don't think there is any room for another golf course on the island," Rulewich said.

No need really, since what's in place (more than 25 courses) is award-winning, top-shelf golf that makes picking favorites akin to solving a differential equation.

Priding itself on its restaurants and shops being set back off the road while sharing space with towering oaks and colorful shrubbery - not promotional signs or gaudy billboards - Hilton Head has managed to maintain wall-to-wall golf in a posh setting, something that some believe sets the island apart from its northern counterpart - Myrtle Beach.

"Myrtle Beach has high-end too, but we don't have the land to build 100 courses, so what we have we have tried to do correctly," said Palmetto Dunes Oceanfront Resort director of golf Clark Sinclair said. "We all try to keep a reputation and a certain quality on the island. You can't really go wrong anywhere you play.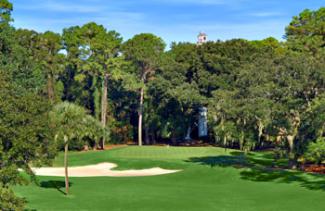 Lighthouse at the 15th Hole on Hills Course
"Yes, playing golf on Hilton Head is unique," Sinclair added. "I would say it is more laid back, things are low-key and the restaurants are all outstanding. A long time ago I do remember there used to be that love-hate thing between us and Myrtle Beach, but now it's not so much. We have what we have and they have what they have."

When Jones passed away in 2000 after a legendary career as a golf course designer, Rulewich branched off to start his own firm and soon found himself back on some familiar turf - Palmetto Dunes. The Jones course was his first redesign of his former boss's work as the resort poured approximately $4 million into the layout in 2002.

"One of the contractors doing some of the earthmoving for us was also working for Pete, so he was seeing a very different style of work," Rulewich recalled on the initial Palmetto Dunes design in the late 1960s and early '70s. "Pete always makes the joke that the way he had to distinguish himself in the golf world was to make himself different, to do opposite of what Robert Trent Jones was doing. Pete loves to tell that story. He said, 'I can't move all that dirt that Jones moves and do all that mounding.' It was fun for me to see some of the other work going on. Palmetto Dunes was a great education for me.

"The nice thing was we were able to separate the golf from the housing with a lot of the water and lagoon system, which has really made that a comfortable course and not feeling like you are playing in somebody's backyard all the time."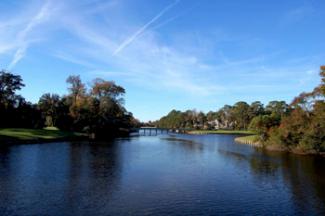 Palmetto Dunes Lagoon System Knifes
Through Hills Course (Photo by David Droschak)
Palmetto Dunes has also invested substantially in new grasses, greens, bunker redesign and refreshed bulkheads, etc., over the past few years on its other two layouts - the Arthur Hills and George Fazio courses - as the golfing product at the popular resort in the center of the island has that "current" feel.

Leading the charge has been the Jones course, one in which Rulewich was admittedly "along for the ride" in the late 1960s, then returned some three decades later to a hands-on experience.

"Whenever we do any Jones course we have to think about the freedom to make what we feel are legitimate strategic changes to the holes," he said. "I worked for Jones for 34 years so I probably have a pretty good idea of what he would have accepted in these situations. We did the same thing at Half Moon in Jamaica and more recently Port Royal in Bermuda. With all of these jobs everything was torn up, rebuilt and put back together. But they are still Jones courses."

Rulewich expanded the Palmetto Dunes Oceanfront Course's lagoon system (it now stretches 11 miles) as water comes into play or view on 11 of the 18 holes. The stunner is No. 10, a par-5 that heads straight to the Atlantic Ocean. A warning: there can be a slight backup as camera shots rival golf shots to a green that borders the beach and breathtaking beauty.

The 10th hole on the Jones course gets a lot of run, and with good reason. It is one of just two holes on Hilton Head (Harbour Town has the other) that actually get to the ocean.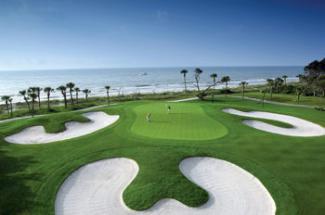 View of 10th Hole on Jones Course at Palmetto Dunes
"This was obviously a hole we had to be careful with," Rulewich said. "We did a lot of fairway grading and added some elevation because we wanted golfers to see more of that hole as you play it. We tried to get everything high enough and the green low enough so you can look and see the backdrop of the water. There was a lot of serious fairway contouring work; same thing coming back on No. 11. The 10th hole was on our minds because we knew it was going to be a signature situation. The setting is pretty spectacular."

"We're pretty proud of our ocean hole," added Sinclair. "They could have decided to do something else with that property and they decided to include it in the golf course, which is great. It's truly a unique feeling when you get out there; it is so expansive, seeing it from the ninth tee until you get to the 10th green. The whole complex is incredible."

The 11th tee is also situated along the ocean, which gives golfers one last chance to soak in the view before heading into a stretch of additional water holes that make the back nine quite a challenge of accuracy and nerves.

"Once you get off No. 9 tee and you start moving down the fairway the landscape changes; it's almost like it's two different golf courses from the front and the back," said Palmetto Dunes general manager Nathan Krelis. "Standing on No. 9 green it is just wide open - one of the best spots I've ever been to."

While Rulewich has spent his fair share of time at Palmetto Dunes and, in particular, on the Jones layout, Sinclair himself has a rich island history, so to speak, having started working at Palmetto Dunes back in 1983. "Thirty years of vacation," he proudly boasts.
The Flag Flies at Palmetto Dunes
"I have certainly met a ton of great people," Sinclair said. "The memorable stuff, honestly, is hanging out in the environment. If you have an affinity to water this is a great place to be with all the golf, boating, fishing, surfing - you name it, you can run the whole gambit. And if you can't find something to do when you are here then you are in the wrong spot. I want to hold on to it as long as you can, and so do vacationers."

While the Jones course has captured its share of honors, Sinclair is partial to the Hills layout, which is a "tricky" 6,651 yards from the tips. The 15th hole also offers a view of the Leamington Lighthouse, which was built in 1879 to help guide ships in Port Royal Sound.

"The other two we have are great. Fazio is super-hard from the back tees and the Jones is super-scenic and fun, and the greens are big, but I watched the Hills course being built," Sinclair said. "It is entertaining and it's different every time you go out and play it, whether it be the wind or your golf swing. It totally changes all the time."

It's hard to declare a "winter" season on Hilton Head since the weather is more times than not pleasant for golf. Palmetto Dunes offers some innovative packaging to golfers and vacationers that are heading even further South in January or February, or have penciled in the resort on its getaway list for a few weeks every year.

"It seems like the 'off-seasons' have gotten shorter and shorter over the years," Sinclair said.

"We have a large amount of replay annually," added Krelis. "We do see people come in year to year and it really has gotten generational with us. We'll see grandparents playing with their grandchildren and making it a family tradition, which is really neat to see."
For additional information, visit www.PalmettoDunes.com.
David Droschak has covered golf in the Carolinas for three decades, mostly with The Associated Press, where he worked for 20 years as AP sports editor in North Carolina prior to launching Droschak Communications, a full-service marketing and PR firm based in Apex, N.C. Dave, 53, has covered numerous major golf tournaments, including the 1999 and 2005 U.S. Opens at Pinehurst Resort, and is a longtime member of the Golf Writers Association of America. Dave will be hand in 2014 to provide coverage of the historic back-to-back U.S. Men's and Women's Opens in the North Carolina Sandhills.

Dave was honored with the Sports Writer of the Year award in North Carolina in 2005, and is currently editor of Triangle Golf Today (www.trianglegolf.com), a print and online publication regarded as the "No. 1 Source for Golf News in North Carolina." He is also golf editor for Pinehurst Magazine, an award-winning glossy publication.

Dave grew up in Penn Hills, Pa., about five minutes from famed Oakmont Country Club and was introduced to the game of golf as a caddie at Green Oaks Country Club in nearby Verona, Pa. Dave was the co-captain of the 1978 Penn Hills state championship baseball team, was a pitcher for the 1982 Atlantic Coast Conference champion University of North Carolina Tar Heels, and pitched professionally for two years in the St. Louis Cardinals organization. He is a member of the Penn Hills High School Sports Hall of Fame, which also includes NBA coach George Karl and former four-time Pro Bowl offensive lineman Bill Fralic.