Palouse Ridge Golf Club Recognized by Pacific Northwest Golfer Magazine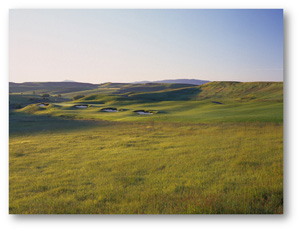 Palouse Ridge Golf Club's 15th Hole - Photo by Rob Perry
In the upcoming May issue of Pacific Northwest Golfer magazine, the Palouse Ridge Golf Club's par-4 15th hole is recognized as one of the "Great Holes of the Northwest", one of just four holes selected each year by the Northwest's premier golf magazine.
The 15th hole is the beginning of a four-hole stretch that will decide the outcome of many championships and events. A driveable par-4, the 15th was designed specifically to offer the golfer a choice, a classic risk-reward hole. There are three options off the tee - lay up to the right side with a mid-iron, avoiding the two bunkers in the middle of the fairway; hit a hybrid over the sea of fescue to the narrow left side, leaving a short pitch to the green; or hit driver up the middle, hoping for a fortunate bounce on the undulating mounds protecting the green.
Owned by Washington State University and designed by Northwest-native John Harbottle III, Palouse Ridge opened last summer with the intention of being a direct extension of the university. "It's a learning and research facility for the students," says Bruce Perisho, the general manager of the course. "It was built to bring people to the area, to benefit the community." The course operations employ students from the university. The clubhouse uses a geothermal heating and cooling system, which reduces energy needs.
Palouse Ridge is the home course for the university's men's and women's golf teams. It has already been selected as the site of the 2012 Pac-10 Conference Women's Championships and the 2014 Pac-10 Conference Men's Championships. This summer it will host the WSGA Men's Amateur Championship on June 23-26, as well as a WJGA District Championship on July 20-21 and a U.S. Amateur Public Links qualifier on June 16. Visit www.palouseridge.com for more information.
With a circulation of 123,000, Pacific Northwest Golfer magazine has been the voice of golf in the Northwest for 15 years. It is the official magazine of the British Columbia, Idaho, Oregon, Washington State and Pacific Northwest Golf Associations, as well as the Pacific Northwest Section PGA. The quarterly magazine is direct-mailed as a member benefit. For more information, visit www.pacificnorthwestgolfer.com.
The PNGA is a 501(c) 3 charitable, international amateur golf association dedicated to preserving the true spirit of the game of golf and promoting activities beneficial to golfers in the Pacific Northwest region of North America. Over the past 110 years, the Association has been a pioneer in developing competitions and services to its members. Today, the PNGA remains committed to being a truly "regional" organization providing benefits and services to its members and member clubs throughout the Northwest. The PNGA currently has 687 member clubs and approximately 225,000 individual members.