Par-3 Golf - The Lighter Side of the Game
By: Dave Droschak
Golf snobs may want to turn away, or better yet close their eyes. This column is about the lighter side of golf, one that many purists just don't want to hear about or care to embrace.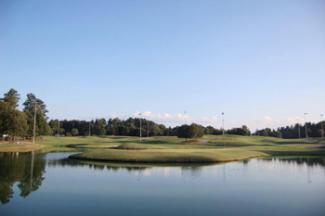 Water Enters Play on 9 of 27 Holes at
Knights Play (Photo by David Droschak)
I, too, was a golf snob once, belonging to a private country club, paying for a USGA handicap, wearing the latest and greatest Greg Norman-collared apparel, counting every single stroke, and yes, taking the game seriously enough to curse or flip a club or two over what I deemed as bad shots.

Don't get me wrong, the country club buffet was to die for and the course conditions - all 54 holes - were for the most part immaculate. It's just that my life path changed and with it my golfing habits.

Come to find out I'm like a lot of my 51-year-old buddies. I love the game, but golf has gotten expensive, time-consuming (especially on weekends) while family and job commitments always seem to have me running in 10 different directions - none of which are necessarily pointed toward the first tee Sunday morning.

I'm athletic so can still hold my own (I guess I'm around a 9 handicap) when I do get an opportunity to play once or so a month. But I would be lying if I don't wonder if my swing will be there when I step up to hit that first drive or pull out the 60-degree wedge from a tight lie.
And then there is my lovely fiancée Lisa, who a few years ago asked if she could tag along on some of my golf trips, and "play a few holes." As Lisa had never picked up a club before, I was given the task of trying to teach her a golf swing, along with the game's proper etiquette. We soon found ourselves rushing on the links - not racking bunkers, not replacing divots, not fixing ball marks - so we wouldn't hold up other "real" golfers, and soon Lisa was playing just one or two holes and riding around in the cart, not playing golf.

Well, what fun is that? Yes, that's correct - fun. You do remember that golf is, among other things, supposed to be FUN.

The intimidation factor had set in. I wondered if I had lost her forever. However, I recently heard a fact that caught my ear. A local 27-hole par-3 course, equipped with lights, was logging 100,000 rounds. What?

As a middle-aged golfer with a single-digit handicap, most of my par-3 golf was logged as a teenager on what we would now term "cow pastures." You know the courses (and I use that term lightly), the ones where you can't tell the difference between the fairway grass and the greens, if anything was green at all.

Man, have times changed. Knight's Play in my hometown of Apex, N.C., not only has good bentgrass greens and its share of challenging bunkers, but nine of the 27 holes have water in play.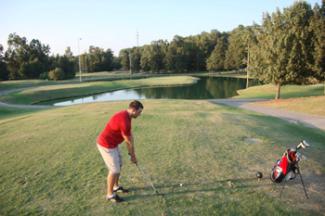 Beginner Gets Ready to Attack the Island Green at
Knights Play (Photo by David Droschak)
It's real golf. Well, sort of.

Kevin Jones, too, was sort of a golf snob, an assistant pro at ritzy Carolina Country Club inside the Raleigh beltline, watching U.S. Open champion Webb Simpson develop as a kid, when he was given the opportunity to become the head man at Knight's Play in 1998.

"I really didn't know what to expect," Jones said. "It was an instant explosion and we were very busy right off the bat. We quickly had to get more carts, and we said, 'OK, we're going to need rangers and more range balls.'

"To go from a high-end private to here, where kind of everything goes, was honestly quite a change," added Jones. "We get them out here in the summer and sometimes we just hope they keep their clothes on half the time. People ask us if we have a dress code and I'll say, 'Well . . . yeah, sort of.' We're not going to turn someone away who comes to the counter in a tank top but we'll encourage them the next time to at least put on a T-shirt."

Welcome to the other side of golf.

Coming up on 15 successful seasons, Jones is well-adjusted and embraces the role Knight's Play has in the pecking order of the game. "It is what it is, and people are coming here to learn the game, and honestly, they don't know any better sometimes," Jones said. "I have to tell the rangers to be careful not to scold them; they have to instruct them. If you hurt their feelings or insult them they aren't going to come back or may not ever play golf again."

If Knight's Play is "real" golf on the par-3 level, IronPlay Links in Summerfield, outside of Greensboro, takes the condensed course theme to a different level.
One of the Short Tests at IronPlay
IronPlay was designed five years ago by architect Kris Spence, who has built quite a reputation across the Southeast for restoring Donald Ross designs. It was the dream of the owners of IronPlay, who grew up on a Greensboro par-3 that was plowed under for development, to build such a course. So the brothers approached Spence to model their new par-3 course after a Ross design. Spence was so intrigued by the idea that he donated his design fee to build the now-successful facility.

"I tried to lay it out very naturally on the ground, just like Ross would have," Spence said. "Ross would put the five stakes in the ground and look at the natural elevation and add three feet here and two feet there and tie into the grade over there. We started doing the greens that way. It was really eye-opening, how efficient that was in building the greens. Some of those greens look like they are straight out of the 1920s. It was cool and very beneficial to me in the long run to see why some of the Ross courses and greens look the way they do with all the twists and turns."

It turns out more and more legitimate golfers are fine-tuning their games at places like Knight's Play or IronPlay. "I run across some of the more talented high school kids in the area and I'll mention to them that I designed IronPlay and they go off about how much they enjoy it and how fun it is, that they go out there and practice on their game because everything is so realistic," Spence said. "People say the greens are better than the country club."

Knight's Play logged 100,000 rounds for several years when "everything Tiger did was magical," Jones said. Still, the facility saw an estimated 80,000 rounds in 2011, with 18 holes on Mondays until 5 p.m. and Ladies Day Thursday's costing just $6 to walk.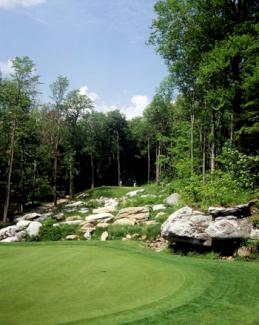 The 7th at Mountain Springs is
Called the Boulder Hole (Photo by Hugh Morton)
"During that Tiger run it was like 'Field of Dreams,' remember the movie with all the headlights," Jones said. "On a Sunday night right after Tiger won a tournament if I hadn't seen it I wouldn't have believed it, the cars were coming in so quickly, it was like one of those fast-forward videos. The range would have 20 people on it and then all of the sudden it would be full and we would have people waiting on benches. It was like hit a bucket and then go play nine, one right after the other. It was crazy."

While those par-3 courses in the Triangle and Triad are worth checking out, the mountains of North Carolina boast some of the best executive golf courses in the country.

Atop that list is the par-59 Mountain Springs Course at Grandfather Golf & Country Club in Linville. While this course is very private, it provides its members with some of the same values as Knight's Play and IronPlay.

The Mountain Springs Course was designed by Ellis Maples in the 1970s to provide members of the exclusive club with an "easier" test of golf and a less physically demanding 18 holes. All par-4s are less than 290 yards. Now, it is an opportunity for children and grandchildren of the membership to embrace the game, while giving seniors a chance to score.

Harris Prevost, who has worked in marketing and public relations at Grandfather for 40 years, plays the executive course as often or more than the championship venue.
"For people who don't hit the ball very far they can reach the greens and they have a chance to make a par. That enjoyment of the game is there for them," said Prevost, who played college golf at the University of North Carolina in the mid-1960s and still shoots in the 70s. "For me, it's going out there and working on my game and just enjoying it, and I can do it pretty quickly. I can play nine holes in an hour."

Back in Apex, Jones builds relationships, and often sees them fade. But in a strange sort of way, that's a major compliment to the head pro.

"I guess you can say they graduate from here," Jones said. "You'll see them as beginners, hitting balls or taking lessons, and then they start playing here and then all of the sudden you don't see them for a while. They will come back one night to hit balls and I'll say, 'Hey man, where have you been, I haven't seen you in a couple of months?'

"It is because they have been playing regular golf courses and they realize they can do it now," added Jones. "Knight's Play was great for them because it didn't cost as much and it wasn't as intimidating, they didn't feel that pressure of always looking over their shoulder, holding up a group. It is kids, moms, seniors . . . you name it."

One of the best endorsements of par-3 golf may have come from none other than Mike Davis, the executive director of the USGA. I asked Davis recently about his views on golf's "condensed version."

"The USGA would view par-3 or executive courses as a way for people to come out and have fun, and if they are a new golfer it may actually entice them to say, 'Hey, I really like this and let me go out on the big course.' We see it as a wonderful thing."

OK, time to open your eyes now.
David Droschak has covered golf in the Carolinas for three decades, mostly with The Associated Press, where he worked for 20 years as AP sports editor in North Carolina prior to launching Droschak Communications, a full-service marketing and PR firm based in Apex, N.C. Dave, 51, has covered numerous major golf tournaments, including the 1999 and 2005 U.S. Opens at Pinehurst Resort, and is a longtime member of the Golf Writers Association of America.

Dave was honored with the Sports Writer of the Year award in North Carolina in 2005, and is currently editor of Triangle Golf Today (www.trianglegolf.com), a print and online publication regarded as the "No. 1 Source for Golf News in North Carolina." He is golf editor for Pinehurst Magazine, an award-winning glossy publication, and was instrumental in helping launch Triangle Golf Deals powered by Twongo (www.trianglegolfdeals.com) in the fall of 2011.

Dave also is the co-founder of www.HurricanesBeat.com, a website devoted to coverage of the Carolina Hurricanes, an NHL franchise he has covered since the team moved to North Carolina from Hartford in 1998.

Dave grew up in Penn Hills, Pa., about five minutes from the famed Oakmont Country Club and was introduced to the game of golf as a caddie at Green Oaks Country Club in nearby Verona, Pa.

Dave was the co-captain of the 1978 Penn Hills state championship baseball team, was a pitcher for the 1982 Atlantic Coast Conference champion University of North Carolina Tar Heels, and pitched professionally for two years in the St. Louis Cardinals organization. He is a member of the Penn Hills High School Sports Hall of Fame, which also includes NBA coach George Karl and former four-time Pro Bowl offensive lineman Bill Fralic.