Pasatiempo with Reba - Blue and Gold, Now and Forever
By: Jay Flemma
Reba tipped a ladle,
for a taste of her creation,
and she knew that what she made
would be the finest in the nation!

Phish - "Reba"

It was Monday morning after the U.S. Open, and I was still wrapping my head around Graeme McDowell's unlikely victory over Tiger Woods, Ernie Els, and Phil Mickelson at Pebble Beach - along with all the Irish whiskey and Scotch the champ made me drink at the victory party - as I drove north from Monterey to the vibrant hippie Mecca of Santa Cruz, where even the Mexican restaurants play Janis Joplin.

How can you not love Santa Cruz? It's like a wax museum with a pulse, to paraphrase modern-day philosopher Vincent Vega. Banana Slugs and terrible Shakespeare (who the hell else would do King Lear wearing nothing except for barbed wire and the metal cap from an electric chair. I can think of 10,000 other ways to waste my time than that head-banging garbage…) and a throwback to the days where Haight talked politics with Ashbury, "Hair" wasn't just a musical but a way of life, and smog was caused by patchouli, it's the '60s, then, now and forever.

Yet I wasn't here for the surfing, or Jackson Browne, Bonnie Raitt and David Lindley at the Catalyst, or even a ride on the ancient wooden roller coaster. I was here for a peaceful, restful day of golf at venerable old Alister Mackenzie's home, Pasatiempo, and for a mini-reunion with my oldest college friend, Reba.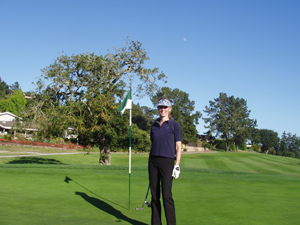 Reba, Flag & Moonrise at Pasatiempo
'Bants Across America

In between covering the golf majors and rating top-100 courses, I've been trying to play golf with as many of my fellow Trinity Bantams as I can. It's my "Golfing with Roosters" tour across America, and so far - thanks mostly to Facebook - I'd reconnected with some of my oldest, most cherished friends and, together, we've played at some of golf's most ancient splendors.

National Golf Links of America with Bruce Moulton, Sleepy Hollow with Jon Kulok, Bethpage Black with Schmucky Bendova . . . er . . . Chucky Cordova, The Knoll Club with Rob Cockburn, Paa-ko Ridge with John Klein-Robbenhaar: it's been one great day after another. I even hung out at the U.S. Open at Pebble Beach with Mona Mennen.

"Mona Mennen?!" my girlfriend Britt asked incredulously as she proofread this story. "That's the worst name you've made up since 'Stewart Cink.' "

Sorry Britt, it's a real name and she's a pretty good golfer too. She's got the cutest family - four little moppets that are just as blithe, bubbly and blonde as her. "The Monettes" we call them. She's preggers again, so soon she'll either have a basketball team or a rock band. I vote for the latter. Earlier this year, Mona had a hole-in-one at the famous Redan hole at Somerset Hills. She sculled a worm-burning, 125-yard 9-wood (sculled a 9-WOOD??!!) that went pin-seeking by mistake and found itself at the bottom of the cup.

Of course my 9-iron from the same distance did exactly what I planned: it bounced twice before the green, rolled up onto the apron turned left towards the pin, and hit the exact center of the flagstick. The ball, naturally, just hung there on the lip, smirking impudently at me. I think it winked too, just to twist the knife a bit after sticking it in.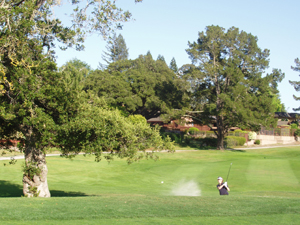 Reba, Flag & Moonrise at Pasatiempo
And how the Golf Gods laughed!

But that felt like a Swedish massage compared the surgical dissection I endured the second time I played with Bruce Moulton: a hanging, drawing and quartering that resulted in my worst golfing defeat in the 40 years I have played the game. After making an incision lengthwise along the breastbone and opening up my chest cavity, Bruce then spread the ribs, removed the organs and entrails while I was still alive, showing them to me first, and then placing them in jars of preservative for future analysis. Then, after lopping off my head, hands and feet and dipping them in pitch, he placed them atop the Union Vale clubhouse as a warning to anyone else who thought they could play him straight up in match play. The carcass was burned and the ashes scattered to the four winds. In golf terms, the score was "8 &7," which translates to an 8-0 score in baseball, 56-0 in football. Next time, I'm taking three a side.

Anyway, playing Woody Shipley in Arizona seems to be next, followed by Lila Morris in Michigan, where she plays with her husband Bill-a, their son Will-a, and we haven't come up with a nickname for Andrew yet, but the branding department is on it.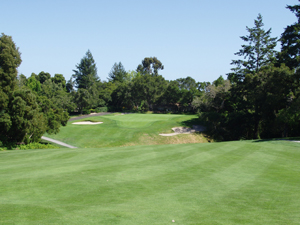 Pasatiempo's 16th - Before Renovation
Reba

Today's round was with one of Lila and Mona's friends and sorority sisters, Reba - actually Edie Silver Walker for those of you scoring at home. I was especially excited because Edie holds the honor of being my oldest friend from Trinity. We didn't just meet the first day of school. We met months before at an orientation weekend, hung out, had a blast, corresponded all that summer and stayed friends though four action-packed years.

The only thing missing from Edie is the "S" on her chest. At "Trin," she was a standout athlete in lacrosse, field hockey and skiing, but her ability as an athlete was only surpassed by what a fun person she was: 5'9" of bright smiles, sincerity and good cheer. We also shared a passion for English literature and writing. Indeed, Edie has a terrific vocabulary and has blossomed into a beloved travel writer among the Trinity community, and her stories from far-flung destinations are eagerly awaited by close to a decade of Bantam alumni. So Edie helped me co-write this article.

Edie is going be become quite a good golfer once she gets some more practice time. She's a natural athlete, tall and lithe. She towers over most women, but it was her precision analysis of each sport she mastered that made her lethal. She was sometimes the best athlete out there, but she was always the smartest, and that's what wins games. And she is taking to golf quite well, thank you very much.

"We love it!" she beamed. "My husband Breaux and I go out to play every once and a while, and the last time - OOPS! - I beat him!" [Author's Note: Edie's part of the story will appear in italics.]

Though she's probably played less than a dozen times, she has a good set-up over the ball, a fundamental understanding of the golf swing - "I think my background in field hockey helps," she says - and that killer instinct of an athlete that wants to win every time she goes out there. Most importantly, she's coachable. Once she gets a short game and practice time, she'll start banging down the doors of the ladies' leagues and women's club championships.

"Jay was really patient and knowledgeable. We cheerfully let every player who came behind us pass through, which allowed Jay to leisurely instruct me on new shots. (I'm still mulling the 'flop shot,' but he also taught me how to get out of bunkers and chip around the greens!) He also encouraged me to use his 'hybrid,' something I didn't even know existed. Jay has great touch around the greens, just an amazing short game. He putted in twice from off the green, put balls next to the pin from 50 yards away - I'm told this is called 'up and down' in the lingo - and taught me how to read the break on the greens."

Edie is Reba for this story because our playing partner couldn't remember "Edie," either on the golf course or in subsequent e-mails.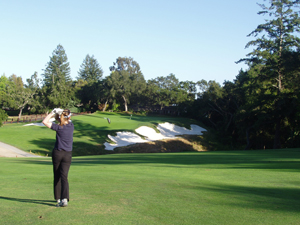 Pasatiempo's 16th - After, with Reba
"We were glad to be joined by a member named Ben, a transplant from New York to the West Coast, who played the front nine with us. He and Jay, who had played Pasatiempo five years prior, were able to compare recollections and sentiments, and he was really nice company for the front nine."

He was terrific company. He also kept getting her name wrong. "Nice shot, Reba!" he'd shout, and meanwhile I'd be holding in laughter because "Reba" is also a song by my favorite rock band, Phish - and a silly song at that, so Edie shan't hear the end of that one for a while.

So there we were, at a blessed union of sea and sky along the Pacific, falling into our old routine like Tom Brady and Wes Walker, five hours of laughs, old stories and fond memories of our beloved Trinity College, "Our Green and Gothic Home." We cheerily clucked away like broody old hens. To paraphrase Simon and Garfunkel, "Old Friends, old friends, sat in their golf cart like bookends."

"Jay still remembered . . . and cackled hysterically . . . at the time I gave him a haircut and got it a little too short . . . "

I was a hippie back then, and upon looking in the mirror and seeing my ears, I shrieked, "Eeeeeeeeeediiiiiiiiiiiiiiiie!! For God's sake, I look like John Emery!!"

And we laughed all the way around. Views of the ocean, the tang of salt in the air, the smell of freshly cut grass, the thrill of a well-struck ball - THWACK! - two-hopping to a stop and filtering to the pin, and the warm glow of sincere, life-long friendship, and esteem. Who needs power, money or politics? Ted Foss is right: Friends are a gift you give yourself, and they are worth their weight in gold.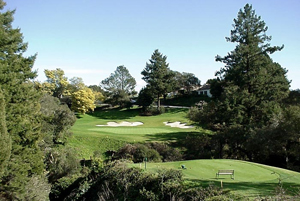 Pasatiempo's 18th - Before-Renovation
Passing Time at Pasatiempo

Playing Pasatiempo - Spanish for "passing time" and known as just "Pasa" to her adherents - is also like reuniting with an old friend. It is one of the few public courses designed by Alister Mackenzie and is without doubt his finest public design. His home sits to the left of the sixth fairway, and generations of golfers have posed for photo ops to pay homage to his memory.

I had played Pasa five years earlier, before they had embarked on an extensive bunker restoration and tree removal plan by architect Tom Doak, who is continuing his "World Domination Tour" where he builds one instant classic after another. Doak has also restored a number of other world-class courses such as Garden City Golf Club, Inwood Country Club and Atlantic City Country Club.

His restraint is perhaps his best virtue. He seeks to restore the course to the original specifications. Sometimes the course needs to add length or move bunkers to keep up with decades of technological advances in equipment, sometimes not, and Doak realizes that the first duty of an architect is preserve what needs to be preserved and protected.

"Our mission statement at Pasatiempo was to restore the features of the golf course to the way they were on opening day in 1929 and not make any other changes," said Doak in an interview for this article.

The lion's share of the work involved enlarging the bunkers and greens back to their original size, and Doak and his team, led by Jim Urbina, also one of the best in all golf, succeeded beyond all expectations.

"We put the bunkers back the way they were supposed to be based on the aerial photographs we had," Doak explained.

As a result, the course is much tougher, as well as more beautiful. Where I usually land in one or two bunkers per round, I was in nine at Pasa, and I'm not the only golfer and writer who feels that way. Several other writers and golf architecture experts all agree: the bunkers are back and they bite hard. Some are deep but narrow trenches, all but impossible to escape. Others are gaping caverns, deep and steep. Even Edie, a neophyte when it comes to architecture, couldn't help but notice how difficult they were.

"One aspect I noticed immediately was the strategic, and seemingly more challenging than usual placement of Mr. Mackenzie's bunkers. I've seen a healthy amount of golf courses, despite not playing all that much, and these bunkers were more daunting in location and size in comparison to all the other courses I've played. They almost felt confrontational and were reminiscent of some war movies I've seen, depicting barricaded battle fronts."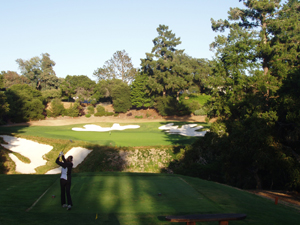 Pasatiempo's 18th - After Renovation
I told you Edie was a quick study! As we all know, Mackenzie fought in the Boer War and his job was to create the trenches and defenses on the battlefront. He brought this talent to golf design when creating defenses around his greens. His bunkers are meant to resemble the military fortifications used in wartime. Well done, Reba!

"I've never minded sand; perhaps it's the challenge then thrill of getting out, but that afternoon, I was basically at the beach. On one of the latter holes, I hopped from bunker to bunker with the green persistently beckoning, partly due to ineffective use of my sand wedge and partly accredited to Mr. MacKenzie's prowess in antagonizing. For some reason, this sand-induced setback gladly didn't diminish my fondness for bunkers."

Well, join the club. As you can see from the before and after pictures of 16 and 18, the bunkers will catch even the slightest mishit and then it's potluck as to whether you'll draw a playable lie.

"There are a lot of bunkers to get into at Pasa," agrees Doak, but the course is also hilly, which makes judging distances more difficult. "Moreover, you'll have a lot of odd stances at Pasa, which makes it tougher still."

Doak has that right. Pasa may be a beautiful woman, but with those murderous trench bunkers, ubiquitous hills, narrow fairways on the front nine, fiercely contoured greens, and punishing, penal ravines she is also an Ulrica, a fire-breathing brimstone-spewing, lava-eating she-devil. And just like that famous literary character from "Ivanhoe," she will lull you to sleep, then burn down your castle.

Strong, long par-4s like Nos. 1, 2 and 10, which really are par-4.5s due to their length are balanced against shorter but perhaps more dangerous and certainly more cunning par-4s at 11 and 16. At a par of 70, she features five par-3s of varied length and just three par-5s. Mackenzie worked with what the varied terrain gave him, and used each natural feature to its maximum strategic advantage.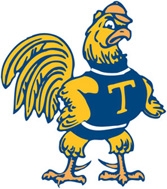 The Fearsome Trinity Bantam
"I saw the strategy right from the start. I had to think on every shot, wisely planning my way around the hazards, and even then I found a lot of them. When I hit a bad shot, there was a bunker!"

Where the length and narrow fairways are the main defense on one, two, and 10, the internal green contours, uphill terrain and deep bunkers provide equally fearsome teeth to the par-3s at Nos. 3 and 5.

Perhaps the best strategic hole is 11, with the fairway bisected by the barranca and the green benched into a high hill. Only the longest hitter can carry the ravine off the tee, and laying up leaves a long hybrid to a devilishly protected green.

"Jay hit his only really bad shot of the day here. He topped his approach into the ravine, but redeemed himself with a stellar shot out of the narrow, deep trench bunker to the left of the green. He not only was good at teaching me the knack of opening my stance and the face of my sand wedge, and then hitting 2 inches behind the ball, he pulled the shot off all day, failing only once, and that was when he was in the bottom of a trench bunker and in a footprint hat could have been made by a stampeding rhinoceros. Now I know why you rake the traps after your shot!"

The iconic and celebrated par-4 16th is the other hole that is on everyone's short list of the world's greatest holes. Here is where Doak and Urbina's work shines through with dazzling results. They reclaimed huge portions of the original false front green and extended the bunker by an astonishing amount. Again, the pictures depict the extent of their success.

"Jay hit a terrific drive, his best of the day, long and with a hint of a draw. He landed just in the left rough. His hybrid approach hit the green, and then kept rolling down green to the front right edge. My approach went too far right, but Jay said this was just that I lined up pointed that way. I have to watch the alignment of my feet.

"But then 16 "snakebit" Jay again. After warning me that he had to get the ball to the top level of the green or it would roll back to his feet or worse, he hit it too soft, moaned 'Oh no, Edie! I did it again,' and fell to his knees hiding his face in his hands as the ball went half way up the hill, then came back down the hill and ended up behind him! Worse than where it started. What a green! Jay groaned and grimaced, and took a 'walk of shame' as he put it, before hitting the shot he should have hit the first time."

Even knowing what you have to do, you still have to execute or Pasa will punish you.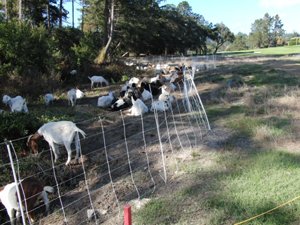 Pasa's Goats - Cheap Lawnmowers
Finally we reached 18, the gorgeous par-3 closer that gives Pasa some of its unique character. Again, Team Doak recovered huge portions of the front bunker that had been lost. Edie hit her best shot of the day with my hybrid, actually air-mailing the green, but hitting it dead straight. "I have to get me one of those," she said, and she's right. She hit it well the whole day. I hit my tee shot pin high, but left into the bunker, whereupon the ball rolled and rolled and rolled down the slope and into a deep trench and into that footprint Edie mentioned earlier. It took my best shot just to get it out and onto grass. My pitch to the green ended up 25 feet right of the flag, but pin-high. But I got a good bead on the putt.

"Jay pointed to a spot at least 10 feet to the right of the hole and explained that the tilt of the green made the putt break so much that the side of the hole was actually the 'front door.' He called it the 'high side' and said he was going to try to hit the ball there so that it followed the 'fall line,' where gravity would just let the ball roll straight into the cup.

"Then he walked back to his ball, set up, took his wide putting stance, moved his hands a little in front of the ball (another tip he taught me) and - in one of those typical, bold, all-or-nothing, Jay Flemma moments, those moments of palpable excitement we knew so well at Trinity, where without even a second thought, tiny but plucky Jay would dive into a challenge the rest of us would avoid - he looked over his shoulder and said 'Let's end the day with some fireworks."

I put a good stroke on the ball; it left the club face right on line. The ball sped up the hill, turned sharply left, and found and held the fall line, speeding toward the center of hole as if to share some wondrous good news.

I turned toward Edie and started across the green in anticipation. She had broken into a wide smile, partly in amazement as the ball, as if drawn by a magnet, raced toward the cup, partly in anticipation of the moment.

As it tumbled into cup we both let out a roar, arms raised in exaltation, and then we shared a high-five the Philadelphia Eagles would find difficult to emulate, no matter how many times they scored against the Dallas Cowboys. Even the group behind us applauded long and loud. We turned back and waved to them and walked off the green in triumph.

"As we left the 18th green, off on the horizon, just above the western edge of the hills of Santa Cruz, the sun dipped into the sea and all we saw was blue and gold, the last light of the setting sun giving the ocean a shimmering, burnished glaze, and the deep azure sky reflecting both its amber luster and the warm glow in our hearts."

It was, indeed, a glorious blaze of Blue and Gold: Sun and sea, sky and water, Blue and Gold, our whole world - now and forever - Blue and Gold.

Everywhere you looked, Blue and Gold.


Since launching his first golf writing website in 2004, http://www.jayflemma.thegolfspace.com, Jay Flemma's comparative analysis of golf designs and knowledge of golf course architecture and golf travel have garnered wide industry respect. In researching his book on America's great public golf courses (and whether they're worth the money), Jay, an associate editor of Cybergolf, has played over 220 nationally ranked public golf courses in 37 different states. Jay has played about 1,649,000 yards of golf - or roughly 938 miles. His pieces on travel and architecture appear in Golf Observer (www.golfobserver.com), Cybergolf and other print magazines. When not researching golf courses for design, value and excitement, Jay is an entertainment, copyright, Internet and trademark lawyer and an Entertainment and Internet Law professor in Manhattan. His clients have been nominated for Grammy and Emmy awards, won a Sundance Film Festival Best Director award, performed on stage and screen, and designed pop art for museums and collectors. Jay lives in Forest Hills, N.Y., and is fiercely loyal to his alma maters, Deerfield Academy in Massachusetts and Trinity College in Connecticut.