Past Credentials Mean Nothing at LPGA Q School
By: Dave Andrews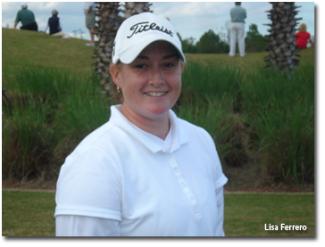 Lisa Ferrero paused as she pulled her driver out of her bag and gazed out over the driving range at LPGA International Thursday morning. There was an hour to go before her tee time in the second round of the LPGA Q School finals. As she looked into the distance, one could only imagine the thoughts swirling in her head.
This is the week she has spent the last 18 years of her life getting ready for. Now she will find out if it has all paid off.
Ferrero was a national standout as a young junior golfer, winning the U.S. Girls' Junior Championship in 2000. She was a star player in high school in Lodi, Calif. She excelled at the University of Texas where she earned a four-year athletic scholarship. Ferrero turned pro in 2005 and has played four seasons on the Duramed Futures Tour. This season she finished 13th on the tour's money list, automatically earning her a spot in the final field here in Daytona Beach, Fla.
On the driving range before her round, to the left and to the right of Ferrero were players with credentials equally as impressive as hers, some even more so. This week, such credentials mean absolutely nothing. Ferrero and the other players know that. The only thing that really matters is seeing their names in the top 20 on the leaderboard when Sunday's fifth and final round has been completed. The top 20 finishers will earn full playing status for the 2009 LPGA Tour season.
Ferrrero, coming off a 75 in the first round, knew she needed to shoot much better on Thursday to have a reasonable chance of being among the top finishers. Much better is exactly what she did. The 26-year-old fired a 6-under-par 66 in the second round, moving her up to a tie for 11th pace after two rounds. "The big difference today was I hit greens and gave myself some great opportunities for birdies," Ferrero said after posting her score.
Does Ferrero think she can make the top 20 and earn her way onto the LPGA? "I don't even want to think about that until the last shot of the last round. I'm just going to try to go out the next there days and play as well as I did today."
If she punches her ticket, it will be the biggest day in Ferrero's golf career.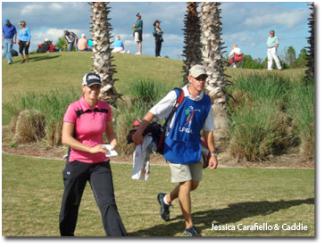 Six months ago, Jessica Carafiello was an alternate in the first event of the season on the Futures Tour. She waited around the clubhouse the first day of the event, hoping for a spot to open up in the field. None did, so she went home that week without ever teeing it up.
Today, nine months later, she's in the thick of the fight to earn her LPGA card at Q School. Carafiello, a native of Greenwich, Conn., sits at 2-under par after the second round, in a tie for 19th place and in good position with three rounds to go. "I worked hard all year and saw some steady improvement," she said. "That's all you can do out here is work hard and try to keep getting better." Her best finish in three seasons on the Futures was a tie for 13th place. This week Carafiello would happily settle for that.

It doesn't matter what you have done to get here. All that matters is finishing the five-day tournament in the top 20. It can be a life-changing result for a young woman professional golfer. Ferrero and Carafiello are hoping their lives change dramatically on Sunday, the final day of Q School. There's a lot of golf to play, however, and each player still in contention knows it will probably take some of the best golf of their lives over the final three days to get the job done.
Dave Andrews is a Harvard-educated former television news reporter. He's also an avid golfer who has become a fan of the Duramed Futures Tour. His home course in Concord, N.H., is annually the site of one of the tour's events. The inspiration for Dave's 2007 novel, "Pops and Sunshine," came from meeting many of the young aspiring women golfers on that tour. Each of them has a passion, dedication and determination that he finds remarkable. His novel is a fictionalization of the dream that these young women share. To order Dave's book, visit http://popsandsunshine.com.