Pat Bradley Enjoys the Limelight with Nephew
By: Rob Duca
Pat Bradley has been getting lots of phone calls from reporters since August. Retired from the LPGA Tour since 2004, the six-time major champion and Hall-of-Famer has been in demand since her nephew, Keegan, captured last summer's PGA Championship. It has given Bradley the opportunity to speak out on issues close to her heart, and she didn't squander the chance when interviewed earlier this month.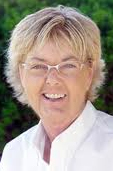 Pat Bradley
(Photo Courtesy
of LPGA Tour)
Now 60, Bradley isn't entirely retired. She competes on the women's Legends Tour and is working to expand its schedule from the current six tournaments. She still plays golf on a regular basis, trying to keep her game sharp should the USGA ever conduct a U.S. Women's Senior Open.

That subject stirs her passion. In her heyday, she was considered one of the fiercest competitors on tour, and that familiar fire ignites when she speaks about the lack of opportunity for women her age. "We are the only age group that the USGA doesn't have a tournament for," Bradley says. "It's really sad because I have supported the USGA since I was a little girl. It's not about the money, it's about the opportunity to compete against my peers for a national championship like my counterparts on the men's Champions Tour. The USGA does not see fit to have that on their schedule, and I'm very, very disappointed."

As for the current state of the LPGA Tour, Bradley understands the frustration players feel over the limited number of events. There were only 25 tournaments on this year's schedule, just 12 in the United States. "When I was on tour we had 45 events. It's different today. It puts a tremendous amount of pressure on the younger players to take advantage of their chances," she said. "I feel for the younger players. It's very disheartening. I see them in my travels and they say, 'Geez, Pat, I'm just trying to find a place to play.' "
Yet she's optimistic about the future of the tour, pointing to the emergence of 16-year-old Lexi Thompson, who this year become the youngest woman ever to win on the LPGA Tour, along with new commissioner Michael Whan, as reasons to be positive.

"(Lexi) is going to be a lady everyone is going to have a great time watching," she said. "And when Michelle Wie graduates from Stanford, she'll be able to put all her energies into the game.

"Mike Whan is very focused on getting the tour back on its feet and stable. He's dedicated, he understands the women's game. I honestly believe he's going to bring it back, and it will be healthy again in the States."

Bradley now lives in Hyannisport, Mass., on Cape Cod, her home tucked into the corner of an avenue that looks out upon Nantucket Sound. She purchased the 50-year-old house in 2005. "When I came to look at it there was only one picture hanging on the wall," she says. "It was of Arnold Palmer. I said, 'O.K., this is meant for me.' "
After a remodel, she moved in nearly four years ago to be closer to her mother, who lives in Osterville. "When I was on tour for 30 years my five brothers pitched in and kept a close eye on my mom. Now it's my turn," she says.

Her mother, Kathleen, was known for clanging a Swiss cowbell on the front porch of their Westford, Mass. home following each of Bradley's 31 tour victories. That bell is now in the World Golf Hall of Fame. But Pat has a new cowbell sitting on a table in her Hyannisport home that she proudly rang when her nephew won the PGA Championship. "Keegs said he wants to hear that bell ringing once, so I'll have to be there on Sunday the next time he's in contention," she says.

Keegan Bradley's dream of playing on the PGA Tour was born from watching his aunt's success. "She had a major impact on her nephew who watched her go to the top of the world in golf and said, you know I can do that," says Keegan's father, Mark, now the head professional at Jackson Hole Golf & Tennis Club in Wyoming.

Says Pat, "I marvel at the ease at which Keegan plays on the PGA Tour. Keegan plays for the joy of succeeding. I played for the fear of failing. I've told Keegan, don't rest of your laurels. You've got to keep going."
Bradley is justifiably proud of her accomplishments, although she's a bit sheepish when she walks a visitor around what she calls her "me room." Adorning the walls and shelves are reminders of her Hall of Fame career. In one corner is a crystal bowl, in another a gleaming trophy. Not far away is a glass sculpture of the numeral 2, signifying when she became the first woman to pocket $2 million in career earnings. (She was also the first to eclipse $3 and $4 million).

There are magazine covers, Player of the Year awards and photos of Bradley with the game's legends, from Gene Sarazen, Sam Snead and Arnold Palmer to Nancy Lopez and Kathy Whitworth. It's a testament to how good she was, especially in 1986 when she dominated the LPGA Tour as no other woman ever has.

She was twice named Player of the Year - the second time after overcoming Graves' disease - and she was inducted into the World Golf Hall of Fame in 1991. During her sensational '86 season she won three of the four LPGA majors, finished fifth in the other, won the Vare Trophy for lowest scoring average and captured the money title.

It's a rainy fall day as Bradley fondly looks back on her career. In a booming voice that echoes off the walls, she talks about her childhood growing up in Westford, where she learned the game of golf from her father beginning at age 11. Her competitive spirit? That came from being around five brothers.

"I learned survival of the fittest, and how to hold my own," she says. She also credits John Wirbal, the head pro at nearby Nashua (N.H) Country Club, for taking her under his wing, and the men at the club who let the little girl join their groups. "There weren't many junior programs back then, so I learned from the guys at the club," she said. "They didn't want a whiner."
"Her mental toughness was her greatest strength," Mark says. "She definitely demanded a lot of herself. But she never tipped her hand to opponents. She had this drive where failure was not an option."

A competitive skier in her youth who trained under such legends as Austrian Olympic gold medalist Toni Sailer, Bradley wasn't sure which sport to pursue. But after twice capturing both the New Hampshire and New England amateurs, she settled on golf, enrolling at Florida International University and earning All-American honors. She was medalist in her initial attempt at LPGA Tour Qualifying School in 1974, and won her first pro tournament in 1976. She led the tour in wins in 1983 and '85, and posted more than 50 second-place finishes. "Like (LPGA pro) Val Skinner said, it's death, taxes and Bradley on the leaderboard," Mark remembers.

But it wasn't until 1986 that she became a household name. "I was in a zone all year," she says. "It was my year from start to finish. Did it open up a thousand doors like the PGA Championship has for Keegan? No. But it told me I had the right stuff to be a Player of the Year and a major champion."

She credits her success to working with Dr. Bob Rotella, the sports psychologist who now counsels Keegan. "I was extremely hard on myself," she says. "When I shot 66 I was a hero. When I shot 75 I was a bum. Dr. Rotella helped me understand how to be your own best friend. I discovered that mental conditioning was another aspect to explore."
On top of the golfing world, she inexplicably took an abrupt nosedive. By 1988, she ranked 109th on tour. During a tournament in Los Angeles, she shot 82-85 to miss the cut. Humiliated, she cleaned out her locker late at night and checked out of her hotel at 4 a.m. to avoid bumping into other tour players.

She couldn't stop her hands from shaking and her heart was beating out of her chest. She shook so badly that she once accidentally moved the ball while addressing an iron shot. All these years later, her frustration is raw. She pounces from her easy chair to illustrate the moment, mimicking a golf swing with an imaginary club, her voice growing louder and her exasperation evident. After that incident, she stopped placing the club behind the ball until she was ready to hit. On the first tee, she would place her peg into the ground and the ball on top 10 minutes before she was due to hit so fans wouldn't see her trembling. "And putting was a joke," she says, spitting out the words. "I couldn't stay quiet, couldn't put the blade behind the ball."

And she was blaming herself for it all. "There was no outward sign that I was injured or sick. I thought I was creating all this stress and thus all my poor play. I thought my career was over," she says.

Turns out, she was ill with Graves disease, an autoimmune disorder that leads to over-activity of the thyroid gland. Diagnosed in April, 1988, the disease was regulated and controlled with medication by December. The next month she returned to win the L.A. tournament where she had slipped away under the cover of darkness one year earlier. "That was the most emotional win of my career. I knew right then I was going to okay," she says. And she proved it at age 41, winning her second Player of the Year award in 1991.

Now she wants the chance to compete again. "I'm just trying to maintain my game, because I'm waiting for the USGA to hold a Women's Senior Open. When it happens, I'll be right there," she said. "But I know it better happen soon, because my window is closing."
Rob Duca is an award-winning sports columnist who wrote for the Cape Cod Times for 25 years, covering golf, the Boston Red Sox, the Boston Celtics and the Boston Bruins. He is now managing editor of Golf & Leisure Cape Cod magazine and has written for a variety of other publications, including Sports Illustrated, the Boston Globe, Yankee magazine and Cape Cod Life.