Pat Ruddy's Place of Links Worship
By: Steve Habel
It's often been said that the best golf courses are a combination of location, unlimited patience for change and maturity, and wisely using the gifts bestowed by Mother Nature.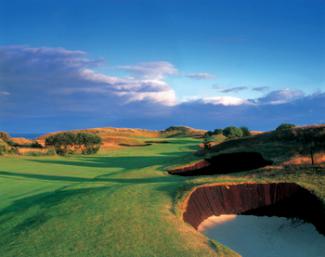 The Opener at The European Club
The employment of these three aspects by Irish golf architect Pat Ruddy is what makes The European Club - set less than an hour south of Dublin along the Irish Sea amid myriad dunes - one of the world's great links courses.

Ruddy has invested more than a half-century in golf, first as a fine player, then as a golf journalist and promoter and, ultimately, as a member of the short list of the world's greatest golf course designers.

It's here on the eastern Irish coast between Ballymoyle and Ardmore that Ruddy fashioned his greatest legacy. That's quite a boast considering his work in the Emerald Isle includes the wonderful Glashedy Links at Ballyliffin, Sandy Hills course at Rosapenna, his renovation of the course at Donegal, and the inland jewel at Druid's Glen.

Ruddy always wanted to build a course that he could own and operate, but the land for his definitive project had to be special and spacious. Ultimately, he found the property that now contains The European Club after searching the Irish coast in a helicopter and selecting the site over the one in Scotland that would eventually become Donald Trump's much-ballyhooed course near Aberdeen.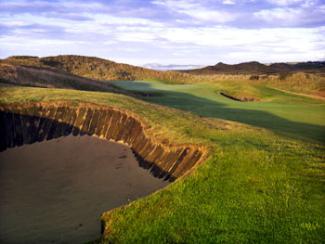 The Third Hole at The European Club
"Very few people get to live their golfing dreams, but I have been fortunate to do so," Ruddy said while joining me for a pre-round breakfast during a visit to The European Club in June 2012. "I love golf so much that I had to have a field of my own in which to hit golf balls without interruption or having an angry greenkeeper looking at my divots."

Ruddy lives and breathes the game, and his passion is illustrated at The European Club. Once he had the 20-hole layout in place and built a modest golf shop and an inviting but understated clubhouse for members and guests, Ruddy added an apartment upstairs with living quarters, a lounge and an expansive library, which he plans to expand into an archive of golf literature.

It is from this roost that Ruddy wanders out to the course at quiet times and finds ways to enhance The European Club. "The sand is always moving," he confided. "Like an old man looking in a mirror, we do not go a year without finding more wrinkles as fairways rise or fall unceasingly."

In 2006 at the height of the Irish property boom, Ruddy and his family were offered about €40 million for the golf course and adjoining property, but he refused to sell. "We have no hotel and no housing," Ruddy said. "Money is not the driving force. We are here for the golf. It was founded because I wanted a place of my own to play golf, or play at golf, whenever the mood took hold. If it pays for itself then that is a bonus."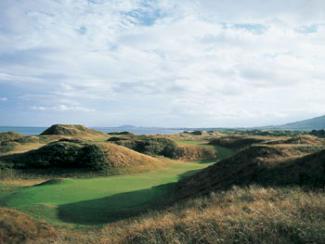 No. 8 Green at The European Club
No Finer Golf Experience Anywhere

The European Club was founded in 1987, opened for play in 1992. It plays to a par of 71 and 7,355 yards from the back set of four tees. If you add on the two extra par-3s that Ruddy just couldn't keep from designing, 20-hole par moves to 77 and the yardage stretches 7,726 from the tips.

The course is a combination of rugged dunes, deep bunkers (101 of them, all lined with railroad ties - or "sleepers," as Ruddy calls them), sea breezes and large, wavy putting surfaces. Add to that fast-running fairways, greens that are receptive to the ground run-up and acres of tall, bordering Marram grass and golden-flowered gorse, the golfer has all he wants and more.

The course's welcome card, written by Ruddy, gives fair warning about the impending challenge: "We give no apology that the thoughtless and inept player may suffer on our links. It was not created for such players."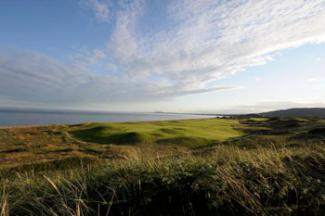 The European Club
The European Club is routed in two loops through high dunes, marshlands and along a wild, exposed beach, up onto the cliffs of Mizen Head, and deep into a valley as it winds to a finish. Sixteen holes have views of the Irish Sea. The front nine is tight as Ruddy used mounding, bunkering and slight doglegs for visual deception. The home half is more open, with the sea always in view unless, of course, you're buried in a bunker.

"The European Club has been designed to perpetuate and modernize the traditional values of links golf," Ruddy notes. "All modern golf is merely a copy of the original with the other main features of golf's landscape borrowed and adapted from dunesland golf."

There are no blind shots at The European Club; in fact, 14 holes offer a complete tee-to-green vista, and the landing areas for drives are clearly visible on others.

Care has been taken to conceal portions of fairways behind hillocks and reeds and in depressions. Ruddy's routing throws off depth perception by his use of swales and exaggerating length, with long corridors through dunes making some greens appear extremely small by simply making them wider.
In keeping with links traditions, The European Club offers an irregular pattern of pars. There are just two par-5s - the third and 13th - and a trio of par-3s. The topography leads to this situation because it's very difficult to get a stretch that will yield a par-5 without traveling over hill and dale.

Ruddy's feel for design runs the gamut. The European Club's 12th green, sitting on a plateau, is 127 yards deep, arguably the longest in the world. Five of the course's par-4s are 459 yards or longer from the tips, but there's also a reachable par-5 at the downhill, 499-yard third.

The heart of the round is the seven-hole stretch - eight if you count the additional 12th, a par-3 - beginning at the 470-yard seventh and ending at the bone-crunching, 596-yard par-5 13th. The first half-dozen holes here are par-4s of 400 yards or longer, and the 13th rolls down a dune and alongside the edge of the beach.

The cliffs of Mizen Head are a threat on No. 15, whose approach and green are so close to the surf that they're often battered by salt-water spray off the ocean.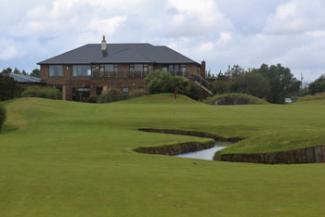 The 18th at The European Club with
Understated Clubhouse in Background
The finishing hole at The European Club was, for years, considered to be out of place with the rest of the course because it had a pond in front of the green that had to be carried on the approach. Ruddy changed this area into a snaking burn, and now the 18th ranks among the most distinguished holes on a course eliciting memories that will last as long as you play the game.

Ruddy said the land dictated that he build 20 holes rather than just 18. "Why not? I love golf," Ruddy said. "If there are 20 or 25 fine golf holes out there why stop at 18? We are here to play golf."

Because this is mostly a links situated above the coastline, ever-present winds play a big part in the experience. Take that into consideration if your score is higher than usual. "Remember that you are in an unusually challenging place and it does not mean that you have lost form," Ruddy advises. "Stay calm and think it out."

Ruddy tinkers a little with his creation each year. "The game of golf goes on changing and, in some ways, improving," he said. "Our links is set to continue changing for years to come until greatness is got within the gunner's sights."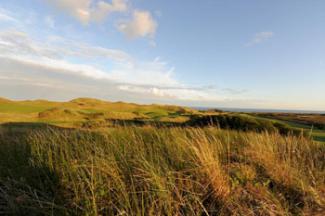 True Links Golf at The European Club
The European Club has been crafted as a place for golfers who play the game at an intellectual level. "Less powerful or gifted players will find a way to play the links satisfactorily if they play within the scope of their talents and refrain from undue acts of aggression against a links, which takes no prisoners from amongst the foolish," Ruddy explains.

Ranked among the "World's 100 Greatest Golf Courses" by Golf Magazine, The European Club was voted the No. 8-ranked golf course in Ireland by Golf Digest Ireland in 2012. The seventh hole has been named one of the "World's 100 Greatest Golf Holes" and the 13th and 14th have been lauded as two of the "500 Greatest Golf Holes in the World."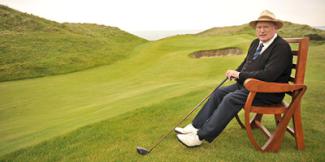 Pat Ruddy at The European Club
That Family Feeling

The European Club is a small (it has only 110 members), unpretentious, private club with a modest clubhouse and a "friendly disposition towards visiting players." The operation is a family affair, with Ruddy's wife, Bernadine, his two grown sons and two daughters helping out. If you visit The European Club, you are treated as part of the family.

No other course in the world saves the largest box on its scorecard for a note that allows, "What my score should have been." This is another example of Ruddy poking some fun at the game's difficulty.

The best part about visiting here is the welcome you receive. It's more than sincere, not because the Ruddy family is happy to see your money but because they are genuinely glad to share their course with you. They don't need to have the starting sheet full every day; in fact, they love it when they get a rare free afternoon so they can have the course to themselves.

After playing the course and experiencing some of Ruddy's charm and personality, you'll swear everything that's been written about The European Club is not adequate enough. A round here is truly a seminal journey for those who love golf

To get a detailed description of how Ruddy bought, built and runs The European Club - and some of his musings on golf-course design, check out the book, "The Perfect Golf Links," a hole-by-hole look at the course with narrative and photos by Ruddy himself.

For more information about the course, visit www.theeuropeanclub.com.
Steve Habel is a freelance writer contributing Cybergolf news stories, features, equipment and book reviews and personality profiles from his base in Central Texas. He also works as a contributing editor for Horns Illustrated magazine, a publication focusing on University of Texas sports, and is a contributing writer for Golfers' Guide and Golf Oklahoma magazine, Texas Links magazines and Golfers Guide. Habel's main blog (www.shotoverthegreen.blogspot.com) features news on golf and the Longhorns, and another (www.checkinginandplayingthrough.blogspot.com) chronicles his many travels, including playing more than 600 golf courses since 2008. Habel is a member of the Golf Writers Association of America and the Texas Golf Writers Association.