Pebble Beach Restores 18th Hole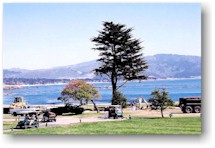 It weighed 400,000 pounds and stood 65 feet tall. Despite these daunting statistics, a giant cypress tree was successfully moved to maintain a tradition of one of the greatest finishing holes in golf – Pebble Beach's 18th.
A towering cypress is now standing guard along the right side of the 18th green. And it definitely comes into play on this par-five. The cypress was uprooted from the first fairway and, with huge equipment being used, was relocated to create an "immovable obstruction" on one of the world's most famous closing holes. The transplanting was done carefully and one foot at a time.
A Monterey pine had guarded the right side of the green for years. But the 80-year-old tree finally succumbed to pitch canker disease and was removed last year. The lack of the pine changed the play on the 18th. One of the golf's grandest stages was suddenly more vulnerable, with players being able to bail out to the right of the green, an area previously guarded by the tree.
The mighty cypress looks even more massive than the Monterey pine. Golfers played through the construction site, and they remarked they were glad the 18th green's guardian was back.
One of golf's world famous holes has returned as an even more formidable challenge, and once again is making players' options simple. Avoid the tree on the right and risk the ocean on the left; or hit one right down the narrow alley to the 18th green. The prudent play is, as before, a lay-up for a pitch to the green.
It was a remarkable accomplishment in moving the 400,000 pound cypress tree. Higher scores will result, but no one seems to mind. Pebble's vaunted 18th was not quite the same at this year's AT&T Pebble Beach National Pro-Am. While players didn't complain, there was a significant sentiment to do something about the missing Monterey pine. But no one ever mentioned that a 400,000 pound cypress tree could even be transplanted, much less transported, from the first fairway.