Peck Gets Wire-to-Wire Victory in 87th Washington State Amateur
Cameron Peck, the 2008 U.S. Junior Amateur champion, nailed down a wire-to-wire victory on Thursday in the 87th Washington State Men's Amateur at Chambers Bay in University Place, Wash.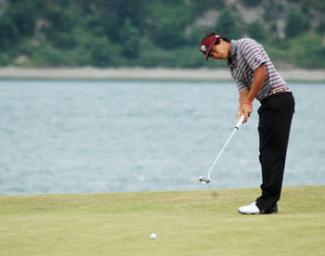 Champion Cameron Peck
Starting the day with an eight-shot lead, the Olympia, Wash., native played a conservative round in difficult weather, closing with a final-round 6-over 78 to accompany a pair of 69s the first two rounds. Despite a tough last round, Peck had a large enough cushion to forge a five-shot victory over co-runners-up Ryan Earl of Fircrest, Wash., and Nicholaus Mandell of Kennewick.

Peck began the final round with three straight bogeys, temporarily bringing the field back into contention. But he then eagled the par-5 fourth. "I thought I was really going to turn it around at that point," he said.

But unlike the first two rounds, each of which he also started slowly, Peck wasn't able to generate much momentum Thursday. "It was playing tough and very different today. The wind was so tough. They used a new tee box on (the par-3) ninth, and I didn't have a club for the shot I needed to hit."
Peck just finished his final year of eligibility at Texas A&M, and said he will turn pro just before the PGA Tour's Q-School this fall. His plans for the rest of the summer include playing at the Sahalee Players Championship, the PNGA Men's Amateur, and qualifying for the U.S. Amateur and U.S. Amateur Public Links.
Earl was paired with Peck in the final group and carded a 2-over par 74 to tie for second. The 35-year-old is making a comeback of sorts; he works at a bank in nearby Gig Harbor but played professionally in his mid-20s. Regaining his amateur status four years ago, Earl had to go through qualifying just to get into this championship, his first Washington Amateur in 12 years. "I didn't really do much on the mini-tours," he said. "I got tired of the barnstorming after a while."
The best amateur golfers in the state had difficulty at the 2015 U.S. Open site. Of the 120 players in the field, nobody finished under par and no one shot under par in the last round, which was wracked by winds off nearby Puget Sound.
The above report is courtesy of the WSGA. For more information and complete results visit www.thewsga.org.