Peggy Ference Sets 'Record' at Pebble Beach on U.S. Open Course
By: Nancy Berkley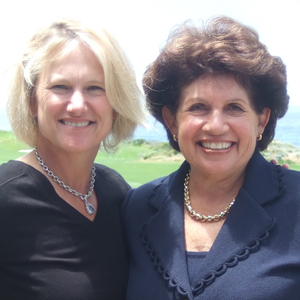 PEGGY FERENCE AND NANCY BERKLEY CELEBRATING
Wednesday, June 9th, is Peggy's big day, but the glow of the event and the impact on women's golf will last much longer. That's why we both look so happy in this photo taken during a lunch interview at the Inn at Spanish Bay with the golf course and Pacific Ocean in the background.
The U.S. Open at Pebble Beach doesn't really begin until next week June 17th-20th. But I went there for a sneak preview on Sunday, June 6th, to meet Peggy Ference in person. Peggy is the first woman golfer - and an amateur -- who will play Pebble Beach from the new 7040- yard U.S. Open tees on Wednesday, June 9th in a special event: The Golf Digest U.S. Open Challenge.
As the first woman to play from the new tournament tees, she will set the women's record - whatever she shoots. Her goal is to break 100. Playing with her will be three celebrities: Wayne Gretsky, Drew Brees, and Mark Wahlberg. But, I guarantee you that Peggy will wow the gallery, and she has a few surprises in her golf bag and game. And, with Corey Pavin, the Captain of the 2010 U.S. Ryder Club Team, as her caddie she will have an amazing round. (Bubba Watson, Rickie Fowler and Ricky Barnes are caddies for the other celebrities.)
As the winner of the Golf Digest U.S. Open Challenge on line voting contest -- and the first female golfer to do so -- she won the right to play on Wednesday. For more background, see my previous article about the Golf Digest Challenge and interview with Peggy www.cybergolf.com/womensgolf.
The results of Wednesday's Challenge round will make the news - because of the celebrities and because of Peggy. The first report will probably appear on www.golfdigest.com. But, Wednesday's round will be filmed and broadcast for a 90-minute special on NBC TV right before the final round of the U.S. Open on Sunday, June 20th. The celebrities have been working on their game. Brees plays to a five handicap, Wahlberg to a twelve and Gretsky, who has been working with Jim Flick to prepare for this round, has a ten handicap. Peggy's handicap adjusted under the USGA Handicap System for playing from the 7040 yard tees is a twelve. (Peggy's official USGA Handicap calculated from the forward tees is a five.) In last year's Challenge, all three celebrities did break 100 but so far an amateur has not been able to do it.
Since I was in San Francisco over the weekend and knew that Peggy was getting ready for her big day, I decided to meet her for lunch at the Inn at Spanish Bay next to Pebble Beach on the beautiful Monterrey Peninsula and talk about how her preparation was going. I also invited Joann Dost, the well known golf landscape photographer and former LPGA Tour player, to join us for dessert. Joann's photographs of Pebble Beach are what most of us see when we think about Pebble. Conveniently, Joann lives just a few minutes away and biked over. Before I met Peggy, however, I needed to stop and see that first tee at Pebble. I've played the course a few times and each round has been memorable.
My timing on Sunday was perfect. I walked behind the foursome of men beginning to assemble for their 11 a.m. tee time and looked back at a set of bleachers that probably had just been built behind the new back tees. That's where some of Peggy's family and friends will be sitting on Wednesday. I couldn't resist pulling out my camera and taking a photo of what Peggy will be looking at on Wednesday.
And then I spotted one of those final touches that make USGA Tournaments such perfection. A painter was putting a final coat of white paint on the new first tee marker that would see its first golfers on Wednesday. Almost time to meet Peggy, I headed over to the Inn at Spanish Bay. I recognized her right away. In person she is even more personable and attractive than the video of her in the on-line voting contest. We sat down for brunch and talked for two hours with Joann Dost pulling up a chair mid-way through. Here are just some highlights: What comes through very clearly from Peggy's enthusiasm is the tremendous support she is receiving from Golf Digest and the USGA. They want her to succeed - to break 100 - to be a great symbol of this Open. Peggy said that when she visited the Golf Digest offices after she won the contest, she received a fantastic welcome. She felt like a celebrity herself.
As Peggy describes it, for the USGA this is an opportunity to show that golf is not just an elite, men's only game - but a game and sport that is truly "open" to everyone. In an environment where the number of golfers seems to keep declining, that kind of "open" attitude can only bring good things to the game. THE WOMEN'S ISSUE: We talked about the gender issue. This is the third year of the Golf Digest Challenge and the first year that a woman has been one of the finalists for the amateur position. By the way, no amateur has broken 100 - yet.
I asked Peggy a tough question: If you had a choice of headlines: One was "First Female Amateur to break 100" or "First Amateur to Break 100" - which headline would you prefer? She didn't pause a second. Her answer was: "First amateur." And then she went on to say: "I am very proud to be a woman golfer…. But this event is bigger than that. I love the game of golf and enjoy it equally with both women and men. I grew up a tom-boy. And today I work in the pharmaceutical industry that is male dominated. Playing the women card is not my priority. But I embrace my femininity, which was a perfect transition to our next topic. JUST AN INTIMATE DINNER ON TUESDAY NIGHT: Peggy is particularly excited about a formal dinner on Tuesday evening before the Wednesday round. It is just a small group: A handful of USGA officials who will welcome the small group and go over the rules, then the three celebrities and the four caddies and Peggy. In fact, the only person there that Peggy will know will be Corey, her caddie, who is catching up with her on a Tuesday practice round. Getting back to this dinner, I said, "So, you will be the only woman?" And I asked the question many other women would ask: "What will you wear?"
She is definitely prepared! She explained that a good friend took her shopping - a fashionista friend - and she bought the most expensive dress she has ever owned. As Peggy described it: It's a little black dress by Rachel Roy, and I'm wearing Kate Spade sandals and my friend's special jewelry. As she talked about the evening and her enthusiasm for the event was growing. She said, "I think I will just have to keep saying to myself, 'You've got to be kidding… I'm here?'" (I hope the cameras are there, too.) DON'T WORRY ABOUT PEGGY: I don't have a single doubt that Peggy will do just fine at that intimate little dinner. In her non-golf life she is regional sales manager for Allos Therapeutics, a bio- pharmaceutical company that develops innovative anti-cancer dugs. Peggy's division is involved with a new treatment for a rare form of lymphoma.
Now in her new position, she has had to take a few days off from work these last few weeks. But, her sales team is doing well. For a few minutes we talked about her work. It was clear that she loves team-building, delivering top results and best of all -- coming in first. Peggy is a take-charge-person. It's no surprise that she is on the Board of Directors of Cherry Valley Country Club. Or, that during her down time while trying to find a new job, she became the tournament director for the Garden State Women's Golf Association, which is almost a full-time job.
PLAYING TIPS AND PRACTICE ROUNDS: On Wednesday, coming in with a low score is what it is all about. Allan Bowman, the Head Golf Professional at Cherry Valley Country Club near Princeton where she plays, is flying out from New Jersey to play a practice round with her and offer a little last-minute coaching and confidence-building. The celebrities playing with Peggy have had access to the famous golf instructors. It is a compliment to the PGA of America, that Peggy's game owes its current strength to her PGA Pro. He knows her game very well. In fact, she tried to convince him to try a new driver with a lower loft to get a little more distance. But after going through the simulators and videos with Allan, she realized he was right. For the golf techies reading this, the reason her 12-degree Ping Rhapsody driver with the pink Aldila shaft works so well for her is that she comes at the ball with a slightly closed club face.
On her practice rounds, she also will have the help of a former caddie at Pebble. Completely unsolicited, Kris Shreiner, who caddied at Pebble for over fifteen years (until two years ago), sent Peggy a set of detailed notes about each hole. And because there have been some changes in the course in the past two years especially in preparation for the U.S. Open, he had called upon a few of his Pebble-caddie-friends to make sure his notes were updated for the current conditions. Peggy is going to use those notes on her first practice round on Monday. If you want to see those notes, go to http://www.golfdigest.com/golf-digest-woman/blogs/golf-digest-woman/2010/06/a- caddies-game-plan-for-peggy.html
And then on Tuesday, Corey is going to go out with her for a few holes. Peggy thinks that Corey might be able to help her out on a couple of trouble-spots she has been working on - like her right-hand release. WEDNESDAY MORNING'S ROUTINE AND A FEW SURPRISES. And then I asked about Wednesday morning. The tee off time is 10 A.M. Her answer, "I am going to do what I usually do before a match. I'll get there one hour early and start with my putting." Then as Peggy explains it, she works with her driver - beginning with a 20 percent swing, then 40, 60, 80-percent and then the full swing. Then she will work on some short shots. Her final practice will be with her driver and the varied tempos. That's her confidence builder. "My driver is my best club in my bag", she said a few times. "I'm not trying to kill it - just hit it straight." So rather than using a 3-wood off a tee when she has to play short off the tee, she will adjust the swing and tempo of her drive. Watch for this on the first tee.
There will be a few other surprises in her golf bag. She has switched out wedges and is a little worried about what Corey will think of them. She did not want to tell me the names of the wedges she will be carrying in her bag. That will be a surprise on Wednesday. But she did say that they use a new face-forward technology that is working for her. Peggy will have to play strategically. There are five holes that she thinks she just cannot reach in regulation. So she will play a driver - sometimes short - and then use her hybrids on the fairway and great short shots to the green to position herself for a bogey.
Joann offered her advice: As you lay in bed on Tuesday night, replay the whole course - shot by shot -- and visualize all your perfect shots. That reminded me of a comment by Babe Didrickson who explained that she didn't have to go to the practice tee; she practiced in her head. "THREE" IS PEGGY'S MAGIC NUMBER. All of Peggy's balls will be a Titleist ProV1 - Number 3. Why three? Because as Peggy describes it: "Everyone will be seeing three celebrities playing with me. But, I have my own celebrities - the ones that heaven sent: my brother and my mom and dad. And all of my friends with me on the course will be wearing red hats with the number "3" on them and "Peggy" on the back. There is a theme here. Peggy will be wearing red, white and blue. Joann Dost listened to this and then said: "If three's your number, then you have to shoot a 93!" Peggy had already figured that out.
THE HARDEST HOLE: Peggy's answer to that was the 18th hole. "It's all going to come down to that," she said. "I am going to stand on that tee box with the opportunity to close it out there. "I don't keep score as I play and I am going to try not to even look at the standards that officials will be carrying. In fact, I haven't even tried to translate what a "plus 5" score translates to in terms of my breaking 100. I think I will let Corey carry my scorecard. If he tells me that I need a six on that hole to close it out, I think I know how I will play the hole.
ABOUT GOLF BALLS: We talked about golf balls. How many should Peggy have in her bag? How should she rotate them? "Rotate them?" Peggy asked. "I usually use a ball for four rounds!" Peggy and I both learned from Joann that it takes a golf ball 20 minutes after being played on a hole to resume its perfectly round shape, which is why golfers rotate balls between holes. Peggy listened to all this and said, "I'm leaving all that up to Corey!" Joann also warned not to give too many balls away during the round and told the story about how Tiger had only one ball left in his bag (only his caddie knew it) when he teed it up on 18 for his Open victory in 2000. His caddy handed him a 4-iron knowing that he could not flirt with the water using his driver.
ADVICE TO WOMEN GOLFERS: We had been talking for over an hour and I needed to get to my core questions. What did Peggy think was the biggest problem for average women golfers? Without hesitation she said, "They can't chip." She went on to say that when she plays with average women golfers she will offer to give them a five-minute chipping lesson at the end of the round. The key she said is to keep the weight on the left (target) side. By the way, Peggy is left-handed, but has always played golf as right-y. "And, what do we have to do to encourage more women to play golf?" I asked. Peggy's answer was that golf has to be seen as more fun and more 9-hole rounds have to be encouraged. At her club, in fact, there is a four-hole loop that busy women can do that brings them back to the club house quickly in time to do all the other things they need to do.
Peggy is a great mentor to junior golf and encourages moms to get out on the course with their children. She has wonderful memories of her mom taking her on the course and telling her how every shot was great. "Where can you go these days with your children and spend a couple of hours without cell phones or music or any of today's distractions? The golf course! " she answered. FINAL THOUGHTS: For Peggy, this is a "Can you believe this?" experience. She is well prepared and has worked on her relaxation deep-breathing techniques and figured out just how to conserve her energy for the next few days ahead.
As I listened to her, I couldn't help thinking how great she would be in a television booth - hopefully for the U.S. Women's Open - explaining the game from an amateur's perspective. She is good at selling pharmaceuticals but maybe there is another career ahead for her as well. FINAL PRAYERS: Peggy has rediscovered her Catholic faith over the last couple of years. She said it was a sign from God that on Sunday morning when she went to mass, she found herself in a church at Pebble Beach with the same name as her church back in Princeton. "I'm looking for signs from God that this is where I am supposed to be now: Playing golf - here in Pebble - with my friends and family and heaven-sent celebrities." When I interviewed her a few weeks ago, she said that when she is swinging well, it feels like God is holding her hand. So let's hope that God's game is "on" for her today.
WATCH THE RESULTS: Watch for the results on www.golfdigest.com. And, don't forget to watch the TV special on NBC before the U.S. Open final round on Sunday, June 20th. Set your TV to record the program 90 minutes before the final round begins. Let hope that Peggy's enthusiasm for golf encourages more people to play more golf and have more fun playing it.
Nancy Berkley, President of Berkley Golf Consulting, is an expert on women's golf and junior-girls golf. She is a frequent contributor to www.cybergolf.com/womensgolf. Her book, "Women Welcome Here! A Guide to Growing Women's Golf," published by the National Golf Foundation, is an industry reference on marketing golf to women and spotting trends within the industry. She offers information and advice about the golf industry on www.berkleygolfconsulting.com and is often quoted in national publications. She is also the author of the NGF publication: "An Insider's Guide to Careers in the Golf Industry." She was a contributing editor of "Golf for Women" magazine and a founding advisor of "Golfer Girl Magazine." Her interviews with women in the golf industry now appear on www.golfergirlcareers.com. Nancy lives in Palm Beach Gardens, Fla., and is a graduate of the University of Minnesota, Harvard University and Rutgers Law School. After a business and legal career, she decided to write about the game she learned and loved as a teenager. She describes herself as a good bogey golfer with permanent potential.