Penultimate Holes Play Crucial Role in Golf Design & Tournaments
By: Wayne Mills
Oftentimes great golf competitions and even club matches come down to the final hole. Most golfers and many architects believe you can't have a great golf course without an outstanding finishing hole. But frequently, crucial events play out on the penultimate hole - the 17th - and many of those events have been burned into the memory of golf fans over the years.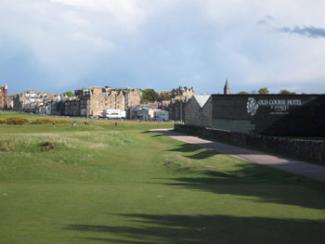 The Road Hole at St. Andrews (photo by Jack Funes)
The Road Hole

In examining significant 17th holes one must start at the beginning with the mother of all golf courses and the home of golf, St. Andrews in Fife, Scotland. Although golf has been played on the hallowed ground since around 1522, the present 17th was an adaptation by Old Tom Morris in 1863 when its green was made separate from the 1st.
To suggest that the 17th, the Road Hole, at St. Andrews is unique wouldn't come anywhere near telling the story. The 455-yard par-4 requires a tee shot over the corner of a building to a fairway that is canted away. The approach to the green, located hard by a road, requires avoidance of a cavernous bunker that magnetically swallows any ball that comes near it. Sadly, once in the bunker it is nearly impossible to escape and, if the golfer does escape, the chances of holding the green are slim and none.

Former Masters champion and current course architect Ben Crenshaw has said: "The reason the Road Hole at St. Andrews is the most difficult par-4 in the world is because it was designed as a par 6." One anonymous contemporary golf architect has said that if he ever tried to build a hole like that today, he would be relieved of his charge and taken away in a straitjacket.
Despite the Road Hole's place in history, the Royal and Ancient Golf Club of St. Andrews has decided to alter it in preparation for the 2010 Open Championship, adding 35 yards by building a new tee on an adjacent driving range. This is considered necessary by the R&A to adjust to modern equipment, but blasphemous by traditionalists. As the R&A's chief executive, Peter Dawson explained: "Over the years we have seen the threat from the road behind the green, and to a lesser extent the Road Bunker, diminished as players have been hitting shorter irons for their approach shots, allowing them to avoid these hazards more easily. This change will ensure that the hole plays as it was originally intended."

Some traditionalists have gone so far as to post a petition on the Internet offering this as a preamble: "The Road Hole at St. Andrews is golf's most famous hole. Golfers at the Open have played the same yardage since 1900, and there is no need to alter something which is perfection itself. This is an act of sacrilege, the same as repainting Michelangelo's work at the Sistine Chapel, straightening the leaning tower of Pisa, or playing Wimbledon on concrete. What's up with tradition, and leaving things alone?

"This is the greatest hole in golf, and the powers at be at the R&A need their head examined if they think they can improve this hole. True golfers, and lovers of the game, must unite and tell the R&A that technology should not prevail and that a work of art should be left alone."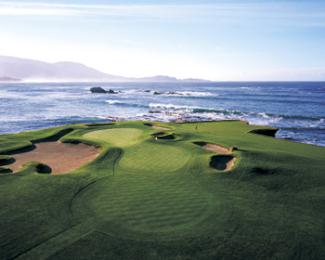 The 17th hole at Pebble Beach (Photo © Joan Dost)
The 17th at Pebble Beach

"Close, hell, I'm going to sink it," said Tom Watson to his caddie Bruce Edwards when discussing his impending chip shot from the rough beside the 17th green at Pebble Beach Golf Links in the final round of the 1982 U.S. Open. Edwards had told him to just get it close. But what transpired next is one of the most famous shots in golf history. Who can ever forget the indelible images of Watson confidently carving his wedge through the rough, the ball bounding onto the green, rolling and rolling until it hit the flagstick and disappeared into the hole, with Watson then jubilantly pointing at Edwards and saying, "I told you so."
Watson had been in a heated battle with archrival Jack Nicklaus all day on that Sunday. Playing three groups ahead of Watson, Nicklaus started off at 1-over after two holes and then went on a tear with birdies on Nos. 3-7 to get in contention. After his birdie at 15 and Watson's bogey on 12, they were deadlocked. Nicklaus eventually signed for a 69-284 and waited in the clubhouse watching the television broadcast. As he watched Watson's tee shot on 17 sail into the rough, he was said to have remarked that he was confident he would now be in a playoff. But shock soon set in after Watson's chip. Watson went on to birdie 18 for a two-shot win, sending Nicklaus to his then 18th second-place finish in a major.

Nicklaus was involved in the second most famous shot at the 17th 10 years earlier at Pebble's first major, the 1972 U.S. Open, with a much happier ending. Holding off late chargers Arnold Palmer and Bruce Crampton and facing a very stiff wind howling at the oceanfront 17th, Nicklaus hit a 1-iron that zeroed in on the pin, hit it flush and dropped inches away for a tap-in birdie. Nicklaus went on to win that day for his then 13th major (of an eventual 18) that tied him temporarily with the immortal Bobby Jones in that category.
The Island Green

In the 1980s, under the progressive reign of PGA Tour Commissioner Deane Beman, the concept of "stadium" golf was born. The idea was for the Tour to own its own venues and build the entire infrastructure to accommodate fans with convenient viewing areas and also house highly profitable corporate tents.
Beman chose for his first project a large piece of swampy land near Tour headquarters in Ponte Vedra, Fla. He hired Pete Dye to design a golf course worthy of holding the Tour's own championship. The course was named the Tournament Players Club at Sawgrass Stadium Course.

Pete being Pete dove into the project with his typical hands-on approach, waving his arms and jumping atop bulldozers whenever he felt the need. The result was a golf course full of water hazards, wetlands, pot bunkers and lots of railroad-tie bulkheads.

With Pete's construct-as-you-go approach, the 17th was one of the last holes to get built. He had been using the large sand deposits located near the green site to build up tees and putting surfaces elsewhere on the course and realized he didn't have enough material for 17 when he got to it. According to Pete, his wife and design partner, Alice, said: "Why not make it an island green." Thus was born one of the most iconic and controversial holes in tournament golf.
The course itself wasn't universally adored when it first opened. Crenshaw, after seeing all the railroad ties, commented: "This is the first golf course that could actually burn down." Nicklaus, another golfer-turned-architect, remarked: "I don't much like trying to land long-iron approaches on the hood of a car."

The layout has been softened over the years but the 17th hole remains as it was and is as controversial as ever. Tiger Woods once criticized not the hole, itself but its sequential position. "It's a wonderful hole but I don't agree with it being the 17th or 71st hole of a championship because I think it's a little gimmicky in that sense," said Woods, whose only victory at Sawgrass came in 2001.

"I think it's a great 8th hole or another part of the golf course. It's a challenge. There's no getting around it, you have to hit the proper shot to the proper distance."

As is often the case, Phil Mickelson disagreed. "I think it adds for the most exciting finish in golf, combined with 16 and 18, and I wouldn't recommend any changes," the left-hander said. "Seventeen provides a great chance for a birdie, but also a double-bogey or worse. This is one of the few holes that I can think of that has no bail-out, no margin of error, no area for recovery. It's an all-or-nothing-type shot."

For his part Dye said that he tries to design golf courses with great finishes. "A golf course without a great finish is not a great golf course. To me the finish is the last three holes. They should be building to an exciting climax. I try to make sure I mix all three types of holes, a (par-) 3, a 4 and a 5. At the TPC we have that; a risk-reward par-5 at 16, a short but exciting par-3 at 17 and a strong finisher at the par-4 18th."

The 17th at TPC Sawgrass has seen many unforgettable shots. In 1998 Len Mattiace was a stroke off the lead coming to the hole on Sunday when he drowned two tee shots, made 8 and was never heard from again. In 1999 Fred Couples made the ultimate all-world par by rinsing his first shot, re-teeing and holing out with his next for a 3. In 2005 poor Bob Tway dropped four shots in the water en route to a 12 and, in 2007, in the most expensive train wreck in 17th-hole history, Sean O'Hair, trailing eventual winner Mickelson by one in the final round, knocked two balls in the water for a 7 that cost him around $700,000 in prize money.

O'Hair has come back to have a decent career. But his two donations were but a miniscule fraction of the nearly 120,000 balls lost on the 17th each year by everyday golfers.
Wayne Mills is a New England-based freelance writer who has been producing golf stories for over 20 years. He has written for national publications such as Golf Inc. and superintendent-related, regional golf-lifestyle magazines and websites in the Northeast, Midwest and Southwest and was a golf columnist for two daily newspapers. He has played over 700 golf courses from Canada to the Caribbean and from Cape Cod to California. He carries a single-digit handicap and has scored four holes-in-one.