Perry's Loss a Story Right Out of Dan Jenkins' Novel
By: Jay Flemma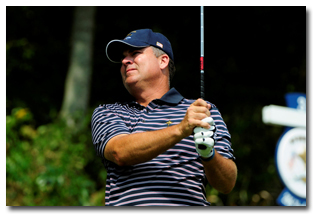 In a scene right out of Dan Jenkins's quintessential golf novel, "Slim and None," Kenny Perry, just a few months from eligibility for the Champions Tour, lost his chance become the oldest winner of a major golf championship in a hard-luck scenario that broke golf fans' hearts a thousand different ways. Reminiscent of Jenkins's hero Bobby Joe Grooves - an aging pro who, in the book lost the Masters after a bad ruling made him lose his composure - Perry frittered away a two-shot lead with two holes to play and agonizingly let the green jacket slip from his shoulders and onto the frame of Argentine golfer Angel Cabrera, who claimed his second major in a two-year span.
The similarities between Perry and Bobby Joe Grooves are striking. Grooves, the narrator of his quest to finally win a major past the age of 44, is a well-liked player who had great success on the Tour's rank-and-file events, a devoted historian of the game, and an affable, laid-back guy everyone cheered for. But he also knew the clock was ticking on his chances to win a major and elevate himself to the pantheon of golf's great players. As Jenkins wrote, you have two chances to win a major after age 44 - slim and none.
Perry's success past 40 was one of the biggest stories of this Masters this weekend. Ten of his 13 PGA Tour wins came past age 40. His unquenchable desire last year to make the Ryder Cup team and represent the Stars and Stripes in his home state of Kentucky made him a vilified character in the press because he blew off the U.S. and British Opens, that is until he won three tournaments, made the team and was a local hero as well as a catalyst for the winning American squad. It seemed he had beaten Ponce de Leon to the Fountain of Youth. Perry won the 2009 FBR Open in Scottsdale; in 2008, he won the Memorial Tournament, the Buick Open and the John Deere Classic, in addition to four top-10 finishes.
"Normally, when we think of a player trying to win a major at this age, it's a guy who was once great but has been through a lull and is trying to take one last stab at glory," explained Chad Campbell, Perry's good friend, who also suffered a tough defeat in the playoff with Perry and Cabrera when he blocked a 3-foot putt and made bogey on the first playoff hole. That was the case for Ray Floyd at the Masters in 1990 and '92; he had already been Ryder Cup captain and won only once after 1986.
But Perry's more in the mold of Boros, [who at 48 is still the oldest player to won a major, the 1968 PGA] who in his late 40s was a week-in, week-out threat on the Tour.
"This year, I'm focusing on the majors," a steely-eyed Perry said with conviction Saturday night as he sat tied atop the leaderboard with Cabrera. "I've got something that I can achieve that will move me up another notch on the totem pole on the PGA Tour. I go from a good player to maybe people start thinking I'm a better player than just a good player. I'm never thinking I'm a superstar, but most people who talk about me say I'm a nice guy and I'm a good player, and that's about all you hear. So maybe, you know, things will change; change that attitude tomorrow."
He had this tournament right where he wanted it. His nine consecutive pars had him in the thick of the fray. He endured while hearing roar after deafening roar as popular mega-stars Woods and Mickelson staged a duel as Shakespearean in magnitude as Watson-Nicklaus at Turnberry in '77, and skyrocketed up the leaderboard until they were nipping at his heels. "I didn't try to really look ahead, but I was in awe of what they were doing in front of me," a grim, but valiant Perry recounted after the round. "When I saw Tiger and Phil both get it to 10-under, I was like, wow, they must be having a lot of fun up there," he added, mustering a smile. "I almost went deaf from the sound."
But he endured. He led by one at the turn, then increased the lead through Amen Corner with a birdie at 12. He later blamed his loss on a three-putt par on the par-5 fifth at 13, which he said, "really hurt. I knew the putt. I knew the break. But I couldn't believe how fast that putt was, and I just barely got it going." Yet Perry was still in the driver's seat.
As the tournament progressed, a two-putt birdie on 15 meant the danger of Rae's Creek was behind him, and when he put an 8-iron inches from the cup on the par-3 16th for a two-shot lead with two to play, everyone was anointing him the next Masters' champion and the oldest winner of a major.

"There are trees at Augusta National that are younger than Kenny Perry," said golf fan Joe Gmerek, who was simply riveted by the finish. "There he was walking up 16 at age 48, and we all thought he was walking right into Butler Cabin for the green jacket ceremony to become the oldest winner, and then the unthinkable happened." For the second time on four years, the leader of the year's first major staggered home with a bogey-bogey finish.

It was the bogey at 18 that will haunt Perry because he committed exactly the same ghastly mistake that has haunted him for a dozen years. Too much adrenaline and the dicey choice of driver on the final tee led to a bogey at the final hole of the 1996 PGA at Valhalla, where he fell to Mark Brooks in a playoff. It was an eerie déjà vu more akin to a "Twilight Zone" episode.

Saturday night in his post-round interview, when revisiting the loss at Valhalla, he remarked, "I wish I could redo that one over," Perry said. "The 72nd hole is the one that cost me that tournament, not the playoff. You know, that stings. That one is still with me today. I've carried that a long time. People criticize me, but it's 110 degrees, it smoking-hot out there, I hit the best tee shot I could have hit but just went further than I normally could hit it. I just was pumped up on adrenaline."

Well he got to "redo it over," all right, and to quote David Byrne of Talking Heads, "Same as it ever was." Those who don't learn from history are doomed to repeat it. With the golf world thinking collectively "Just don't hit it in trouble like you did at Valhalla!" he did just that. To the horror of the patrons attending and golf fans across the world, his drive went too long and didn't fade into the fairway. The ball finished in the fairway bunker. A closing bogey dropped him into a tie with Cabrera and Campbell. One minute he's looking like Jack Nicklaus in '86 as he kicked-in a birdie on 16, and the next, he was Dan Pohl.

The playoff was equally excruciating. After hitting the drive he should have hit on 18 the first time - right down the center - he hit one indifferent shot after another. From the center of the fairway, and with Cabrera in the woods, Campbell in the bunker, and the Masters in Perry's hands, he hit the ugliest shot in golf - short and right - missing the green entirely. He scraped a par and extended the playoff, but bogeyed the next playoff hole, the 10th, with one nervous, uncertain swing after another. After failing to save par from a greenside swale, his lifelong dream lay shattered.

Still, Perry was every bit as brave and graceful as many greats who suffered soul-crushing defeats at majors. His grace and class in the post-round interviews was reminiscent of the same graciousness and candor Retief Goosen and Phil Mickelson at Pinehurst and Winged Foot, respectively, who were equally devastated.

"I've got two to think about now," he admitted grimly, wiping his brow and sighing, then raising his shoulders a little higher and composing himself as much as he could in such a moment. When asked if this was as tough a loss as Valhalla he replied, "[They're] two different situations. I was young at Valhalla. Here, I thought I had enough experience. I thought I had enough to hang in there, I really did."

Perry later said mud on his ball made him think the ball would drift left on the second playoff hole, but he didn't compensate enough in planning the shot, and it ended up well left of the green in one of those spots at Augusta where it's nigh impossible to get up and down. Playing Russian Roulette on the last four holes of the day, he finally hit the chamber with the bullet in it, and failed to save par.

Still, Perry tried to make the best of the situation, like a true professional. "I was proud of how I played. I really was. I played great and I was positioning the ball where it needed to be positioned out there on the golf course, and I just kept chugging along . . . I'm not going to feel sorry," he said bravely, mustering his courage admirably in such a deflating moment. "I've told this out here. I've said, 'if this is the worst thing that happens to me, I can live with it.' I really can. Great players get it done, and Angel got it done. This is his second major he won. I've blown two, but that's the only two I've had chances of winning. So, you know what, I'm looking forward to Bethpage Black. I'm looking forward to the British, to the PGA."

So now it's off to Bethpage, Turnberry and Hazeltine for Bobby Joe Grooves - excuse me, Kenny Perry. It was such a good story, had it come true, this gritty old warrior mustering one final fierce charge to win a major. But this year's crop of major venues favors Perry. While Bethpage is tough, it's not overwhelming like Oakmont or Winged Foot. More rank-and-file Tour players will be in the mix. Turnberry is perhaps one of the easiest courses ever to host a major, short by any standard and reliant on wind for its sternest defense. Barring a maelstrom like at Royal Birkdale last year, scores there and at Hazeltine (for the PGA) should be low. If Tiger doesn't run away from the fields, the courses set up well for Perry and he should contend.

Meanwhile, don't take anything from Cabrera. He endured a dismal front-nine 37 that, had Perry played even remotely like Phil or Tiger, would have ended the game as early as UNC's win over Michigan State in the NCAA Final. Cabrera shanked an iron and chunked a chip and was struggling with his swing even through 15 holes. He was even grumbling to himself while walking up the fairway like a hacker in the mumble tank, and he still rallied with three birdies on the final six holes to make the playoff. He came back from two behind with two to play when one more mistake would have eliminated him. He hung around just enough to cling to that fleeting chance. Heck, Cabrera made a par on the final hole from behind a tree to earn a spot in the playoff! That one should go down in Masters' lore, too. When the door opened, he stepped right in front of Perry and into Butler Cabin and golf history. The Argentine earned it, no question, but he also had help.

So now one of the inescapable story lines for majors the rest of the year will be whether our eminently human, truly likeable, real-life Bobby Joe Grooves can bring Dan Jenkins's hero to life and finally triumph after suffering one crushing loss after another. Just like Grooves, Kenny Perry is a hero to the everyman: a straight-talking, hard-working, ordinary guy with no pretensions. Just like Grooves, he knows golf history, and will stay with reporters to answer every last question, no matter how painful. Just like Grooves, he knows this quest to win a major will define him and his career as a pro golfer to a greater extent than the Ryder Cup or myriad Tour victories at the weekly Tour stops. Just like Grooves, Perry is a good-hearted altruistic person: loyal to God, Golf, and Country, cheerfully and gratefully paying back a Christian university's generosity after a loan from the school kept him on Tour during lean years. Now the school has made millions off of his success, and countless students have had their educations and lives enriched by his largesse.

Maybe, just like Grooves, he'll find redemption. When that happens, it won't just be Perry and his family that are the better for it, but the game and the fans as well.


Since launching his first golf writing website in 2004, http://www.jayflemma.thegolfspace.com, Jay Flemma's comparative analysis of golf designs and knowledge of golf course architecture and golf travel have garnered wide industry respect. In researching his book on America's great public golf courses (and whether they're worth the money), Jay, an associate editor of Cybergolf, has played over 220 nationally ranked public golf courses in 37 different states. Jay has played about 1,649,000 yards of golf - or roughly 938 miles. His pieces on travel and architecture appear in Golf Observer (www.golfobserver.com), Cybergolf and other print magazines. When not researching golf courses for design, value and excitement, Jay is an entertainment, copyright, Internet and trademark lawyer and an Entertainment and Internet Law professor in Manhattan. His clients have been nominated for Grammy and Emmy awards, won a Sundance Film Festival Best Director award, performed on stage and screen, and designed pop art for museums and collectors. Jay lives in Forest Hills, N.Y., and is fiercely loyal to his alma maters, Deerfield Academy in Massachusetts and Trinity College in Connecticut.