Peru-ving Their Mettle! Lima's Barca & Alzamora Win 78th Anderson Memorial Fourball Tournament at Winged Foot West
By: Jay Flemma
They may not have made it to the World Cup soccer tournament, but now Peru is the toast of the entire amateur golf world as Lima Golf Club's Fernando Barca and Patricio Alzamora won the 78th Anderson Memorial at Winged Foot Golf Club, defeating Bethesda Country Club's Tim Kane and Matt Sughrue 4 and 3 in the final match.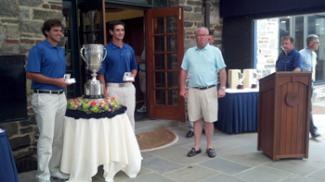 Peru's Barca & Alzamora Alongside the Anderson Trophy
With the right kind of ears you could hear cheers ringing all the way from Mamaroneck to Machu Picchu. Here they are - the 26-year-old Alzamora just months away from starting his career as a cardiologist in Texas and the 19-year-old Barca entering his second semester as a Purdue Boilermaker. And they have their entire country at their feet with the enormity of the accomplishment, arguably the most glorious achievement in Peru's golf history. Not only was this just the second time they've played the Anderson (and therefore only the second time they've visited Winged Foot), but it was only their second tournament together as a team. Now their names will be forever inscribed on the plaques that grace walls of the grill room of golf's most ancient strongholds, the Yankee Stadium of golf, a club that has hosted six major championships and countless historical moments.

They did it in dominating fashion, never trailing in either the final or the semifinal. They got ahead early, kept the pressure on their opponents, and closed out the match at the earliest opportunity. In the championship match, they took an early 3-up lead after four holes on the strength of two birdies by Alzamora. A three-putt bogey at seven was their only hiccup of the day, and although their lead was only 2-up at the turn, birdies at 11 and 14 put the match out of reach.
The birdie at 11 was the crucial turning point of the match. With the narrow fairway slithering dangerously around deep bunkers and heavy rough, Alzamora blasted a driver deep into the neck, a place only about 15 paces wide, leaving him a mere 58-degree wedge to the green. It was a microcosm of the match. The Peruvians were consistently outdriving their opponents, sometimes by as much as 80 yards, leaving them much shorter irons into Winged Foot's severely undulating greens.

"It's tough to win a match when you're giving up 80 yards and 25 years to your opponents," observed golf fan Bruce Moulton. "They put the pressure on them right out of the gate and never let up."

Barca and Alzamora were equally impressive in the morning semifinal, routing France's team of Pascal Grizot and Bertrand Noel of Le Golf Club National 6 and 5. They won the first three holes of the match and coasted home, winning by the largest margin of victory in the entire weekend of match play.
"It's wonderful. Here we were just grateful to represent our club and come here where so much history happened, but to win such a great tournament is this . . . it's just amazing," said Barca.

Their victory brought an end to a gallant run by Kane and Sughrue, who surprised everyone by winning matches against much more seasoned and accomplished opponents. They reached the semifinals by upsetting Eoghan O'Connell and Dan O'Callaghan, then upended the defending champions, Max Buckley and Max Christiana, 1-up in the morning semifinal.

"I think they just hit the chamber with the bullet in it at the end. They were grinding so hard in the morning match, it took so much out of them, that they just couldn't keep up with the pace set by the much younger and stronger Peruvians," said Moulton. "This tournament is definitely an endurance test, six rounds in four days if you make the finals. On top of that, it's Winged Foot, arguably the most relentless golf course in America."

The physical grind took its final fatal toll on Matt Sughrue midway through the final. Playing with an injured tendon in his wrist after "tearing something" the day before, he was forced to retire from the match after 11 holes.

"I iced it for six hours last night, but although it felt okay this morning it got so bad during the final, I couldn't even hold onto the golf club," Sughrue said, his wrist so swollen it looked like a golf ball had grown inside his arm.
Still, the injury in no way diminished the victory of the Peruvians. They were in control all the way, growing stronger as the tournament wore on. The withdrawal only hastened what appeared inevitable.

"We knew coming in that the West Course can really frustrate you. Sometimes what looks like a great shot ends up a long, way from the hole or a putt will roll off a green. It's totally different from what we play at home. We play on Bermuda grass and have flat greens. The greens are like rollercoasters here - sometimes you have to putt 90 degrees away from the hole!" said Alzamora. "We just said 'Let's just have fun and laugh about those things when they happen.' "

Indeed that may be the only way to deal with the golf trials and tribulations Winged Foot mercilessly doles out over the course of 18 holes. One mistake - mental or physical, in planning or execution - can lead to a huge number and cost the player a match. You have to play smart. Winged Foot won't let you just hit the ball anywhere. You have to be in the right place to have any chance to get close to the flag, and you have to be creative.

And so as the sun set, casting its last prismatic red rays upon the club, we were left with the warm afterglow of yet another stirring Anderson Memorial.

"It's wonderful to have an international champion," said tournament chairman J.P. O'Hara, and he's right. Winged Foot is far more than just a golf club; it's an index of American history. But it is also one of the greatest sporting venues in the world. So many players have come from across the globe to compete here not just on professional tournaments, but to genuflect to club for what its altruism and dedication mean to the game. If you could point to one club and say, "This is what golf looks is meant to be at every level" - professional, amateur and local - it would be Winged Foot.
"We're just so grateful to come here, but to win? It's something we'll remember for the rest of our lives. Someday I hope to bring my son here to show him and tell him all about it," said Alzamora.

Meanwhile, back in Lima, start the party. Your hometown boys are coming home with a trophy the size of the Stanley Cup. With all the noise they'll be making in Lima to celebrate, you'll think they'd just beat Brazil in a World Cup final.
Since launching his first golf writing website in 2004, http://jayflemma.thegolfspace.com, Jay Flemma 's comparative analysis of golf designs and knowledge of golf course architecture and golf travel have garnered wide industry respect. In researching his book on America's great public golf courses (and whether they're worth the money), Jay has played over 420 nationally ranked public golf courses in 40 different states, and covered seven U.S. Opens and six PGA Championships, along with one trip to the Masters. A four-time award-winning sportswriter, Jay was called the best sports poet alive by both Sports Illustrated and NBC Sports writers and broadcasters. Jay has played about 3 million yards of golf - or close to 2,000 miles. His pieces on travel and architecture appear in Golf Observer (www.golfobserver.com), Cybergolf, PGA.com, Golf Magazine and other print magazines. When not researching golf courses for design, value and excitement, Jay is an entertainment, copyright, Internet and trademark lawyer and an Entertainment and Internet Law professor in Manhattan. His clients have been nominated for Grammy and Emmy awards, won a Sundance Film Festival Best Director award, performed on stage and screen, and designed pop art for museums and collectors. Jay lives in Forest Hills, N.Y., and is fiercely loyal to his alma maters, Deerfield Academy in Massachusetts and Trinity College in Connecticut.