Pete Dye Golf Club to Celebrate 20-Year Anniversary
The Pete Dye Golf Club in Bridgeport, W.V., is celebrating its 20th anniversary and will be honoring its namesake, world-renowned designer Pete Dye. Situated on a former coal mine, the Pacific Links International (PLI)-owned course occupies 248 acres and offers spectacular Appalachian Mountain views. It's rated No. 46 on Golf Digest's list of "America's 100 Private Courses."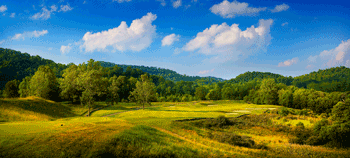 One of the Beautiful Holes at Pete Dye GC
The anniversary celebration will take place June 30-July 1 and involve golf clinics and meet-and-greet opportunities with Dye, celebrity golfers and PLI brand ambassadors, Nick Price and Mark O'Meara. The club will also unveil a new putting course and round out the festivities with a raffle for a chance to play in a nine-hole scramble with Price and O'Meara. Proceeds from raffle sales will benefit Medbrook Children's Charity, a nonprofit organization that aids local underprivileged children.

"We pride ourselves on the ability to offer our members access to legendary courses like the Pete Dye Golf Club," said Bruce Simmonds, CEO of Pacific Links International. "PLI is committed to providing our members and guests with a superior golf experience that offers a wide variety of world-class courses, top-tier services and a chance to explore the newest innovations in golf."
PLI offers reciprocal memberships by through its properties and clubs worldwide. PLI members have access to a wider range of membership categories and enjoy more variety and flexibility than traditional memberships. Member benefits include: privileged access to reciprocal and affiliated clubs, instruction from professionally accredited teachers, member concierge services providing centralized call-in service for tee times, flights, accommodations and more.

Dye is considered to be one of the greatest designers of the 21st Century. The West Virginia course has often been noted for its design and amenities.
About Pacific Links International

Pacific Links International is a Canadian-based corporation that provides member access to more than 80 golf clubs by some of the most prominent designers, including Dye, Greg Norman and Jack Nicklaus in North America, Australia and Asia.

In Hawaii, Pacific Links owns and operates Kapolei Golf Club (home of the Pacific Links Hawaii Championship), Royal Hawaiian Golf Club, Olomana Golf Links, MÔkaha Valley Country Club (East) and MÔkaha Golf Club (West), currently under renovation by Greg Norman. Pacific Links owns Pete Dye Golf Club, Dove Canyon in California and Southern Highlands and SouthShore Golf Clubs in Las Vegas. Pacific Links is also building The 27 Club in Tianjin, China, which is scheduled to open in 2015.
For more information, visit www.pacificlinks.com.