PGA National Resort Ready for Final Round of Renovations
PGA National Resort & Spa - home of the PGA Tour's Honda Classic and five golf courses - will be undergoing the "final round" of a $65 million revitalization. The project is expected to be completed in early fall.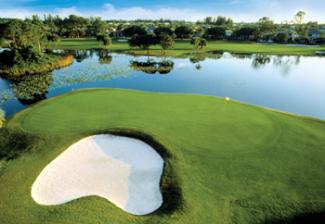 The 15th Green on the Champion Course
PGA National's recent renovations include enhancements to its 379-room resort hotel, clubhouse, golf courses, spa, health and racquet club, and conference and meeting space.
"This next round of ongoing renovations will allow PGA National to continue to stay ahead of the curve in keeping our property in first-class condition, which is what our guests and members expect and deserve," says Joel Paige, vice president and managing director. "With all major construction completed, ongoing enhancements will have zero impact on current resort operations."
The finishing touches include:
• A floor-to-ceiling guest room makeover featuring stylish bedding, headboards, wall coverings and carpet; modern work desks with multiple plug-in options; lighting; and new furnishings. Suite bathrooms will have walk-in showers. The 42-inch flat-panel televisions have already been installed.

• Guest room corridors will showcase new carpeting, lighting, artwork and wall treatments.

• Due to increased popularity of its outdoor wedding venues, new lakeside locales are being added to the manicured grounds.

• Renovation of the 19th Hole bar and grill, to be renamed "Bar 19." The addition of a kitchen will allow for a completely new menu offering.

• Updating the golf courses with new turf, irrigation systems, rebuilt bunkers and expanded tee and green complexes.

• The renovated Citrus Tree Café will reopen and be renamed the "Palm Terrace"; it will be available as a poolside location for evening events.

• The 40,000-square-foot European Spa with 32 treatment areas and the exclusive "Waters of the World" outdoor mineral pools will be updated to match the new motif of the resort.
"Ownership is committed to the strategic, long-term capital plan of becoming the premier meeting and golf destination in the country," says Frank Calaguire, principal of SCS Advisors - owner-operating partners of PGA National Resort & Spa. "Coupled with our laser-sharp focus on delivering a championship experience for our guests as we've done for
For more information about PGA National, visit www.pgaresort.com or call 800/533-9386.