PGA National's New 'Fazio Course' Opens November 1
PGA National Resort & Spa - home of the PGA Tour's Honda Classic - opened its revamped Fazio Course November 1. "The Fazio" is a complete renovation of "The Haig," PGA National's original 18-hole course that opened in 1980. The Haig was designed by George and Tom Fazio in tribute to five-time PGA champion Walter Hagen.
1st Green of Champions Course at PGA National
As the third member of the Fazio family to work on The Haig, Tom Fazio II spearheaded the efforts to modernize the shot-maker's layout. With 20 years of design experience, his portfolio includes Quail Valley Golf Club (Vero Beach, Fla.), Eagle Marsh (Jenson Beach, Fla.), Trump National (Bedminster, N.J.), Trump National (Briarcliff Manor, N.Y.) and Great River (Milford, Conn.).

"We think the appealing aspects of The Fazio are the newly reconfigured greens, tee-boxes and bunkering; achieving that ideal balance where single-digit golfers will be fully challenged while higher handicaps will have a layout ideal for a day of enjoyable resort golf," says Tom Fazio II.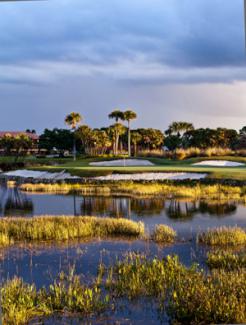 The Lake on No. 18 at PGA
National's Palmer Course
"Tom has a wonderful vision for the course with a combination of old- and new-school design concepts," says Lukus Harvey, director of agronomy at PGA National. "He's the epitome of a 'hands-on' course architect and we're thrilled to partner with him on this seminal project."

"The Fazio Course adds to the PGA National legacy, which at 30-years and counting is one of the most robust of any golf resort in the world. With legendary player/designers like Jack Nicklaus and Arnold Palmer, and three generations of the Fazio family represented by our five outstanding courses, we have a diversity of layouts appealing to a wide array of player types," noted Joel Paige, vice president and managing director.

While the original par-72 routing remains intact, the renovation now features classic golf architecture and improvements in modern technology, course design and agronomics, including:

• Total green surface increased nearly 70 percent from 1.5 acres to 2.5 acres and grassed with TifEagle.
• Grass on tees and fairways changed to Celebration Bermudagrass.
• Tee boxes reconfigured from circular to square.
• In response to advances in equipment, total yardage is now over 7,000 yards long.
• In accordance with the popular "Tee it Forward" initiative sponsored by the PGA and USGA, player-friendly tees have been added allowing the course to be played at 5,100 yards. • The latest irrigation technology has been installed throughout.
"For avid golfers, we deliver a Tour-quality practice and playing experience, including David Leadbetter and Dave Pelz academies and championship level club-fitting and practice facilities," said Page. "As we complete our multi-million renovation, PGA National also offers a suite of amenities, from spa and tennis to fine dining and relaxing pool-side, comparable to the great luxury golf resorts of the world."

For more information on PGA National Resort & Spa, visit www.pgaresort.com, or call 800/533-9386.