PGA Tour's 2011 'Florida Swing' Hits PGA National & the Mighty Bear Trap
By: David Wood
It shapes up to be an exciting week as the PGA Tour rolls into Palm Beach Gardens, Fla., for the annual Honda Classic. The $5.6 million event seems to be gaining more panache every year.

No. 3 on the Champion Course
"We have a great field, great weather and the course is in great shape," says Joel Paige, vice president and managing director of PGA National Resort & Spa. "This is the best position we've been in during our five years of hosting the Honda Classic."

Sitting in the surprisingly chic iBAR in the lobby of PGA National Resort and Spa on Sunday before Honda Classic week, the crowd is an intriguing, spirited mix. The joint is jumping, with at least a triple-dozen folks gathered in front of the numerous flat-screen TVs watching the WGC Accenture Match Play Championships in Tucson, Ariz. Snow in the desert on TV, sun and more sun here in southern Florida. Seems like a good trade to me.

Stopping only briefly to check the scores, throngs of resort guests are returning from PGA National's four courses (the fifth layout, Champion, is reserved for tournament play only this week), soft spikes still afoot, cold beverages firmly in hand and stories a-flying.
Early-arriving PGA Tour players and celebrities with Monday Pro-Am commitments check in at the flat-screen-adorned reservations desk. Tuesday's "Fins Cup" includes current and former Miami Dolphins players.

Wednesday's Pro-Am is hosted by sax seducer Kenny G and will be highlighted by the featured foursome of "G," Jack Nicklaus, Florida Gator cum Denver Bronco Tim Tebow, and former Dolphins defensive end turned New York Jet, Jason Taylor.

Honda Classic tournament and PGA National officials walk busily by, bicameral partners for the week with a shared mission of executing one of the region's largest events of the year. And then there's the gaggle of reporters jockeying for media-center power outlets while filing reports and posting blogs on the aforementioned golfers and celebrities.

ESPN 760's "Golf Exchange" has taken up a semi-permanent refuge just off the main lobby. And host Russ Evans (one of the better local golf show hosts out there) is hunkered down for a long week of guest spots. For more on Evans, visit http://www.espn760.com/blogs/russ.php.
Alas, for this week, PGA National is the epicenter of professional golf as we've come to know it - PTTI (Post-Tiger Thanksgiving Incident).

The kick-off to the Tour's annual Sunshine State swing stands out for a number of reasons, not the least of which is semi-local boy made good (on-course and in the weight room), defending champion Camilo Villegas. The former Florida Gator All-American makes his home just up the road in Jupiter.

More importantly for fans here this week, Villegas is among a crop of 20-something players imprinting their collective persona on the PGA Tour brand.
Secondly, the Honda Classic full-field is good. Check that, really, really good, as in 23 of the world's top-50 players and seven of the top-10 in the world will be here. Sure, Tiger's not (despite early rumors he might enter the event while checking on his Jupiter mansion), but as one bartender here earnestly asked, "Doesn't that actually strengthen the field?"

Champion is the third golf course used in the tournament's history. Almost to a man, the players agree PGA National's par-70, 7,158-yard Champion Course is one of the sternest tests of a year full of stern tests.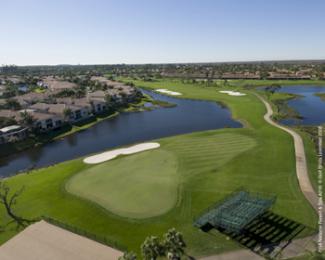 The Middle Hole in The Bear Trap is No. 16
The 2005 winner, Padraig Harrington - the three-time-major-winning Irishman who honed his craft on the windswept links of the Emerald Isle, says that Champion at PGA National is "the best course we play on Tour outside the majors."

And then there's "The Bear Trap." This industrial-strength trifecta of holes - Nos. 15, 16 and 17 - comprise "The Bear Trap," a water-laden, wind-whipped par-3, par-4 and par-3 that is one of most demanding three-hole stretches on the PGA Tour. How difficult? In last year's Honda Classic tournament victor Villegas played these three holes in even-par over four rounds en route to his 13-under total of 267. The field had 352 bogeys, or worse.

"The Bear Trap" was coined in honor of the holes' collective difficulty and in tribute to Nicklaus, who redesigned the course a few years back. A plaque and bear statue is erected at the entrance. Play "The Bear Trap" at your peril. The legend grows every day, as the moniker goes.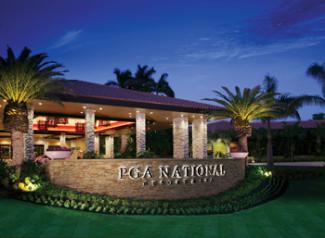 The Entry to PGA National Resort & Spa
Finally, the PGA National Resort and Spa is one of the "all-in" venues on Tour, a self-contained collection of posh resort accommodations (350-plus rooms), five courses, two golf academies, tennis, spa, restaurants and swimming pools.

The hotel connects to the golf shop via a series of hallways adorned with photos of 30 years' worth of past champions spanning the Honda Classic, PGA Championship, Senior PGA Championship and the 1983 Ryder Cup.

Overall, it is a very cool mix of Pinehurst/Pebble golf pedigree mashed with South Florida swank that attracts legions of golfers from in-state, out-of-state and out-of-country.
Seen & Heard

Tebow was a guest on "The Golf Exchange" with Evans Monday morning. When asked about playing with Nicklaus, Kenny G and Jason Taylor, the former All-American and Heisman Trophy winner responded: "It will be awesome to meet and play with those wonderful men. I need to get out and get a few rounds in. I'll be the weakest link."

Tebow said he played two or three times in 2010, and played Pebble Beach last week with his brothers. He claims to be a "90s" golfers with a personal best in the low 80s …

Palm Beach Post columnist Dave George has an excellent piece on the Champion Course at PGA National in Sunday's edition, http://www.palmbeachpost.com/sports/golf/commentary-pga-nationals-champion-course-nearly-in-major-1284474.html. George posits that Honda Classic plays to "the level of a major," and was the second hardest course on Tour last year behind Pebble Beach and ahead of Augusta National in scoring average.
For more information about the tournament, visit www.hondaclassic.com. For more details about PGA National Resort and Spa, go to www.pgaresort.com.
In addition to writing on golf and travel, author and noted speaker David Wood has made several appearances on "Late Night with David Letterman" as well as dozens of other television shows. His book - "Around the World in 80 Rounds" - was just released in paperback on www.Amazon.com. Currently, he works in public relations with Buffalo Communications in Vienna, Va. His website is www.DavidWoodSpeaking.com.