PGA Village Dye Course in Best Shape Ever
By: Jay Flemma
The greatest compliment I can pay a golf course is that I choose to return to play it over and over. That is a short list, let me tell you. On the public side are Bandon Dunes Resort, anything by Mike Strantz (that covers Pinehurst, Williamsburg, and Caledonia/True Blue in Myrtle Beach), New Mexico . . . there's a few others. On the private side . . . well I won't drop names. But if you get the chance to play with me, take me up on it.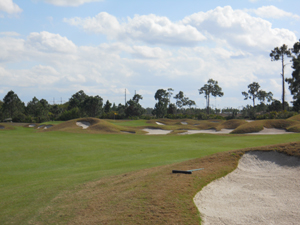 The bunkers at PGA Dye Course Are
at & Above Fairway Grade
As I told you last month in a Cybergolf article, for over a dozen years I've made a January golf trip to Florida, and one of my homes away from home is PGA Village's Dye Course in Port St. Lucie. I praised it highly last month, and looked forward to seeing it again to update my work on it. Pete Dye told me he made some changes and, oddly, I had missed it for two years running on my trip to the South. More than any other course on the list that week, I looked forward to seeing an old friend.

When it comes to my earlier writing about the Dye Course, after further review, the play stands as called. The Dye course is not only far better than both Fazio courses combined, it is a top-three public in Florida, and makes a good argument for top five in Florida overall. I believe it a course of architectural significance whose design concepts should be studied and replicated. It also sends a clarion call to the rest of the golf world that just because a course doesn't look like something you've seen before doesn't mean it's bad or wrong. Quite the opposite is true, actually.
The Dye Course played like a true links this year. I know it's not linksland, but it's built on sandy soil, it's mostly treeless so the wind howls whole octaves, it has wild fairway undulations, vicious pot bunkers and curvaceous greens. The small greens yet bold greenside undulations call for the ground game rather than lob wedges. It's also an out-and-back loop layout that doesn't return to the clubhouse.

Moreover, it has three other important architectural features. There is great horizontal sweep to the fairways - they are anything but straight (except No. 12, but even that has a wrinkle: a center-line bunker!) That makes for great strategic angles and many options of play. Also, the routing, the overall layout, flow and direction of the course are fascinating. Finally, the hazards are turned perpendicular to the line of play. Instead of being in the predictable 290 range for a hook, 270 for a slice and on the sides, Dye's bunkers are everywhere, anywhere. They bite deeply into fairways and make you think your way around them. It's a true reflection of the wild links of the U.K. A round on the Dye Course is a great adventure.

Even so, it is vastly underrated and underestimated, and that's not fair.

"You either love it, or you hate it," said one employee of the course. "But the ones that love it understand it. The ones that don't like it could broaden themselves a little."
He's right. Too many people are preconditioned, afraid of change and think a golf course should look like what we see on TV. Indeed, TV is one of the great enemies of golf design. As an example, one playing partner I met at the course this trip actually said he didn't like playing on sandy soil! And another said he hated center-line bunkers because he'd never seen one anywhere else!

Hey, you know what? That's fine. While the Fazio courses are crowded with looky-loos gawking at how pretty they are, I get around the Dye in 3:15, and no one else is around for miles. I can commune with the course and find solace amidst the traffic of the world. Isn't that what golf is supposed to do?

Dye gives you unique and interesting holes the entire day, one through 18. So many holes are memorable, there is no consensus as to a "best" hole and that's another way to tell a great course: You remember it all after you're done and can't wait to play it again.
The chief strength of the Dye Course lies in its bunkering. By placing the hazards in the line of play so that they can be carried or circumvented, Dye gives countless options to all levels of golfers. Indeed both days I played, a short-knocker out-thought his longer opponent, played around the trouble more efficiently, and won his match.

Dye employs two types of bunker complexes: fairway-grade and above-grade. "Fairway grade" simply means that the bunkers surrounds are level with the playing field. "Above-grade" means that the bunker and its surrounds are above the playing surface and may lessen the amount of airspace to play the next shot. The "Principal's Nose" bunker complex on St. Andrews' Old Course, where the bunker's walls tower over the fairway, is an example. Well at the Dye Course, imagine the principal had bad acne. On holes such as Nos. 5, 7, 12, 15 and 17, such bunkers are center-line and must be played over or around. Such bunkers are commonplace at the great seaside links of the U.K. and have been employed at great courses for over a century. They should be welcomed at modern American courses as well.

The second chief strength of the Dye Course is that you are encouraged to use the ground game. The fast, firm conditions gave me an extra 15 yards on longer shots, and "one-bounce-and-on" approaches were frequently safer than aerial shots that missed and were punished severely in the hurly-burly green surrounds. Putting from off the green was more accurate and the lob wedge was your enemy if you weren't laser-perfect.
A Course Divided into Thirds

The course is divided into three parts: the visually arresting yet mildly penal stretch of Nos. 1-7, the milder run of 8-13, and the great finish from 14-18. The first third requires you to be on high alert as penalties lurk for wayward shots; 4, 5 and 6 have water and 7 has jungle-like shrub along the right. Nos. 1 and 7 also have particularly fierce and ubiquitous bunkers, while the second hole has tremendous greenside mounding. The par-5-3-5 run from Nos. 5-7 is the hardest part of the golf course.

Holes 8-13 are a little wider and more forgiving. You can catch your breath a bit, though strokes will still slip away if you fall asleep at the switch. No. 12 is a replica of the 12th at Sawgrass: short but with a center-line bunker complex that rises over the fairway.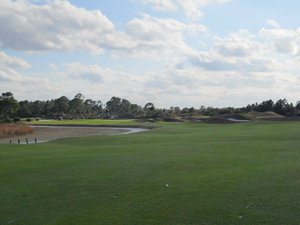 The Wonderful Par-4 15th
The grand finish starts at 14. As Yogi Berra said about the great Yankee pitcher Mariano Rivera, "It gets late early out there." No. 14 is bunkerless but the last half of the fairway tosses about like waves on a stormy sea. There is no flat lie and greenside shots require thought and delicate feel. Fifteen is a brawny part-4 wrapping around a waste bunker and peppered with more above-grade bunkers.

Strangely this is one of Dye's few courses where 17 is not a par-3. Instead the par-3 appears at 16. No. 17 is a reachable par-5, again guarded by towering bunkers as well as a devilish false front. Many people putt off this green. Like any truly great closing hole, the 18th is a summation of all that came before, a stern par-4 with both styles of bunkering and wild undulations.

When I last played here the course conditions were letter-perfect, which is a huge compliment considering that the course got all the resort play for many weeks while tournaments clogged up the Fazio courses. If there is one drawback, on my first day the greens were actually too fast. With such bold internal contours, the greens should not exceed 10.5. (Dye even once told me he thought they shouldn't get to 10.) The first day they were about 11.5-12 and were borderline unputtable. The second day was much better as they had a lot of roll-out, but a skillful putter could still control his distance.

So while the golf world celebrates the two Fazio courses as "perhaps the prettiest in Florida," the Dye Course goes - by comparison - largely unappreciated. It seems to be relegated to the overflow. Dye's name may even work against him here as his reputation for fearsomely penal courses precedes him and the Dye Course looks harder than it plays. If people would just play the ground game, they'd score better and have more fun. If this course were on the ocean, or if it were by Tom Doak, it would be ranked much higher. Perhaps it's time to tout it more favorably and loudly in the PR department and renaming it the "Links Course" might make it more favorable in the public eye.

Or, of course, we could do more to teach people about the importance of strategic design in golf. That would go a long way, too.
For more information, visit http://www.pgavillage.com/stlucie/index.cfm?page=pga_golf_club.


Since launching his first golf writing website in 2004, http://www.jayflemma.thegolfspace.com, Jay Flemma's comparative analysis of golf designs and knowledge of golf course architecture and golf travel have garnered wide industry respect. In researching his book on America's great public golf courses (and whether they're worth the money), Jay, an associate editor of Cybergolf, has played over 220 nationally ranked public golf courses in 37 different states. Jay has played about 1,649,000 yards of golf - or roughly 938 miles. His pieces on travel and architecture appear in Golf Observer (www.golfobserver.com), Cybergolf and other print magazines. When not researching golf courses for design, value and excitement, Jay is an entertainment, copyright, Internet and trademark lawyer and an Entertainment and Internet Law professor in Manhattan. His clients have been nominated for Grammy and Emmy awards, won a Sundance Film Festival Best Director award, performed on stage and screen, and designed pop art for museums and collectors. Jay lives in Forest Hills, N.Y., and is fiercely loyal to his alma maters, Deerfield Academy in Massachusetts and Trinity College in Connecticut.