Phelps-Atkinson Busy with Renovations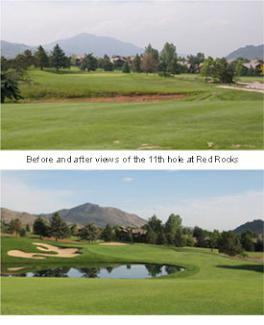 Red Rocks Country Club (CC) in Morrison, Colo., is among a handful of courses receiving facelifts from the team at Phelps-Atkinson Golf Design. The course affords spectacular views of Colorado's Front Range, the city of Denver and beyond.

Located just 20 minutes outside the state capital, Red Rocks began the first phase of improvements to the back nine this winter. The updates include: 23 new or resurfaced tees; 27 large trees replanted around the course; rebuilt pond, fairway and bunkering around the 11th green complex; new bunkering on holes 10 and 18; and other minor cosmetic improvements. The renovated areas should be playable this summer.

For the 18 months prior to finalizing the master plan, lead architect Kevin Atkinson showcased various ideas to members by using a computerized graphics package that showed every angle of what every hole looked like before the renovation and how it would appear once the work was completed.
"Kevin did a great job meeting with key groups and familiarizing them with the plan," said General Manager Jeff Principato. "Members gave him feedback and he incorporated their suggestions to modify his original plan. That way members felt some ownership in the overall package. The board voted on the proposal and it passed unanimously."
Once the master plan was complete, Atkinson provided members a disk that allowed them to play a computer-game version of the renovated course on their laptops before the work was done. "It helped them better understand what we were trying to do," he explained.
Modern Golf Construction "did a great job on the first phase," and is expected to again team with Phelps-Atkinson Golf Design on the second phase, Principato said. "We are very happy with Phase I and hope Phase II will start within a couple of years."
Going Home

Atkinson is particularly thrilled with the Phelps-Atkinson Golf Design renovation underway at Oak Hills CC in Omaha, Neb.
"This has been fun for me because Omaha is my hometown," said Atkinson, who began developing the master plan for the 18-hole private club in spring 2003. "Oak Hills is my first project back here since I started in the golf industry nearly 15 years ago."
As it did at Red Rocks, the master-planning process involved extensive input from members and lasted more than a year. "What resulted was an approval by 89 percent of the membership, which is almost unheard of," Atkinson said.
Renovations to the front nine were ready for play this spring and included: completely refurbished cart paths; new irrigation system; new bunkers; and many rebuilt tees.

Atkinson renovated the entire 2nd hole and the 3rd-hole tee complex, while expanding the existing pond in the area. The 8th-hole green complex has been totally reconstructed. "We fumigated the old poa annua greens, replaced them with A4 bentgrass and slightly recontoured some of the putting surfaces," Atkinson said. "Superintendent Dan Maddox created a six-acre sod nursery before the project began, which was divided between L-93 fairway bentgrass and A4 bentgrass for the greens. His crew stripped an acre and a half of the sod before course builder Landscapes Unlimited got to it, placed it on plastic keeping it alive for months, and then helped transplant it as a cost-saving measure. It is rare to find a superintendent so motivated to save a few dollars and get just the grass he wants."

Maddox described the $1 million in renovations to the front nine as "just plain gorgeous" and hopes members will vote to start the $1.5 million in proposed improvements to the back nine within the next couple of years.

The Western Slope

Bookcliff CC, a private club in Grand Junction, Colo., is improving conditions on several holes in conjunction with building a new clubhouse. Phelps-Atkinson Golf Design is overseeing the course renovations designed to improve the course's aesthetic appeal.

"We rebuilt or added 15 bunkers and 10 new tees," said Atkinson, noting that Modern Golf Construction is the contractor as it was in Morrison. "We also enlarged a pond and adjusted a few fairway limits. That concluded the first phase. The second phase will include a new putting green, driving range, tees and a few more bunkers on holes immediately around the clubhouse. That will take place this fall. The first phase of work has been very well received and the next phase of improvements at Bookcliff is currently being considered by the Board of Directors."

Back on the Front Range

At Fort Collins CC, Rick Phelps has designed course improvements affecting four holes, including two new ponds designed for water storage, two new tee complexes, a new teaching tee for the practice range and some new bunkering.

"The two ponds total about two acres," Phelps said. "The bigger one is on the 4th hole and the smaller on the 8th hole. The cost was about $250,000 and the project completed in late April."

And Elsewhere

Phelps-Atkinson Golf Design has several other renovation projects underway, including: a tee-renovation at Boulder CC and a complete bunker renovation that should begin within a year; a complete reconstruction of the fairway bunkers that follows last fall's rebuilding of all the green-side bunkers at Diablo (Calif.) CC; the addition of two small ponds and a water feature to correct drainage problems on the 5th hole of Pinehurst CC in Denver; and the rebuilding of the short-game area to accommodate more users and improve shot variety at Saddle Rock Golf Course in Aurora, Colo.

About Phelps-Atkinson Golf Design

Headquartered in Evergreen, Colo., with offices in Scottsdale, Ariz., the projects crafted by Phelps-Atkinson Golf Design have received numerous honors, including multiple Golf Digest "Best New" award winners, many courses that appear on "places to play" lists and at least one "top ten" course in each of the following states: California, Arizona, Nevada, Idaho, Colorado, North Dakota, Nebraska and Texas. For more information, contact Phelps-Atkinson Golf Design, P.O. Box 3295, Evergreen, CO 80437-3295; telephone 303-670-0478; facsimile 303-670-3518; e-mail: mail@phelpsgolfdesign.com.