Picturesque Roanoke Courses
By: Steve Habel
Chock-full of great golf courses amid the drop-dead-gorgeous Blue Ridge Mountains to the west and the expansive Smith Mountain Lake to the southeast, the Roanoke Valley of Virginia is one of America's unsung golf destinations.
Hanging Rock Golf Club
There aren't a hundred courses here like in Scottsdale or Myrtle Beach, but the tracks around Roanoke are consistently good and offer plenty of challenges. The Roanoke Valley is situated at the southern boundary of Virginia's Shenandoah Valley and the vistas are picture-worthy while the area's courses roll up and down the sides of the mountains and through forests of tall trees.

Two of the region's most-played tracks are on either side of Roanoke, the largest city in southwest Virginia, with Hanging Rock Golf Club to the northeast in Salem, and Mariners Landing Golf Club to the southeast in Huddleston on the shores of Smith Mountain Lake.

A fall trip to the area was timed perfectly to witness the annual changing of the leaves - a real treat for a writer from Texas, where we don't really have seasons other than hot or not hot.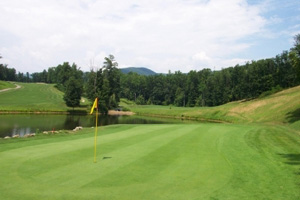 The Alternate 5th Green at Hanging Rock
Hanging Rock is Both Eye Candy & a Stout Test

Just outside Roanoke is situated the award-winning Hanging Rock Golf Club, which enjoys a mountain setting and involves narrow, undulating fairways that call for accurate shot-making.

Designed by Russell F. Breedon (one of the South's most adored golf architects) and opened in 1991, the par-72 Hanging Rock is a rollercoaster of a good time. It's also, admirably, solid and affordable. From the tips where it stretches 6,828 yards, the layout sports a 72.3 rating and a slope of 125.

The course has five par-5s (four of which are 521 yards or shorter), including the 500-yard opener, which requires a carry over a pond before rising uphill and slightly leftward. Once your ball safely finds land, the slope takes over and there'―s a blind approach to a well-sloped green.

Featuring two separate greens, the 392-yard par-4 fifth is Hanging Rock's signature hole. Players can choose either a straight, uphill shot to a large putting surface or take their chances over water to a much smaller - but easier to hit - target.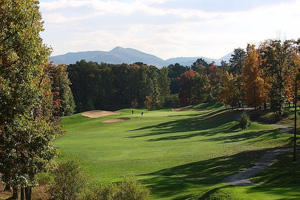 8th Hole at Hanging Rock
The 413-yard par-4 14th hole requires player to shape their tee balls because of its dogleg-right fairway. The green is huge, with a four-club difference between the front and back pin locations. The 18th hole was designed as a demanding par-4, but now plays as tough-enough-as-it-is par-3. The putting surface is some 75 feet below the tee and over a ridge; while difficult now, it's much easier than the original.

Hanging Rock is surrounded by the natural beauty of streams, boulders and forest. Here you will experience dramatic territorial views, narrow tree-lined fairways and fast greens, with lots of ups and downs and very few flat lies.

The facility has earned numerous accolades. It was voted "Best Golf Facility in the Roanoke Valley" by readers of The Roanoker magazine from 1994-2006 and in 2009. The course earned a 3¨φ-star rating by Golf Digest and has been listed by that publication as a "Best Places to Play 2002-2006." Hanging Rock was also named as one of the "Top 100 Must Play Courses in the Mid-Atlantic" by Washington Golf Monthly magazine.

For more information or a tee time, visit www.hangingrockgolf.com/golf.

The 5th Hole at Mariners Landing
Mariners Landing & Its Elevated Greens

Mariners Landing Golf and Country Club makes the most of its idyllic setting along the shores of Smith Mountain Lake, about an hour's drive from Roanoke. You feel like you're really getting away from it all in this part of Virginia, but the golf course is the centerpiece of a burgeoning residential area with impressive vacation-condo complexes and a resort atmosphere.

Built in starts and stops before finally opening in 1993, Mariners Landing was fashioned by famed architect Robert Trent Jones, Sr. The par-72 track extends 7,155 yards from the tips (where it's rated 74.5 with a 130 slope), but with varying tee boxes and length offers a fun round to all levels of golfers.

Mariners Landing's fairways are narrowed by thick woods and the nearby homes, while its greens are small and mostly above the landing areas. Four holes skirt the lake, and water hazards enter play on more than half the holes. The mountain backdrop and Smith Mountain Lake provide some spectacular views, but keen focus here is required to be successful, mostly due to Jones's routing and hazards that routinely grab wayward shots.

The front nine plays at least three strokes easier than the back, even with the demanding up-, then down-, then up-again 535-yard par-5 third hole. Players can blast a drive over the trees bordering the 425-yard par-4 fourth and be just short of the green, while the pretty 156-yard par-3 fifth is surrounded by the lake's waters on three sides.
The 560-yard par-5 10th is one of the Roanoke area's best tests, a classic risk-reward offering that can make or break a round. The back nine's other three-shotter weighs in at a whopping 610 yards from the tips. Both of the inward side's par-3s are more than 205 yards.

"Mariners Landing possesses the most challenging set of par-3s in the area and the back-nine par-5s are great tests from the championship tees," said Adam Witt, the course's head golf professional.

The course hosts annual events for the Roanoke Valley Golf Hall of Fame and the Central Virginia Golf Hall of Fame.

Mariners Landing Resort is the perfect getaway for golfers, for a business trip or a family vacation. The resort's The Pointe Restaurant serves up fresh Atlantic oysters along with gorgeous mountain views.

For additional information, visit www.marinerslandinggolf.com/.
Steve Habel is one of Cybergolf's national correspondents, contributing news stories, features, equipment and book reviews and personality profiles from his base in Central Texas. He is also the managing editor for Texas CEO Magazine and works as a contributing editor for Horns Illustrated magazine, a publication focusing on University of Texas sports. He also writes a blog (www.shotoverthegreen.blogspot.com), which features news on golf and the Longhorns, and another (www.checkinginandplayingthrough.blogspot.com) on his many travels, which took him across the nation and to 105 different golf course in 2009. Habel is a member of the Golf Writers Association of America and the Texas Golf Writers Association.