Pinehurst No. 2 Reopens
Pinehurst No. 2, the legendary Donald Ross-designed course that has hosted more major championships than any other in the U.S., reopened March 4th following an extensive, year-long restoration project.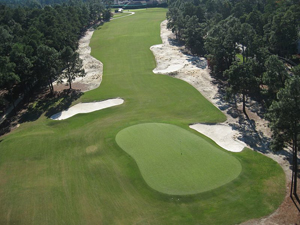 Aerial View of Restored Hole at Pinehurst No. 2
Overseen by Ben Crenshaw and Bill Coore, the renovation has returned the natural, strategic character to the famed layout. The restored No. 2 has no rough, larger playing areas, more strategic options, and returns to the natural aesthetics of sand, hardpan and native wiregrass that are reminiscent of Ross's original design.

"We expect golfers will fall in love with Pinehurst No. 2 all over again," said Pinehurst president Don Padgett II. "Bill and Ben have done an amazing job uncovering those original Ross elements that made No. 2 stand out from every other course in America. They've taken a course covered in grass from tree line to tree line and converted it to the way it looked in the 1930s and '40s, allowing players to experience the course just as Ross intended."

The project, which began in March 2010, has received overwhelmingly positive reviews. For a commentary about the project by Coore and Crenshaw, visit http://bit.ly/fMhhtG.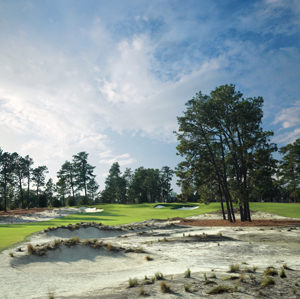 Remodeled 13th Hole at Pinehurst No. 2
About Pinehurst

Located in the heartland of North Carolina, Pinehurst Resort is a 2,000-acre, historic property featuring spa, golf, tennis, and activities for the family. Widely known as the cradle of American golf, Pinehurst has hosted more single golf championships than any other site in America, including the U.S. Open, PGA Championship, Ryder Cup Matches, PGA Tour Championship and many others. It will be the site of both the U.S. Open and U.S. Women's Open Championships in 2014 in back-to-back weeks through an unprecedented decision by the USGA.

For a complete list of events and activities, visit www.pinehurst.com or call 800/487-4653.

Overnight packages to play No. 2, which include a round of golf, accommodations and Pinehurst's famous buffet breakfast, start at $564. For a complete list of packages, visit http://www.pinehurst.com/golf-vacation-packages.php.