Plan Comes up Aces at Vaaler Creek GC in Texas
By: Steve Habel
The original marketing push for Vaaler Creek Golf Club employed a Texas football legend - none other than former Dallas Cowboys Hall of Famer Bob Lilly - to turn drivers' heads toward billboards across the state.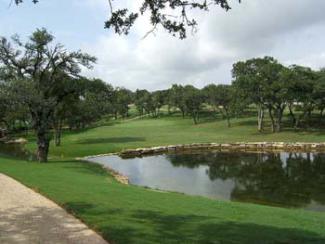 No. 17 at Vaaler Creek GC
But now that the course - the centerpiece of the expansive Rockin' J Ranch neighborhood five miles south of the Hill Country town of Blanco and some 35 miles north of San Antonio - is grown up and grown in, there's really no need for such a Lone State State celebrity to draw golfers.

Vaaler Creek GC, a k a the little course than can, is now a place for great golf and a solid option that integrates challenge and fun in an isolated setting.

This is a place where the course has bucked the odds, flourishing at a time when other tracks have sought to overcome the recent economic downturn. Vaaler Creek was voted the nation's No. 19 Best New Course for 2010-11 by Golf Digest, and the word is spreading about its playability and excellent conditioning.

"We were lucky that our owners had a solid plan to bring along the course and its amenities bit by bit; it's a strategy that allowed us to develop a following of golfers as we added to the things they would experience," noted Adam Grosch, Vaaler Creek's general manager and head pro.
Modest Beginnings before Ultimate Excellence

Opened as a nine-hole track in 2007, Vaaler Creek expanded to a full 18 two years later. The course is the first signature design by Michael Lowry, who fashioned a much-tougher-than-its-carded 6,874-yard, par-72 track among live oak and cactus. Lowry routed the layout along the rolling, scrub brush-filled prairies and worked in all sorts of cool features: ponds, sand hazards of sundry sizes, elevated tee shots and wavy, tree-lined fairways.

Both nines offer far-reaching views of the famed Texas Hill Country. Although there will eventually be a slew of homes in the 1,000-acre neighborhood, generous setbacks mean that the structures will be out of sight and unobtrusive, adding to the course's isolated feel.

Given its length, golfers might think they can overpower Vaaler Creek, but finding success here is not that simple. The course has a rich variety of long and short holes, with shots involving strategically-placed bunkers and an occasional carry over water.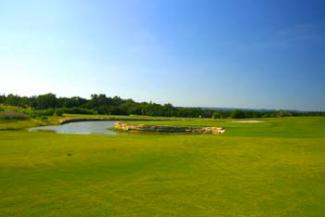 The Tough Par-3 13th at Vaaler Creek
The course's true last line of defense is its lightning-quick, mounded and sectioned putting surfaces, which can make even the most aggressive players timid and prone to second-guessing.

Vaaler Creek begins with two short par-4s, neither of which is as easy as they seem on the scorecard. No. 1, a 343-yarder, has a broad fairway and a wide-open front to its green, but a pinpoint approach is necessary because of its well-canted putting surface. The 350-yard second is played over a huge (currently) dry pond to a slightly elevated green; its front-right pin is among the nastiest here.

The 435-yard par-4 third is Vaaler Creek's No. 1 handicap hole. It heads downhill to a tapering landing area before rising slightly to the green. The fourth, a dogleg-right, 587-yard par-5, is played across a narrow creek that enters play on the second-shot lay-up or for big hitters who take a go at its back-to-front-sloping green.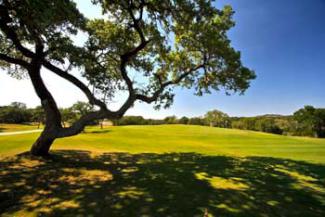 Huge Oaks Line the Fairways at Vaaler Creek GC
You'll be tempted to swing for the pin at the 355-yard par-4 seventh, but beware of trees on the right of the green and a bunker in front. If you get a little momentum from No. 7, take a chance at glory on the 520-yard eighth, which can be shortened by cutting the dogleg; just don't cut off too much.

No. 9, a 163-yard par-3, has a huge back-to-front tilted green that demands precision. Its back-left flag may be one of the course's least accessible as a shot five yards too long will bound off the green into a deep, collection area that almost assures a bogey or worse.

The back nine at Vaaler Creek is a bit more mature and not as severe as the newer outward half. No. 10 is a manageable par-5 with a split fairway off the tee and a huge green protected left by one of the course's biggest bunkers. The 195-yard 12th is Vaaler Creek's longest one-shotter and involves a massive lake, especially when the hole is cut on the left side of the green.

No. 13, at 462 yards, is a sturdy par-4 but also has one of the course's widest fairways and runs slightly downhill; the uphill approach is to a plateaued green.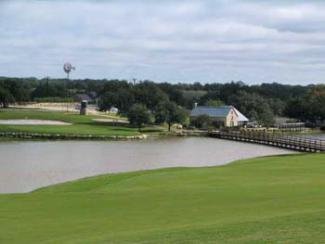 The Approach to the 18th Green at Vaaler Creek
is an All-or-Nothing Carry
It's hard to find a better three-hole finish than at Vaaler Creek. The 515-yard, par-5 16th races downhill past a pond along the right before ascending to a green guarded front-left by a cavernous bunker. The green slopes back toward you from the fairway and, if the pin is at the right-front, there's a backstop that might redirect your shot toward the hole.

The par-4 17th rolls downhill and plays much shorter than its 425 yards. The second is over a babbling stream to an undulating and elevated green lined laterally by trees.

Though the first 17 holes provide their share of thrills and chills, nothing prepares you for the 405-yard, par-4 closer. The drive here is best played long and downhill along the left side, but too far to the starboard side brings a lake into play. The approach is all carry and downhill over the water hazard, finishing at a putting surface in the shadow of the golf shop.
Over the past few years the facility has enhanced its off-course amenities, first with condos for purchase or rental off the 10th tee, then with a gleaming pool and, most recently, a pavilion near the pool for after-golf dining, entertaining and special events.

Vaaler Creek has become a real favorite for Hill Country golfers and continually draws players from the region's bigger cities. For more information, visit www.vaalercreekgolfclub.com.
Steve Habel is one of Cybergolf's world correspondents, contributing news stories, features, equipment and book reviews and personality profiles from his base in Central Texas. He is also works as a contributing editor for Horns Illustrated magazine, a publication focusing on University of Texas sports, covers the Longhorns for CBS Sports, is regional editor for Texas Golfer magazine and files stories for Golf Oklahoma magazine, Texas Links magazines and Golfers Guide. Habel's main blog (www.shotoverthegreen.blogspot.com) features news on golf and the Longhorns, and another (www.checkinginandplayingthrough.blogspot.com)chronicles his many travels, on which he has played more than 350 golf courses since 2009. Habel is a member of the Golf Writers Association of America and the Texas Golf Writers Association.