Plantation Bay to Open Front Nine at Updated Club de Bonmont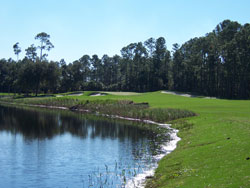 Calling Plantation Bay's renovated Club de Bonmont course "phenomenal," general manager Greg Brousse reported that the exclusive golf community in Ormond Beach, Fla., will open the front nine of the 18-hole layout in mid- to late-December.

The makeover is "spectacular," said Brousse of the Steve Smyers-designed changes. "The members are getting a brand-new course, one with a lot more character, a lot different contouring. It's a 100-percent change. Every single hole, every single bunker, every single green, every blade of grass."

Smyers, who last year renovated Isleworth Golf & Country Club in Windemere, Fla., the home of Tiger Woods and another dozen PGA Tour players, is known for modernizing golf courses for today's game. At Plantation Bay, members have two other golf courses – the 18-hole, six-year-old Prestwick Golf Course and nine-hole Westlake, which opened in March – that are considered player-friendly.

The members, Brousse said, wanted Club de Bonmont to be more challenging "and Steve's the guy to get when you're doing that."
"The front nine has turned out great," Smyers said from his Lakeland, Fla., offices. "That's a beautiful piece of property and the renovation truly made it sparkle."
Plantation Bay members, Brousse said, are "very excited because they can see the new course from their homes and from the road. At this point, everyone is just dying to get out there and play some golf."
Since golf course builder MacCurrach Golf began construction on April 25, Smyers and design assistant Patrick Andrews have been in the field often on this project, and holes 10 through 16 are already finished. Now, the club is waiting for permits to allow work on a lake on the 17th and 18th holes. Part of the lake will be expanded and part of it filled in to allow construction of a new clubhouse.
The clubhouse will overlook the 16th through 18th holes, "so we want them to be breathtaking," Brousse said.
The clubhouse and a new turf-care center for superintendent Rick Herman are being designed by Bill Foley of Atlanta. Construction of both structures should begin within the year, Brousse said.
Smyers said he has no target yet for opening the back nine holes. That will be determined, in large part, by the time it takes to obtain the permits.

"Plantation Bay is a wonderful client, with great members, including a growing number of young professionals," Smyers said, "and we're giving them what they deserve: a wonderful golf course that will be a lot of fun to play. Dramatically longer. Great contours. Multiple angles of play on a number of holes. Variety. An intriguing ground game made that much better not only by the new contours but by the winds from the Atlantic Ocean just two miles away. It's a course that will make golfers think their way around it. It will make them better players."