Player to Join Palmer & Nicklaus as Honorary Masters Starter
Augusta National Golf Club has announced that Gary Player will join Arnold Palmer and Jack Nicklaus as the honorary starters to open the 2012 Masters.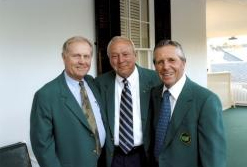 Jack Nicklaus, Arnold Palmer & Gary
Player in their Green Jackets
"I am thrilled to join my friends Jack and Arnold as an honorary starter," the three-time Masters champion said. "Augusta National is a special place that holds many memories for me. When I won my first green jacket in 1961, Arnold put it on my back. In 1962, Arnold beat me in an 18-hole playoff to win his second in three years.

"The year after my second win in 1974, Jack became the second man at the time to ever win four Masters. I was there to put the green jacket on both of them. Moments like those are so special and to be able to experience those memories with friends and competitors is something I will never forget."
Gary Player's career at Augusta National began in 1957 with an invitation from chairman Clifford Roberts. Player credits his father Harry for getting him the invitation after he wrote a letter encouraging Augusta National to invite his son, who was beginning to win regularly in South Africa, Europe, the Middle East and Australia. In 2009, 52 appearances and three green jackets later, an emotional and grateful Gary Player made his final appearance as a competitor. His 52 Masters appearances are the most ever.
In 1961, Player became the first international player to win at Augusta National and is one of only eight men to win three times or more. He captured his second title in 1974 and, in 1978, with one of the greatest back-nine performances in Masters history, Player roared back from seven shots down to win for the third time.
"I remember when Seve (Ballesteros) and I were on 11th tee, some patrons said that I was so far behind that it was not worth following our group," Player said. "I told them not to leave because I was going to win. Seve looked at me and asked if I really thought that I could, and I told him that one can never give up and to always believe. That is the way I live my life; with a positive attitude no matter what. It is one of the biggest reasons for my success."
In 1998 at age 62, Player became the oldest entrant to ever make the cut in the Masters. He holds the record of 23 consecutive cuts made and is second all-time to Nicklaus with number of cuts made with 30.
Player once said of the Masters' host course: "If there's a golf course in heaven, I hope it's like Augusta National. I just don't want an early tee time."