Players Club at Deer Creek Moves toward Private Status
By: Mark Leslie
Combining nine new holes with a new pool complex, fitness room and other improvements, the Players Club at Deer Creek in Omaha has doubled its membership and will soon convert from a public to a private facility. Named among the top 10 courses in Nebraska by Golf Digest in 2004-05, the Players Club is taking measures to position itself for a bright future.
Landscapes Golf Group of Lincoln, Neb., which owns 17 golf courses and operates 13, including this Omaha facility, is taking the same public-to-private route as it did earlier this year with ArborLinks in Nebraska City. The world's largest golf course builder, Landscapes Unlimited added the Highlands Nine to the original Arnold Palmer-designed 18 holes, making it the state's first 27-hole private club. The new nine opened in June, followed one month later by the pool complex.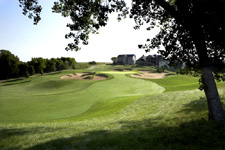 "We've had a huge response," said general manager Chris Jacobson. "We're a mid-level club in terms of costs, so we're getting a younger membership - 42.9 years on average, which is 10 to 15 years younger than other clubs in the area. Our amenities and lower fees are attractive to younger members and families."
The 3,300-yard, par-35 Highlands Nine mixes the qualities of the original nines, but "throws more elevation changes and a lot more movement on the greens at the golfer," Jacobson said. "The original back nine is Florida-style - really flat - with a lot of water. The front nine is Midwestern with rolling terrain. Highlands gives the golfer a different look, feel and challenge. Members are loving it because of its variety and the hazards aren't as severe."
Those members are crucial to the entire makeover of the Players Club. The club's first goal when it started the public-to-private plan rolling in January 2006 was to increase membership. After reaching that goal last fall, Landscapes Golf Group began the expansion projects.
Phase 1, Jacobson said, included building a family-oriented complex with a junior-Olympic-size swimming pool; a zero-depth-entry baby pool as well as bath-house facilities for men and ladies, with a common area containing a snack bar and televisions; and a fitness room stocked with more than $30,000 in high-quality equipment. "We have treadmills, elliptical and nautical machines, free weights, stretching machines, the works - even a personal trainer," he said.
Along with an expanded grille, the Players Club is offering something unique to private clubs: a takeout menu for the community. Most clubs require members to spend a minimum amount at their dining facility, but the Players Club does not. Jacobson expects the takeout will attract enough members and public clientele to pick up the revenue slack.
Less than four months after those facilities opened in early July, membership shot up dramatically. The club is very close to reaching its final membership cap and is now planning for Phase Two: an expansion of the $2-million clubhouse by 30-35 percent. Enlarged locker rooms, another grille and more dining space are planned.
All these additions, Jacobson said, "are a bonus for our members. Seventy-five percent of them are out here to play golf. So this is all extra benefits for them."
"These amenities are brand-new and ideal for a social membership, especially for young families," said Scott Tricker, director for business development for Landscapes Golf Group. "We could have used a standard cookie-cutter design for the pool complex, but we want to make this a family-friendly environment, where mom, dad and children feel comfortable, not intimidated. We put a lot of thought into it and it paid off. It's as good as you're going to get."

The enlarged and refurbished Players Club is "a comfortable and inviting place. It's young, it's fun and it's energetic," Tricker added.

The Players Club drastically reduced outside play this year. Starting next spring, golfers must be sponsored by or playing with a member. Next year the club will be mostly private, although Jacobson said, "We're open seven days a week and will host some outside events and member-sponsored guests."

Meanwhile, half of the 750 house lots on the 500-acre Players Club property have been built out, and Landscapes Golf Group expects the added amenities will draw more homeowners along with new members. "We have a great product, with service and employees who take care of the members," he said. "Our goal is to provide something better than our competitors but at far less cost."

The Players Club is having "one of our best years," Jacobson said, "and, with all the new amenities, we will expand our social membership even further in 2008. It's an exciting time - both for the club and our members - to be a part of this metamorphosis."

For additional details, visit www.playersclubomaha.com.