Playing in a PGA Tour Pro-Am
By: Tony Dear
The party's in full swing. Five-hundred or so well-turned-out guests holding barbecued items in one hand and glasses of wine in the other are crammed into the Grand Ballroom of the Hilton Hotel in Jackson, Miss. The line at the buffet stretches too far back for my liking, so I head on over to the bar where very good, and very free, Cabernet Sauvignon is being dispensed. We are here for the Southern Farm Bureau Classic Pro-Am draw, hosted by local PGA Tour pro, Jim Gallagher Jr.
Loaded up on wine, wings and breaded shrimp, the semi-sloshed masses return to their tables and eagerly await the evening's main event. Gallagher Jr. takes the stage and cranks up the ball machine. First team out gets first pick of the 51 pros in the pro-am field.
On tap are eight major champions, including the 2003 and 2004 British Open winners, Ben Curtis and Todd Hamilton. Two-time U.S. Open champ, Lee Janzen, is also available, as are nine other golfers who have played in either the Ryder or President's Cups matches. Young gun Ryan Moore is sure to be chosen early, too.
The team of hacks (that's writers) to which I belong, comes out of the hat fifth, by which time Hamilton, Janzen, Moore and the previous week's winner, Carl Petterson, have already been snapped up. There are still a number of classy swingers up for grabs, but the clear favorite is surely Robert Allenby. Not only is he a great player, he's Australian, which means you get to watch the game played as it should be and have a good laugh at the same time. It would have been nice to trade birdies with an Open champion, but to be perfectly honest I'm just as happy with Allenby. Dan, Doug, Reid and I agree he is the obvious choice and register our vote, thus dashing the hopes of one Mr. Alan Bee in group No. 6. I'm serious.
We muster at 4.30 the next morning and arrive at the Jack Nicklaus-designed Annandale Golf Club an hour later. After a breakfast of grits, bacon, grits, eggs, grits, toast and grits, we venture out into the gloom and hit a few wedges to make sure any part of our bodies that weren't aching before certainly are now.
At 6 a.m. sharp we are summoned to our carts and make the mile-long drive out to the 14th hole, our first of the day. The cart doesn't have a windshield, however, and, to make the shotgun start we have to step on the gas, meaning the light and chilly breeze that is bristling the tree tops feels more like a blast of icy air with a wind chill factor of minus plenty. By the time we reach the tee, we are frozen solid and any benefit those wedges on the range might have had has long since disappeared.
The opening formalities are brief but pleasant enough. Allenby shakes each of us firmly by the hand and looks us all squarely in the eye. He smiles even. It's all very cordial. But something's not quite right.
We amateurs have been jabbering away like 3-year-olds at a birthday party since meeting in the hotel that morning We are all excited beyond measure at getting to tee it up with a player of such undoubted class: a four-time winner on both the European and PGA Tours, a four-time President's Cup team member and the 83rd-ranked golfer in the world. He is the only player in the field who matched the par of 70 on that farcical final day at the 2004 U.S. Open at Shinnecock Hills and he showed metallic balls at the 2003 President's Cup when he needed to win the 18th hole in his singles match against Davis Love to salvage a half and force a tie, which he did.
To be sure, the day promises to etch a lasting place in all our memories and would surely throw up enough tales, stories and amusing anecdotes to cover dinner conversation for the next several years.

But for some reason, it could be his slightly aloof and detached manner during the introductions, or the absence of conversation once we have made his acquaintance. Whatever it is, I'm not 100 percent convinced Allenby is as overjoyed at the prospect of spending half a day with us as we are of spending it with him. His demeanor suggests he'd rather be home.

It's hardly surprising really. The 34-year-old must have played in 200 or more of these things during his 15 years as a professional. More often than not the players he is assigned are loud and obnoxious. They double over at the sound of their own weak jokes and are determined to finish every single hole despite the fact that he, Allenby, has already made an eagle, birdie or par and thus rendered everyone else's score meaningless. He must dread another round like this.

He might well have been feeling the same as J.C. Snead did at a pro-am a few years ago. Snead, nephew of Sam and an eight-time winner on the PGA Tour, showed what happens when the thought of teeing it up with another bunch of weekend chops suddenly loses its sparkle. Known for his gruff temperament and notoriously ill-at-ease on pro-am day, Snead apparently uttered not a single word to his playing partners until the very last hole.

Realizing the short putt one of his team members had on that final green was all that stood between him and a tidy little paycheck, Snead finally opened his mouth and gave what he probably thought were a few encouraging words. "Knock it in and we can win this thing," he grunted, or words to that effect. Unimpressed, the man addressed the ball, took a huge backswing and slammed the ball right off the edge of the green and into a lake. "I'm not going to help you win a damn thing, you son of a bitch," the amateur said while stomping off the green.

Hale Irwin is also something of a double-edged sword. Yes, you have a three-time U.S. Open winner but you also get the man who once humiliated an amateur by yelling at him, from 40 yards away, to pick his ball up and get a move on. Apparently, the poor bloke hadn't played more than a handful of rounds in his whole life, was determined to finish every hole, and had nary a clue about the scoring system.

PGA Tour protocol says its players must adhere to a very strict code of conduct. Amateurs have usually paid big money to play alongside Joe Tour Pro and have anticipated their day with him for weeks. No, the pro needn't crack one-liners like Johnny Carson or tend to everyone's game like David Leadbetter. But he must remain on the side of the line that Snead, Irwin and a handful of others in recent years have surely crossed.

Mercifully, Allenby is nowhere near the line yet. But that's not to say he doesn't appear a little taciturn. Clearly, he is not in the mood for throw-away conversation.

With the intros out of the way, Allenby steps up to the tee at the 473-yard, par 4 and, with the sun peeping above the horizon and the mercury limping somewhere near freezing, knocks one, two, three . . . yup, all seven shades of dirt out of his Srixon Z-URS. You'd think a ball that cold and hit that hard would shatter into tiny pieces. But it screams 290 yards through the icy air and lands on a spot in the fairway from which the rough on both sides is more or less equidistant.

"Nice shot," we assert unanimously, secretly mumbling disbelieving oaths under our breaths.

Fifty-eight yards farther up the course, Dan, Doug and Reid hit drives which, considering the temperature and the fact that Allenby is watching, do them great credit. Only Dan finds the fairway. But I'd happily take any one of them and save myself the embarrassment of knobbling one just short of the red tees.

Then the lights go dim, the crowd (one scorer, two marshals) grows silent and yours truly is up. If this were 10 years ago, my body would by now have seriously malfunctioned and a partner would be needed to tee my ball up. Allenby and his like were, to me, supernatural beings whose shoes I was not worthy to shine. Now, I have reached an age where I am able to mix that shameless admiration with a healthy dose of perspective.

Though still in awe of these people, they are, I remind myself, just human beings, flesh and blood like me. That God saw fit to endow them with limbs so lissome they can blast an arrow-straight 290-yard drive at 6.30 in the morning in conditions that might make an Eskimo think twice before heading out, is fine with me. Truly, I am comfortable knowing that wherever my balls end up, the world will continue to spin on its axis, night will follow day and, more importantly, my dinner will be ready when I get home.

But comfort is a million miles from confidence, of course. It's beyond cold and, not since my teenage years, when I and a few friends would happily amuse ourselves at the local muni for 18 hours a day, have I played golf at such an hour. Doug, a newspaper columnist and radio show host in Houston, says it's too early for a grown man to leave his bed, except to go to the toilet.

My first swing of the day feels a little hasty, but the contact is actually half-decent. The ball gets airborne, describes a fairly acceptable parabola, and astonishingly makes it past the 220-yard mark. The fact that it lands a few feet short of a giant oak tree directly in line with the green and is ankle-deep in tangly Bermuda rough, really isn't important right now. What is, is that for a guy whose strongest motivation when playing golf these days isn't so much recording a decent score as not making a total berk of himself, this happy little swat is perfectly adequate. Though not hugely impressed, the guys are gracious in their remarks.

Wondering if our pro might have something to say about it, I glance around and notice he is still back on the tournament tee, chatting with his caddie.

Down the fairway, I ask Allenby what club he uses for his approach. "Five," he says abruptly before handing the club back to the caddie and walking on. Then, after holing out for a bogey, I try engaging him in conversation once again. "You still have a place in London?" I ask, alluding to his days on the European Tour and hoping I might provoke a reaction to my accent. "Streuth, a bloody pom," I hope he'll say and then come alive. But no. "I've lived over here six and a half years now," is all I get.

It isn't until our third hole, the 16th, that we catch our first glimpse of the Aussie in Allenby. As his birdie putt rims the hole and stubbornly refuses to fall, he lets his guard drop for the first time and, looking to the heavens, reveals his inner anguish. "Bugger," he mutters.

It's only one word, but the way he says it is so unmistakably Australian we could have been standing on the 16th green at Royal Sydney. It is a small but welcome taste of the relaxed, irreverent antipodean we had all been expecting.

As the round continues, Allenby, whose only practice round this is, begins to appreciate he hasn't been lumbered with an odious quartet of loudmouth bigots who have never played the game before and slowly ups the banter.

At the 9th, a jobsworth marshal, who evidently intends carrying out his instructions to the letter, hoists a "Hush Y'all" placard high above his head despite the fact the nearest spectator is up at the green, 450 yards away. Allenby backs off. "Er, mate, you don't really need that now," he says sardonically. The guy puts it down and Allenby goes through his routine once more. As he addresses the ball again, the marshal thrusts the sign back into the air. The whole group is giggling now, including Allenby, who smashes his drive 300 down the middle. "It's a bloody good job he had that sign up," he says to me as I bend down to tee my ball up. "I mean, it's getting a bit noisy round here."

To everyone's total dismay, Jobsworth then does the same for me, raising his sign so all the world can see it. He even motions with his arms when the ball starts heading right. "Hilarious," says Reid.

At our penultimate hole, my 8-iron leaves a curling, downhill 40-footer for birdie. Having three-jabbed six times already (these greens are quick, you know), I ask Allenby on what line he would start the putt. "Just get it to the top of the tier about 15 feet right of the hole and let it feed down to the cup," he suggests. I hit what looks like a respectable putt, but it's not quite hard enough and the ball takes way too much break, way too early. It leaks pathetically off to the left leaving a 10-footer for par which, it goes without saying, I miss. "Bad luck mate," Allenby says. "That first putt was very nearly good. You just needed half a foot more."

"That's what the wife tells me," I reply, unable to resist this pitiable attempt at a joke. "Half a foot?" Allenby mutters under his breath. "A couple of inches would be a start."

Priceless. One of the top 100 golfers in the world is making jokes about the size of my manhood. It really doesn't get any better than that.

At the last, Dan hoiks one over mid-wicket's head. The ball swerves towards a stand of trees that shelters a nearby house from wayward drives. "You can probably find a window of space through those trees," says Doug. "Nah," Allenby deadpans. "He might have found a window though."

We had waited for acerbic, cutting remarks like these all day and towards the end they began coming thick and fast. After a slow start, the Allenby we all hoped might show up had finally arrived.

"He was really all business for most of the day," says Doug. "I think he was more preoccupied with the task at hand, namely re-acquainting himself with a course he hadn't seen in six years. Seemed like a good guy overall though."

"When I realized the pro-am was his only practice round, I tried to stay out of his way," says Reid. "He was doing his job and wasn't that talkative. But he was certainly affable."

The last drive of the day is by far my best and comes to rest 10 yards ahead of Allenby's. He started the hole 54 yards behind us, but still, seeing my ball pass his is something I will take to the grave. As Reid and I drive down to my ball, I tell him to watch closely as I hit my approach shot closer to the hole than Allenby. Then, when my flat-out 9-iron lands a couple of feet inside Allenby's punchy pitching wedge, I declare this is going to be the one hole at which I actually beat a PGA Tour pro. "Yeah right," Allenby sneers.

"I'm going to make a four at worst, and with your putting the best you can do is five." I do indeed make my five and Allenby strokes in his seventh birdie putt of the day for a walk-in-the-park 67. "It was remarkable how effortless it seemed," says Reid. "I play a lot with club pros and good amateurs back home, and it was amazing how vastly superior he is to them."

Thanks to Allenby's stellar play and a handful of real-time birdies from the amateurs, playing off full handicap, our team manages a 15-under par 57. Sadly, it sounds an awful lot better than it is. Under this format, best net score from five counting, it's not nearly low enough to bag the booty.

The handshakes at the end of the round are markedly more convivial than the morning's, but with the commitment to his team over, Allenby is off. The following day he grinds out an even-par 72 in the first round of the tournament proper. A second-round 75 lands him in 118th place, six shots short of the cut line.

My guess is that, after a long year in which he played 31 tournaments, Allenby was done with the U.S. for 2005 and was itching to get back to Melbourne for six long, peaceful, pro-am-free weeks in the sun.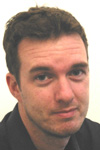 Tony Dear has been writing about golf for 11 years. A former assistant club pro from Sussex, England, Tony started out as a freelancer in 1992 before taking a staff writer's job at Fore!, a magazine based in Peterborough. As the magazine's chief instruction writer, it was Tony's job to compose instructional articles aimed at a youngish readership whose letters to the editor suggested they often got confused by technical jargon and theory. Tony brought his simple approach to teaching golf to the magazine, helping boost sales by 10,000 issues. As a result, he was nominated within the company and nationally for Young Writer of the Year awards.

From there, Tony moved 20 yards across the Emap UK office to join Today's Golfer. There, he was soon promoted to a senior editorial position, focusing on equipment, and became a significant part of a team that saw sales figures double within the magazine's first 12 months.

After three years at Emap UK, Tony was dragged kicking and screaming across the Atlantic by his American wife ("not really, I love it over here") and, after short spells in Phoenix and Denver, wound up in Seattle in May 2003. He recently moved to Bellingham in the far northwest corner of the far Northwest of the U.S. and became a father to a son on whom he has already staked £5 for the 2029 Open Championship. At present, he is freelancing for a number of print and online publications back in England including Today's Golfer, Golf World, Bogey, The Open Championship Magazine and Casino.com. He is also a contributing editor for Denver-based Colorado AvidGolfer.

Recent features include a look at Colorado's self proclaimed 'links' courses, an interview with Suzy Whaley, with whom he played nine holes ("and got soundly thrashed") and a 64-page instruction supplement for Today's Golfer.

Tony has authored three books in the last five years and been nominated for several specialist and young writers awards. "Although I've never actually won one," he admits. He is a member of the Northwest Golf Media Association and the Golf Travel Writers Association based in London.