Playing Major Championship Venue Ping-Pong with Ron Whitten
By: Jay Flemma
Ron Whitten's recent Golf Digest article on the new turfgrasses being tested this week at Atlanta Athletic Club's PGA Championship is another excellent observation by one of the most intelligent voices in the game. His knowledge of architecture and travel is unparalleled. In his article Whitten mentions a number of Southern and Western courses that should enter the discussion for hosting major championships now that healthy turf will become less of an issue.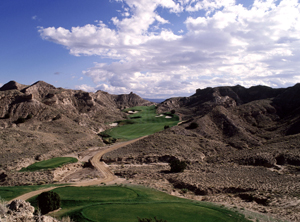 Black Mesa
As a contrast, I wish to humbly offer some thoughts on his suggestions for future Southern and Western major championship venues, and also highlight a few of my favorites for all you intrepid golf travelers to go and visit.

While I love playing golf in the summer in Texas and Arizona, most people do not. Heat frequently surpasses triple digits, and that's a dangerous risk for heat stroke and heat poisoning. I was sick for three weeks after walking PGA West's Stadium Course in 105-degree heat despite drinking a tall glass of ice water every hole. The health of spectators and players must be a paramount concern. People routinely drop like flies at Southern Hills, for example, so it's not only the turfgrass that's at issue for hosting a major in Tulsa, but the health and safety of the players and patrons as well. If a major visits those states, start hydrating a year in advance.

Ron's suggestion of Whisper Rock near Scottsdale is intriguing. For those of you scoring at home, several tour pros and many outstanding amateur golfers call Whisper Rock home. It's got plenty of room for the infrastructure needed for a major, and it's a stiff test by any standards. That could be a good choice. However, while I love playing Talking Stick (North), I'm not sure that course is tough enough to challenge the pros for a major, though it would be super-cool to see some professional tournament there. Even so, the summer heat would be suffocating, 95 degrees and higher.
World Woods - Pine Barrens
As an aside, my favorite of the Southwestern U.S. courses is Black Mesa, a mesmerizing bucking bronco of a Baxter Spann design near Santa Fe, N.M. With its wild, undulating fairways and greens and a few blind shots, that course would have the pros crying like Nancy Kerrigan. Run don't walk to go play that one.

In Texas, the designs at Champions Club and Dallas Athletic Club leave me unimpressed, as does anything near Houston. To me, the best choice in Texas is still Colonial, and if Torrey Pines can draw a U.S. Open and Quail Ridge a PGA Championship, there 's no excuse for not visiting Colonial for a PGA Championship, despite its hosting a PGA Tour event in May.

By the way, if we're going to discuss courses that can host a PGA Tour event and a major in the same year, I have two words for you: "Hello? . . . Riviera!" If that fails, what about Monterey Peninsula Country Club's Shore Course?
Apologies to Ron, but I absolutely loathe the suggestions of Innisbrook Copperhead and PGA National in Florida. I find them both boring, flavorless slogs. To me, the best courses in Florida are Sawgrass and Seminole, with World Woods and the newly redesigned Country Club of Florida close behind, though only Sawgrass can stage a big tournament. World Woods (Pine Barrens course) may be the most interesting course Tom Fazio has ever designed. That's another one to put right at the top of your "Must Visit" list.

As for Arkansas, Alabama or Lousiana, I have yet to see or read about a course that I find interesting enough to support as a choice for a major venue. However, no less a personage than Pete Dye himself, one of the two greatest living architects today, disagrees.

"Country Club of Birmingham would be a good choice," he said in a recent conversation, referring to the old Donald Ross design in Alabama. "I'd also like to see them visit Indianapolis or St. Louis. Those people love golf like they do in Minnesota! They'd get a huge turnout."

When pressed for an Indiana venue, Dye immediately thought of Brickyard Crossing, his design that features four holes actually inside the Indianapolis Speedway oval. Fans couldn't see much from the bleachers, but the spectator mounding on the four holes inside the track would provide a unique and surreal experience, both for the patrons and television viewers. As for St. Louis, Dye will get his wish when the PGA Championship is held there at Bellerive Country Club in 2018.
Nevertheless, one mantra needs to shine more brightly than any other consideration: At a major championship the course should be the star, like at Pebble Beach, Oakmont, Winged Foot, Oakland Hills and Shinnecock. Yes, they have enough room to hold the infrastructure necessary to stage the event, but the main reason these courses have so many majors on their resumes is that the golf architecture is the best in America.

As such, bite the bullet and bring an event to National Golf Links of America, Cypress Point or Pine Valley. The world needs to see them up close to truly appreciate their genius. Indeed, that may be the overriding reason why the USGA is throwing caution - and seemingly everything else - to the wind and returning to tiny, but storied, Merion in 2013. The smallest and most landlocked of any major venue in decades, Merion will be such a logistical nightmare that the hot mess that was Congressional will look reasonable by comparison.

Speaking of infrastructures, if they can ever build the infrastructures to hold a big event golf fans deserve to see the brilliant, indeed sublime, designs in Nebraska and Colorado sand hills region. Tom Doak - the incendiary genius behind Pacific Dunes, Ballyneal and Old Macdonald (along with Jim Urbina) - is building a second course at Dismal River, and while it may not be a major venue it will be a major success and an instant classic. At some time, either the PGA of America or the USGA should forget about whatever the winning score might be and bring a major to one of these venues so the world can revel in America's proper rejoinder to the great seaside links of the U.K.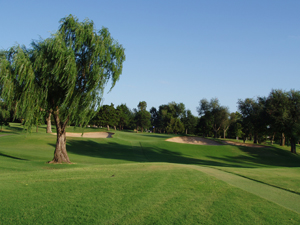 Oklahoma City Golf and Country Club
Finally, I want to introduce everyone to a hidden gem of an Alister Mackenzie and Perry Maxwell masterpiece called Oklahoma City Golf and Country Club, a course I like even more than Southern Hills and which hosted the 1953 U.S. Amateur. All fans of Mackenzie and Maxwell should place this course at the top of their wish list. This brilliant, clever and enchanting design should be put in the mix for some big tournaments immediately. It's tough to beat Mackenzie and Maxwell for architecture.

Whitten is right: The advent of the new turfgrasses will open the door for new (and old) Southern and Western venues to host majors. But great golf course design must be one of the premiere considerations in the choice. Putting a course on television is a great way to introduce it to the world, so take the opportunity to reach as high as possible.
Since launching his first golf writing website in 2004, http://jayflemma.thegolfspace.com, Jay Flemma 's comparative analysis of golf designs and knowledge of golf course architecture and golf travel have garnered wide industry respect. In researching his book on America's great public golf courses (and whether they're worth the money), Jay, an associate editor of Cybergolf, has played over 420 nationally ranked public golf courses in 40 different states, and covered seven U.S. Opens and six PGA Championships, along with one trip to the Masters. A four-time award-winning sportswriter, Jay was called the best sports poet alive by both Sports Illustrated and NBC Sports writers and broadcasters. Jay has played about 3 million yards of golf - or close to 2,000 miles. His pieces on travel and architecture appear in Golf Observer (www.golfobserver.com), Cybergolf, PGA.com, Golf Magazine and other print magazines. When not researching golf courses for design, value and excitement, Jay is an entertainment, copyright, Internet and trademark lawyer and an Entertainment and Internet Law professor in Manhattan. His clients have been nominated for Grammy and Emmy awards, won a Sundance Film Festival Best Director award, performed on stage and screen, and designed pop art for museums and collectors. Jay lives in Forest Hills, N.Y., and is fiercely loyal to his alma maters, Deerfield Academy in Massachusetts and Trinity College in Connecticut.