Playing the Rawls Course at Texas Tech
By: Jay Flemma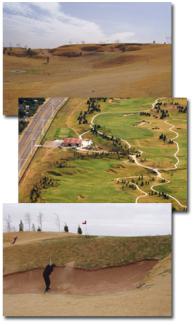 "One night a wild young cowboy came in, wild as the west Texas wind." – from the old folk song "El Paso" (Traditional)

He may not be a cowboy in the real or allegorical sense of the word, but the wild wind that is Tom Doak's design team blew into west Texas on top of the already legendary fierce howls that blow errant golf shots to Oklahoma.

It was 2002. Doak and company had just conquered the world for the first time, fresh off his smash hit at Pacific Dunes. He was a bit of a cowboy in terms of golf course design and is still only mildly apologetic about his industry-raking book, "The Confidential Guide to Golf Courses." Well, Doak talked the talk, then walked the walk, proving that the success of a golf course lies not in the money or marketing, but the golf course itself.

Doak wrote on his website, "After Pacific Dunes, it was inevitable that the next site we had to work with would be a letdown, so we went back all the way to square one – a flat cotton field on the north end of Texas Tech's Lubbock campus, bounded by major streets, power lines and apartment houses."

Texas Tech has long held a well-deserved reputation for excellence in golf. "I remember watching those kids hit 300-yard drives no more than 8 feet off the ground to keep it out of the fierce wind," recalls Black Mesa Golf Club owner Eddie Peck. "Those kids could play."

Enter Jerry Rawls, a Texas Tech alum and Silicon Valley magnate. Rawls wanted a course that would serve to make the already talented kids brilliant players at analyzing and attacking a golf course, not just long-hitting automatons.

He could have hired Fazio. He could have hired Nicklaus. But Rawls did not want a resort course. Rawls didn't have pipe dreams of hosting U.S. Opens. Doak was hot, bright, could build the course inexpensively and looking for just this sort of challenge.

Rawls really did pick out a perfectly flat 260-acre site. It has a mere 12 inches of elevation change. "This used to be a cotton field. They leveled this land over and over. You need water retention for cotton fields, so you don't want too much elevation change!" chuckles former TTU football offensive coordinator Rick Dykes as he rolls in an eagle putt on the par-5 second hole.

From a landscape architecture standpoint, Doak's accomplishment here is as intricate and remarkable as the job he has done anywhere on the globe and a textbook example for study of design problem solving. It's no wonder architecture students and students of TTU's Hotel and Restaurant School know Doak's name, even though many have never touched a golf club. He had to create an entire landscape from scratch; a duty mostly foreign to the normally minimalist Doak. Doak wrote that he moved 770,000 cubic yards of earth, but "that figure might be a little light," surmises Steve Long, who helped with the construction. "I think it could be as high as 1.3 million" (if you include picking up and replacing topsoil).

Whatever the figure, a substantial amount of earth was excavated from the center of the site, then first built into a 10-foot-high mesa flattops (berms) which line three sides of the property to block out views of the surrounding buildings and power lines. Doak recalls, "We then tried to mimic the land east and south of Lubbock, where the great plain starts filling into the valleys and canyons." The mesas and berms were meant to look like the original grade when had eroded over time. Then the rest of the site was also sculpted and contoured to reflect natural erosion.
Doak then designed fairways and bunkers over this new terrain. Bunkers look as though they were naturally windblown, and the fairways look as though they follow natural terrain curves.

The Rawls course is a fascinating and unique example of golf course architecture for another reason – its main defense to scoring (and therefore it's main hazard) is wind. The west Texas winds routinely blow 30 mph, but frequently surpass that figure easily. "Jay, it's going to be windy!" Doak warned with a mischievous chuckle and a little more color than his normal stoic demeanor. I was ready willing and able to handle it (even when it got so violent, it blew my 6-foot 9-inch playing partner off his feet on the fourth tee), but be prepared because even experienced, well-heeled travelers are unlikely to have ever played in a howling gale, and that's a normal day here. Don't ever let any fool tell you that architects don't consider wind conditions when they are designing, the have to if they are doing their job at the highest level.

Doak carefully considered the wind for every single shot when he was routing the golf course. He wrote, "While the original topography made no suggestions for what kind of golf holes we would build, the strong prevailing winds had a lot to do with the final design. Bunkers jut prominently in the line of play forcing players to judge whether they can make the carry in the wind . . . wide fairways give the player a chance to drive to one side and use a quartering wind to help stop an approach shot instead of sweeping it away. Downhill shots will likely run quite far when they land."
Speaking of routing, there are other interesting features as well, even though there is a bit of a muni feel as you can see lots of other fairways. First, the course ends with back-to-back par-5s that play in different directions and are completely different lengths. Oddly, the longer of the two, No. 17 (by 50 yards), is easier than the finishing hole, which requires a carry over water to the green.

Moreover, the Rawls Course is an easy walk as tees are mere steps from the preceding green. Both nines start downwind and finish right into its teeth. Long par-4s are frequently playing into the wind and have deep greens to accept low running fairway metals and long-irons, while the par-5 greens are small targets.

Finally, we all know Doak loves contour-rich, character-filled greens. Mackenzie would be proud because these have a lot of both. The greens are quick, but not so fast as to outrun the contours and devolve into unfairness. They compliment the soft fairway undulations and sculpting quite nicely, though neither the greens nor the fairways are as severe as at nearby Black Mesa in Sante Fe. Many greens are perched precariously on knobs, most notably at Nos. 3 and 8.
Lastly, bunkers are deep with sharp, steep faces. The sand is thick and, since the bunkers are often set well below the green, recovery shots play even longer and more difficult. They are very similar to the bunkers of his longtime friend Ben Crenshaw at Talking Stick North.

There is no way to overstate Doak's accomplishment here. The land use increased ten-fold. It was a roar of dust and diesel. Now it's a shining Lone Star. And in case you forgot, it's Doak . . . for the incredible price of $35 to $42 a round. That's a fraction of all of his other courses, except High Pointe.
On the Course

After a short par-4 and par-5 tandem, Doak plays his first joke on patrons. The 126-yard par-3 third is as short and dangerous as Royal Troon's famed Postage Stamp and has equally deadly, deep penal bunkers. Two sinkholes guard the front right and left. The front pin is also guarded by a bunker behind the small front left tongue of green, so players frequently pinball back and forth between the two bunkers, muttering all manner of curses on Doak. As if the bunkers we're enough, a hogsback in the center and smaller side contours mean putts can ricochet every which way. Doak quipped that is was "the shortest hole on the course, but the prevailing wind will make a mockery of the yardage." Ha ha, very funny Tom.

The fourth hole features a severely sloped, but pinnable false-front green. Also, the prevailing wind is so strong that when playing away from the fairway bunker guarding the left side, the ball balloons far to the right, possibly well out of play, so tee shots must flirt with the bunker to have a shorter, easier approach.

At the fifth, left off the tee insures the bunker guarding the right of the green is out of play for the approach (unless you slice BADLY) and avoids a swale in front of the green. Hit to the wrong side of the fairway and your approach is treacherous instead of benign.

Again at seven, players need to hug the right side, flirting with the bunker to have the green open up wide and welcoming for the approach. The huge green, a Biarritz with a long swale running perpendicular to its axis, is a showstopper, arguably the best on the course.

If seven green is a showstopper, then the eighth is the rousing crescendo. A gorgeous skyline green sits atop the tallest mountain of bunkers on the course. It's a towering setting much akin to the size and scale of many of his colleague Mike Strantz's mountainous elevated greens. Playing into the teeth of the prevailing wind, Doak confirmed it "one of the hardest holes I ever designed."

The only water on the course serves as a hazard on the par-3 10th (it also bisects the 18th fairway) and also irrigates the golf course, so Doak put it in play. A deep bunker guards the left side opposite the water and will catch players who foolishly play too far away from the lake. Put it in the bunker and you'll be playing out back toward the water hazard.

The backbone of the golf course comes from 12 through 15. Twelve features a terrific bowl-shaped green setting semi-hidden among huge dunes. The left side approach will be blocked out by a huge dune making the shot blind, so stay right. Thirteen features a line-of-charm bunker in mid-fairway, requiring strategic consideration off the tee.

It's not like Doak to tout machismo or unbelievable length, but at 500 yards, the par-4 14th is waaaaay too long, (it's not even downwind). That's a little too much but at least the 93-yard-deep green accepts a low running fairway metal approach. Another interesting green appears at 15, as it slopes severely away from the player on the approach. Surprise surprise, Doak ends with a pa-5, this time a three-shotter for most mortals as the fairway both bisects the fairway and guards the green approach. It's a strong finish to a course that never lets up in interesting design and strategic thinking requirements.
Chip Shots and Tap-Ins

You can see a lot of the strategy, hole set-up and green contours Doak learned at his home course of Crystal Downs by Alistair Mackenzie. Like the front nine at Crystal, the course resembles a rugged windswept heath. The only downside is that fairways are frequently adjacent and visible from each other and the natural setting is the west Texas plain. But that can also add to the old world flavor Doak successfully recreated..

The course thought of everything, right down to the flags, which are identical to that of the state of Texas, just with the interlocking double-T logo where the Lone Star should be. The price of course is unbeatable. Excepting Apache Stronghold, you'll pay no less than two and one-half times as much to play a Doak course. Go in the spring and fall when the heat is less beastly than in high summer.
Since launching his first golf writing website in 2004, http://jayflemma.blogspot.com, Jay Flemma's comparative analysis of golf designs and knowledge of golf course architecture and golf travel have garnered wide industry respect. In researching his book on America's great public golf courses (and whether they're worth the money), Jay has played over 220 nationally ranked public golf courses in 37 different states. Jay has played about 1,649,000 yards of golf – or roughly 938 miles. His pieces on travel and architecture appear in Golf Observer (www.golfobserver.com), Cybergolf and other print magazines. When not researching golf courses for design, value and excitement, Jay is an entertainment, copyright, Internet and trademark lawyer and an Entertainment and Internet Law professor in Manhattan. His clients have been nominated for Grammy and Emmy awards, won a Sundance Film Festival Best Director award, performed on stage and screen, and designed pop art for museums and collectors. Jay lives in Forest Hills, N.Y., and is fiercely loyal to his alma maters, Deerfield Academy in Massachusetts and Trinity College in Connecticut.