Pleasures of the Harbour – Victoria B.C.
By: George Fuller
To most Americans, Canada is like the proverbial elephant in the room: We know our neighbor-to-the-north is there, but nobody thinks or talks about it much. We know it's big, cold, shy, friendly, has universal health care for its citizens and politically is kind of like North America's Switzerland. In other words, we don't know very much about Canada.
Nor do we really know how good the golf is up there. Once discovered, though, Canada is likely to be an annual mark on the vacation calendar.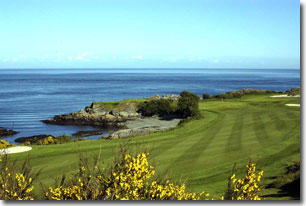 Victoria Golf Club - Hole 7
In lovely Victoria, on Vancouver Island – a quick 15-minute flight from either Seattle or Vancouver – golfers can play two of the best courses in Canada, find excellent value due to the favorable exchange rate, stay in splendor, sample the work of some very creative chefs and spend a few days getting to know one of the most scenic areas on the West Coast.

Victoria is situated on the southern tip of Vancouver Island and boasts one of Canada's mildest climates. Canadians know this and make it their vacation destination of choice. Although storm watchers may enjoy the northern tip of the island in winter, most visitors will prefer the months from May to October, when the cool, clean air is most likely to be accompanied by sunny skies.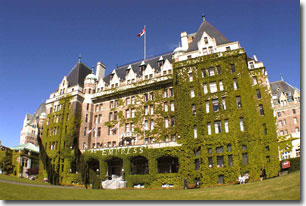 Fairmont Empress
Make The Fairmont Empress home for a few days. Located on the lip of the Inner Harbour in the heart of downtown Victoria, this will put you in the center of the action. Spend the extra dollars (hey, they're Canadian dollars anyway – they go 20 percent further) and upgrade to a junior suite. Ask for a room with a view of the water, so you can spend your mornings sipping coffee and reading the Globe & Mail while keeping an eye on the activity out your window.

At dawn, rowers glide silently across the still waters, only the wake of their skiffs ruffling the surface. As the sun rises over the eastern horizon, cruise ships and ferries pull into port, crossing waves with the fishing vessels heading out to sea. Then, as the streets start to bustle with people on their way to work, floatplanes rev their engines, ready to take passengers on scenic tours of the Canadian Gulf and American San Juan Islands. It's a wonderful way to start the day.
Looking every bit like one of the finest chateaux of Europe, The Empress is a lovingly restored and maintained historic hotel that opened in 1908, and is today a Canadian National Landmark. She's a classic with Internet access. She's matronly, yet surprisingly in fashion.
Within her statuesque, ivy-covered walls are 477 elegant rooms and suites. High tea has been served every afternoon since 1908, and a drink in the Bengal Lounge transports the visitor to British Colonial India circa 1930. Princes, queens, and presidents have relished the opportunity to stay at The Empress when visiting this handsome, livable city of 75,000.
From this stately perch, golfers can get to several top courses within 15 minutes. Both the oldest course west of the Rockies – Victoria Golf Club (1893) – as well as the newest, Bear Mountain Golf and Country Club (2004), are a short drive away. Both are gems and among the best layouts in Canada.

Until this year, venerable Victoria Golf Club has been extremely private, open only to members and the lucky few. Those who are fortunate enough to have played here come away boasting about the seaside stretch of holes – Nos. 5, 7, 8 and 9 – that rival Pebble Beach for sheer beauty. Now, by special arrangement, guests who book a Fairmont Gold package at The Empress can play this old fashioned links-style course, and judge for themselves.

Bear Mountain Golf and Country Club, on the other hand, is a brand-new Jack Nicklaus design a few minutes north of town, and one of the newest courses in Canada. The first of two 18-hole Nicklaus courses planned at Bear Mountain, these layouts form the centerpiece of an ambitious real estate development spearheaded by several NHL players.

The first course roams to some lovely heights. Cut through thick forests that open onto wide vistas, there are distinct elevation changes on every hole. Still, when playing here, one does not feel like a sherpa. Wide landing areas offset the challenges of the dramatic terrain, and the greens are sizable enough to hold approach shots.

Immaculately maintained, every hole is memorable on Bear Mountain. After putting out on the 14th green, golfers play an "extra" par-3 hole that overlooks a wide stretch of Vancouver Island and the ocean and mountains of Washington State beyond, before continuing on to the 15th tee box. The second course is slated to open in fall 2006. Green fees here run up to US$150.

If you are looking for value courses in the Victoria vicinity, check out Olympic View and Arbutus Ridge. Both are in the US$50-$60 range and offer wonderful scenery, abundant wildlife and a great variety in play. Olympic View boasts a 17th hole that plays with a waterfall tumbling out of a small mountain behind the green. One would expect to pay considerably more for courses of this quality in the U.S.

For a relatively small town, there sure are a lot of great places to dine in and around Victoria. Two of the best are The Empress Room at The Fairmont and Sooke Harbour House, an inn and restaurant highly rated by Travel + Leisure readers, that is credited for sparking a regional cuisine that celebrates the area's fresh foods.

Owned and run by Sinclair and Frederique Philip, Sooke Harbour House is a bit of a drive but well worth it for dinner and a peek at this wilder side of the island. It is roughly an hour's drive north of Victoria, near Olympic View Golf Club, perfect after a round of golf. (They also have several charming rooms should your meal last into the night.)

The chefs here create magic with 95 percent local ingredients, many from their own gardens. The dining room is set on the point of a bay, and if you arrive for dinner early enough, you can watch the river otters and sea lions play in the water offshore, as the chefs meander through the gardens picking flowers and herbs for use in the evening's meals.

A 3,000-bottle wine cellar presents enough choices to please every taste, and artful food presentations complement the chefs' creativity to delight the diner's eye. For example, one evening's menu at Sooke Harbour House included a tenderly roasted lamb tower, with a red wine braised leek perched horizontally across the top, looking every bit like a colorful, edible Stonehenge.

Back in town, The Empress Room is high on the list for special occasions. An ornate, old-world dining room setting is the stage for the culinary performance of Empress Room chef Rob Cleland. Locally caught fish, regional fruits, herbs, spices and produce are the ingredients here, as well, and Chef Rob's creative flavor combinations and elegant presentations combine to make this another of the country's most respected dining experiences.

More casual dining is found at Il Terrazzo, located in an historic brick building downtown, where you'll find some wonderful Italian-style dishes (and an ever-changing, always-delicious cheesecake selection). Spinnakers Brewpub is another option for casual dining, featuring several ales and lagers brewed right on the premises.

Later, settled in your room at The Empress, you have one more treat: After the fishing vessels are safely back in port, the cruise ships have steamed away and the floatplanes are moored for the evening, the city lights start to come on. To your left, the Parliament Building is lit up like a Christmas tree. So, too, is The Empress and most of the buildings surrounding the harbour. You sit back, relax and enjoy the twinkling reflections in the quieting water.

It's a great way to get to know Canada.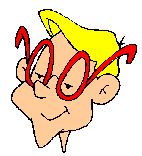 Photographer and writer George Fuller has been covering golf and adventure travel for more than 15 years. His assignments have taken him throughout the United States, Asia, Polynesia, Europe and Mexico.

As an author, he has eight books to his credit, the two most recent being "California Golf – The Complete Guide" (11th edition, 2004, Avalon Travel Publishing) and "Discover Hawaii's Best Golf" (second edition December 2001, Island Heritage Publishing). Others include "Hawaii: Adventures In Nature," (October 1999, John Muir Publishing).

A former editor of "LINKS – The Best of Golf," he has contributed stories to many newspapers and magazines, including TIME, San Francisco Chronicle, Coastal Living, GOLF Magazine, Travel & Leisure Golf and others. Based in Marina Del Rey, Calif., George is a monthly travel correspondent for the PGA Tour (pgatour.com), and a Contributing Editor to The Golfer. We're very happy George is part of the Cybergolf team.