Pocono Mountains Escape Storms Relatively Unscathed
The Pocono Mountains are preparing for a busy Labor Day travel weekend, as reports of minor tropical weather impact are released through the four-county region. Most hotels, resort, attractions and golf courses reported little to no damage and expect to be fully operational by Wednesday, in time for holiday visitors to arrive in eastern Pennsylvania.
"We are in direct contact with our tourism partners in the region as power and phone service is restored in the region," reports Carl Wilgus, CEO of the Pocono Mountain Visitors Bureau. "We want our visitors to know it is safe to visit, and to call their accommodations partners directly by Wednesday to confirm reservations."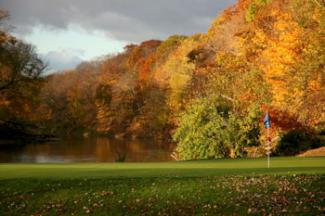 The 7th Hole at Shawnee
The following properties have issued reports, as of noon Monday:

Fully Operational; Reservations available for Labor Day Weekend

Camelbeach Mountain Water Park, Tannersville, Pa.
CBK Mountain Adventures, Tannersville, Pa.
Chateau Resort & Conference Center, Tannersville, Pa.
Costas Family Fun Park, Hawley, Pa.
East Shore Lodging, Hawley, Pa.
French Manor Inn, South Sterling, Pa
Hotel Fauchere, Milford, Pa.
Mount Airy Resort, Pa.
Ledges Hotel, Hawley, Pa.
Settlers Inn, Hawley, Pa.
Skytop Lodge, Skytop, Pa. - fully operational; using its alternate booking number for reservations and information: 541/322-5947
Split Rock Resort, Lake Harmony, Pa.
Lake Wallenpaupack Scenic Boat Tours, Hawley, Pa.

Limited Service, with Power Outages reported (Generator Power available)

Bushkill Falls, Bushkill, Pa. - falls and visitor center are fully operational; some trails will be temporarily closed due to fallen debris
Fernwood Resort, Bushkill, Pa. - 70% operational, expect to be fully operational by weekend
The Inn at Pocono Manor, Pocono Manor, Pa. - anticipated to reopen for the holiday weekend following power outage in the region
Shawnee Inn and Golf Resort, Shawnee, Pa. - anticipated to reopen Tuesday following river cresting report today; fully operational by the weekend
Woodloch Resort, Hawley, Pa. - anticipated to reopen by the holiday weekend
Reports are still arriving hourly; Pocono Mountain Visitors Bureau partners are encouraged to post on Twitter or Facebook, or call 800-POCONOS to deliver updated messages on their properties, events and operations for the upcoming weekend. The Pocono Mountains also encourages its citizens and visitors to assist in the effort to post updated and accurate information to its social media sites, for the benefit of the community.
The destination is offering regular updates to travelers and their families through its online portals, including:

Its website: http://www.800poconos.com
Its Facebook page: http://www.facebook.com/PoconoTourism
Its Twitter feed: http://www.twitter.com/PoconoTourism
"We are working directly with emergency management officials in Pennsylvania to monitor possible flooding corridors and assess evacuation plans as needed," said Wilgus. "Right now, the safety of our guests is our No. 1 concern."