Pocono Mountains Set to Host 20th Annual Ice Tee Golf Tournament at Lake Wallenpaupack
January 13, 2011. The golf season returns from winter hiatus in the Pocono Mountains (800poconos.com) on Sunday, January 30, when the 20th Annual Ice Tee Golf Tournament takes place on the frozen fairways of Lake Wallenpaupack in Hawley, Pa.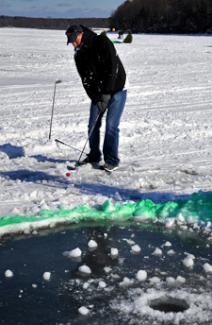 Holing out at the Ice
Tee Golf Tournament
The event - which was started by local restaurant owners and is hosted by Ehrhardt's Waterfront Restaurant overlooking the lake -- has become a favorite of the many winter events held in the Pocono Mountains region.

"For the golf enthusiast who can't get away, the Ice Tee Golf Tournament makes for a fun, great alternative," said President/CEO of the Pocono Mountains Visitors Bureau Carl Wilgus. "We're very proud to see this special event reach its 20th anniversary. It's a credit to the local organizing committee and community that participate in making it happen and continue to grow."

Two nine-hole courses are created in the center of the lake, complete with Christmas-tree lined fairways and makeshift greens, water traps, obstacles and rough. Holes can be up to 130 yards long and golfers receive a colored golf ball, plus a scorecard and map illustrating the course layout. Each player is restricted to using two clubs and a putter for the event.

Golfers can also take their shot to win prizes in the "Closest to Wally the Snowman" long-drive contest as well as win awards for Wackiest Hat, Best Sled and others. The awards ceremony is held at Ehrhardt's Waterfront at 3 p.m., complete 50/50 raffles, giveaways and prize packages that will include accommodations at local resorts. There will also be an ice-carved bar that will offer full bar service.
Tee times run from 9 a.m. to 2 p.m. and "green fees" are a non-refundable donation of $15 per person in advance or $20 on the day of the event. Hawley is less than 90 minutes from New York City, located in the northern region of the Poconos, near Scranton, Pa. The event is open to the public for both players and spectators, who are encouraged to take photos and videos of the event and post them at http://www.facebook.com/poconotourism.

A field of more than 200 golfers entered the tournament the last time it was held. Interested participants of any age are encouraged to secure registration forms, tee times at their earliest opportunity. Information and reservations can be made by calling the Pocono Lake Region Chamber at 570/226-3191 or visit www.lakeregioncc.com.

For a complete list of activities throughout the Pocono Mountain region, please visit www.800poconos.com.
The Shawnee Inn and Golf Resort Launches 100th Anniversary Celebration

The Shawnee Inn and Golf Resort in Delaware, Pa. is commemorating its 100th birthday this year and the resort has a variety of special events planned as part of The 2011 Shawnee Centennial Celebration.

Conveniently located within driving distance of New York City and Philadelphia, the Inn kicked off the New Year last week with a Birthday Dinner celebration honoring C.C. Worthington, the resort's original founder who helped form the Professional Golfers' Association (PGA).

The resort's celebration of 100 years of golf and great times will honor such historic events as the 1938 PGA Championship held at Shawnee, won by Paul Runyon in a close duel with Shawnee's own Sam Snead. A Centennial Hickory Classic tournament will be held on October 16 at the resort, one of many golf activities included in the year-long festivities.

For more details about special events scheduled at the Shawnee Inn for the 2011 Centennial Celebration, call 800/742-9633 or visit www.shawneeturns100.com.
About the "Pocono Mountains: Discover Golf's Great Destination Secret"

The Pocono Mountains has long been known to avid travelers and mountain aficionados for its lush, relaxing family-friendly ambiance and romantic setting, as well as its fall foliage, winter skiing, spring-summer outdoor recreation options and natural beauty. Numerous lakes, parks and other environmental wonderlands are found throughout the four-county Pocono Mountains region.

A venerable destination that has welcomed generations of travelers, the Pocono Mountains has undergone a renaissance over the last few years. While renovations have swept through stately and historic resorts, other properties have joined the mix. Gaming at Mount Airy Casino Resort and the award-winning Jack Frost National -- named a "Best New" and "Best You Can Play" course by leading industry publications -- are two of the many exciting additions.

Attributes of the golf-and-resort properties and destination include:
• Home to more than 35 golf courses with hundreds of holes for beginners and avid golfers alike; close proximity gives golfers chance to play 36 in a day
• Two NASCAR races held annually
• Golden Era of Golf Architecture period designs strongly represented by legendary designers Donald Ross and A.W. Tillinghast
• Hiking, biking, camping, spas, horseback riding, boating, fishing, hunting and many other activities
• Attractions, festivals and other special events
• Meeting and conference facilities
• Great food at a wide array of eating establishments and resort restaurants
• Bed & breakfasts, country inns and resorts
• Antique shops, outlet malls and other unique shopping venues