Portland Public Golf: Environment by Design
By: Bart Potter
Quality and challenge rare in municipal golf is the standard at the five courses of Portland (Ore.) Public Golf, not least because of the contributions of some of the golf industry's most-admired architects.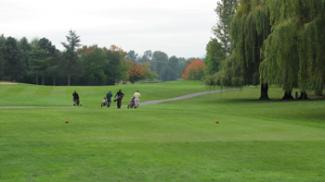 Heron Lakes GC
The legacy of classic golf design is preserved and enhanced in the Rose City by a commitment to earth-friendly maintenance that - not by accident - also helps keep Portland's munis affordable to the playing public.

"In order to survive, we've had to figure out how to be as efficient as possible with the resources we have," said John Zoller, general manager of Portland Public Golf for 27 years. "Our team has been very innovative at getting things done.

"We provide habitat, we provide enjoyable open spaces . . . it's not just golf," added Zoller, the son of John Zoller, the long-time executive director of the Northern California Golf Association, general manager of Monterey Peninsula Country Club and director of golf operations for the Pebble Beach Company.

Portland Public Golf has been operated continuously by the city since 1917, when a group of enterprising and far-sighted citizens worked with city hall to create Eastmoreland Golf Club in southeast Portland, the first course in a system that now includes two 18s at Heron Lakes Golf Club (Greenback and Great Blue) in north Portland, Rose City in the northeast, and RedTail in suburban Beaverton.
A Design Legacy

In Portland city golf, the design discussion begins with Robert Trent Jones Jr., who is one of the first names in course architecture in today's golf industry. But he was not the only esteemed designer to work in Portland.

Eastmoreland was one of the earliest courses designed by H. Chandler Egan, a former two-time U.S. Amateur champion. While still a competitive player (a four-time Pacific Northwest Amateur champion), Egan built on his design reputation with courses at Eugene Country Club, Indian Canyon in Spokane, Tualatin (Ore.) Country Club, and West Seattle Golf Club, among many others, including the heralded remodel of Pebble Beach Golf Links.

At 6,500 yards from the back tees, Eastmoreland is not long by modern-day championship standards, but that did not stop the USGA from bringing the 1990 U.S. Amateur Public Links to the course.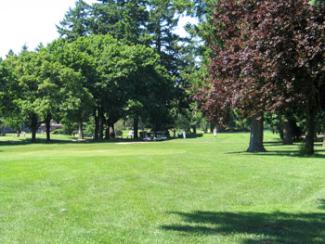 Rose City Golf Course
"To be able to host an event like that, with a golf course that short, really requires the course have a lot of challenge to it that has nothing to do with length," Zoller said.

Eastmoreland features numerous doglegs and narrow necked areas approaching the greens. "Chandler Egan was such a great strategist," Zoller added. "If you don't hit the shot required, you'll have to do a lot of recovery. It's a very challenging golf course."

Rose City, the second Portland muni, opened in 1923. Over the years, it has owned a reputation as a proving ground for good players looking for a game against the best in town. In 2010, Golfweek magazine cited Rose City for having some of the best money games in the country.

"I like to look at it as a players' golf course," said Hank Childs, the head professional at Rose City for 17 years. "Its history lends itself to that. It's always been that way."
Trent Jones Jr.'s design portfolio, in the Pacific Northwest alone, includes Chambers Bay near Tacoma, site of the 2010 U.S. Amateur and 2015 U.S. Open; the remodel of Eugene Country Club; the Woodlands Course at Sunriver Resort in central Oregon; and Elkhorn at Sun Valley, Idaho.

In 1971, Jones Jr. was commissioned to craft a course from a flat and wet property in West Delta Park, near a railroad corridor just south of the Columbia River. He created water and land features to improve drainage, but otherwise let the Greenback Course at Heron Lakes emerge from its natural parkland setting.

At the other Heron Lakes course, Great Blue, Jones in the late 1980s and early 1990s designed a course in the style of the British Isles, with pot bunkers, small greens and a rolling topography - a much more "built" environment than Greenback.

"There's a little more ground game to consider," Jones said of the latter layout. Great Blue is perennially ranked among the best courses - public or private - in the region. It hosted the Northwest Open for a decade and held the 2000 U.S. Amateur Public Links.

Jones said he comes to a site with no preconceived notions. "If the land itself is generous in its natural features, sure, we take the land," Jones said. "If we have to re-craft the land, we try to make it indigenous to its own character and nature."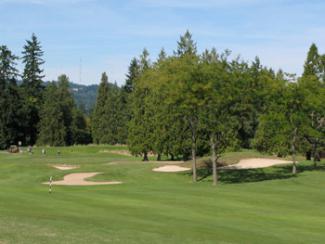 Red Tail Golf Course
The Trent Jones Jr. influence is also felt at RedTail Golf Course. Zoller was employed in the construction wing of Jones' design firm before he came to work in Portland, and he has built a solid design portfolio in his own right.

When the city decided to overhaul the course formerly known as Progress Downs, it turned to Zoller. "We used the logical lay of the land to route the holes," he said. "Areas where we couldn't achieve any drainage we turned into water hazards. There's quite a system of lakes and waterways now."

Ornithological note: Those are red-tailed hawks you're seeing when you walk the fairways. The territorial species of raptor is rarely found in as much abundance as at the old Progress Downs. When it came to renaming the remodeled course, RedTail was the natural choice.
Land Stewardship

Nurturing birds and other urban wildlife on Portland's city golf courses fits with the system's overriding maintenance philosophy: Doing the environmentally responsible thing is not just doing the right thing. It's doing the best thing - for the environment, the golf courses and the bottom line.

Portland has instituted and built on Green Way, a philosophy of maintenance with roots in Australia, where golf courses - by tradition and in complement to their topography and climate - are much less "managed."

Jesse Goodling, superintendent at PPG's Heron Lakes courses, has adapted to Northwest realities with what he calls the "acid theory," whereby a little nitrogen and lots of iron - and no phosphorus or potassium - is applied to putting greens.

The formulation favors the growth of bentgrass over native poa annua, Goodling said. The benefits are several: bentgrass needs less pesticides, has deeper roots (seven to eight inches compared to one inch for poa), needs less water, and it's more resistant to disease.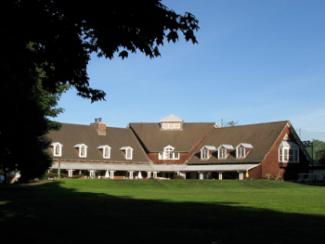 Eastmoreland's Clubhouse
(All photos courtesy of Portland Parks & Recreation)
There are golf benefits, too: bentgrass offers smoother, firmer putting surfaces, Goodling said.

On Heron Lakes' Greenback course, where the "acid theory" was tested first, bentgrass now makes up 80 to 90 percent of the turf on the greens. At Great Blue, bentgrass is now at 50 to 60 percent.

In this golf economy, that adds up in the city's favor when Goodling waters and mows less often and uses half the fertilizer and one-third the pesticides. "Our greens are better than ever," he said. "They're smoother, firmer, faster than they've ever been. And we're spending less money on them."

The beneficiaries of better environmental management are the public golfers of the Northwest, who enjoy Portland's legacy of classic golf architecture on courses that are both challenging and affordable.

"I like the fact that it's public in nature," Jones Jr. said of his work in Portland. "The best courses should not be only for those who can afford to belong to them and play them."
For more information about Portland Public Golf, visit http://www.portlandpublicgolf.com.
Bart Potter writes about golf from his home in Olympia, Wash. He's covered cops and courts, arts and entertainment and sports as a daily journalist, and for three years wrote an award-winning golf column for The Olympian newspaper. He's taught journalism at a public college and a private university, and is The Commissar of the Grey Goatee Golf Association (3GA) Tour. You can find him at http://greygoateeblogolfosphere.blogspot.com.