Portuguese Course Edges into World Rankings
Oitavos Dunes, a Portuguese links located 30 kilometers north of Lisbon, has capped an eight-year rise to the highest ranks of world golf with a pair of honors, both bestowed by Golf Magazine.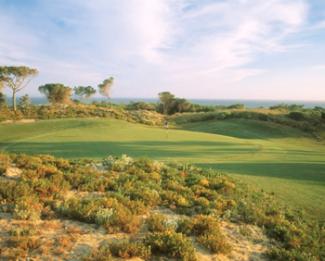 Photo courtesy of Aidan Bradley
Opened in 2001 and designed by Arthur Hills/Steve Forrest and Associates, Oitavos Dunes debuted at No. 88 on Golf's World Top 100 ranking. Oitavos Dunes (www.oitavosdunes.pt) also earned a place among the magazine's "50 Greatest Courses of the Last 50 Years."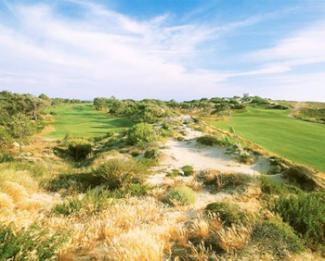 Photo courtesy of Aidan Bradley
"Both honors say as much about our firm's work as they do about our clients at Oitavos Dunes," said Drew Rogers, the Hills/Forrest partner who directed design efforts in Portugal alongside firm founder Arthur Hills. "We first met the Champalimaud family back in 1996. From the very beginning, their goal was to have Oitavos Dunes considered among the finest golf courses anywhere - certainly in Europe, but the world was really the stage. Along the way they have stayed glued to that vision and never faltered.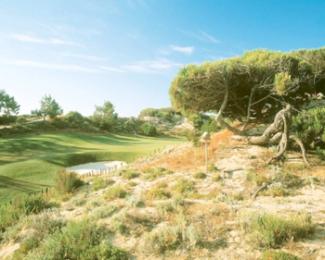 Photo courtesy of Aidan Bradley
"It didn't hurt that we, as course designers, were provided one of the best pieces of golfing terrain any architect could imagine: covered with dunes, bathed in a semi-tropical climate, and boasting long views of the Atlantic Ocean from all 18 holes. It's a special place."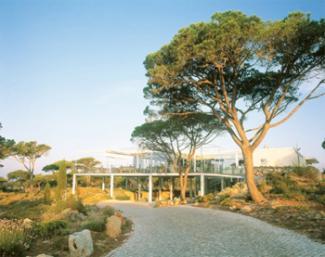 Photo courtesy of Aidan Bradley
One of just three continental European courses to make Golf's World Top 100 (Valderrama and Morfontaine are the others), Oitavos Dunes was the first course in Europe designed by Hills/Forrest, the Toledo, Ohio-based firm responsible for more than 200 original designs on three continents. The firm has since added designs across Scandinavia and Russia, with new projects in planning and/or under construction in Morocco, Italy and Portugal.
After it opened, Oitavos Dunes was hailed by tournament organizers, design cognoscenti and environmentalists alike. It was rated by Golf World International magazine the "Best New Course in Europe" in 2003. In eight short years, the course has hosted 11 professional events from all five European tours, including four Portuguese Opens, a regular stop on European PGA Tour.
Soon after opening, Audubon International also recognized Oitavos Dunes as its first Signature Sanctuary Golf Course in Europe, and only the second such course in the world. The first Audubon Signature Sanctuary course, Collier's Reserve in southwest Florida, was also designed by Hills/Forrest.
Oitavos Dunes indeed preserves a unique habitat of umbrella pines, sand dunes and coastal scrub, where the dramatic Portuguese coast meets the Atlantic Ocean. There are no water features at Oitavos Dunes because the property rests along a gently sloped plateau, high enough that every hole has a view of the Atlantic and the Sintra Mountains. What's more, any water features would have been man-made, and owner Miguel Champalimaud's unwavering intent for Oitavos Dunes was to keep the property wholly natural.
Accordingly, Hills/Forrest didn't merely route Oitavos Dunes in the "links style" (i.e., a continuous 18-hole loop). The architects allowed the dunes to dictate what became a thrilling, non-traditional sequence of holes, each outfitted with the canny green contours, comely-but-penal green and fairway bunkering, and the classic design strategies for which Hills/Forrest is renowned.
"At no point during a round at Oitavos Dunes is the player ensconced in a tedious stretch of par-4 after par-4, like we often see at U.S. Open courses," Rogers explained, noting that Oitavos Dunes includes back-to-back par-5s at 7 and 8, and consecutive par-3s at 14 and 15. "It's an entirely different mix at Oitavos. We decided to take what the site gave us, and the decision to create back-to-back par-3s made it all work, frankly. The links tableau - and perhaps working in Europe - gave us those extra ounces of freedom to be bolder, less traditional. When you work in the links environment, you have that license and there's some serious whimsy out there."

Indeed, the stretch of holes from 7 to 16 includes only two par-4s - one of them (the 11th) drivable. The par-3s at 14 and 15 may play back to back, but they couldn't be more different or more dramatic. From the 14th tee, golfers have a view of the lighthouse on the headlands of Cabo da Roca, the westernmost point on the European continent; the hole plays 170 yards uphill over a gorge to an exposed, sandy plateau framed by this distant backdrop. The 15th plays downhill to a putting surface surrounded by a naturally amphitheater of sand dunes.

Rogers explained that his team and the Champalimauds have continued to work at Oitavos Dunes, improving the golf experience and infrastructure, all the while proving that outstanding golf can be achieved and sustained in an utterly green context.

The Champalimauds will place an exclamation point on these efforts late in 2010. That's when an opening has been scheduled for a five-star luxury hotel to anchor the entire resort property. The hotel will stand beside the 475-yard par-4 18th, one of the toughest finishing holes in European golf. Like everything else here, the new hotel - designed in the same striking, modernist, glass-and-steel style as Oitavos Dunes's distinctive clubhouse - will make a strong statement.

"It's impossible not to admire the simplicity and strength of the family's design, development and sustainability goals," Rogers said, noting the resort property also includes a world-class spa and health club, one of Europe's top Equestrian centers, spectacular cuisine, and wine from the Champlimaud family's vineyards in the Douro. "The Champalimauds are very up front in everything they do, and Oitavos Dunes has become a very powerful statement about what resort golf can be, how lightly it can lie on the land, and what an engine it can be for the economy without sacrificing a bit of quality or flair.

"I guess we admire the Champalimauds because they operate in a way our firm aspires to operate: They do it their own particular way, and they do it right."

For more information aboutArthur Hills/Steve Forrest and Associates, visit www.arthurhills.com.